realme 6 Pro Gaming Review with Frame Rate & Temperature Measurements
BY Daniel Gubalane ON May 27, 2020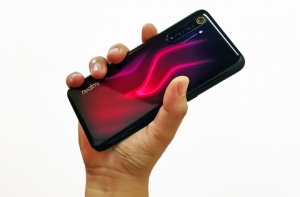 The realme 6 Pro is powered by a Qualcomm Snapdragon 720G chipset with either 6GB or 8GB of RAM. It also has a 6.5-inch display with a 90Hz refresh rate so it's interesting to see which games can reach 90 fps!
I reviewed the gaming performance of the realme 6 Pro by playing popular mobile games and measuring the average frame rate using a service called GameBench Pro. These include Mobile Legends, PUBG Mobile, Call of Duty, and NBA 2K20.
Mobile Legends: Bang Bang
I wanted to set the graphics quality of Mobile Legends to Ultra for the review. However, it's not enabled in my unit. Hence, I just set the quality to High and turned on HFR mode, character outlines, and shadows.
After a single Classic match, the average frame rate is a perfect 60 fps with 99% stability. This means that the realme 6 Pro runs Mobile Legends at perfect smoothness almost all the time.
However, the game doesn't support high refresh rate screens yet. The highest possible frame rate is still capped at 60 fps instead of 90 fps. There are already requests at the game's forums for enabling a higher frame rate and I'll post an update on the PTG Facebook page once that happens.
NBA 2K20
NBA 2K20 is the only game that reached 90 fps in my tests. The graphics quality is set to the usual settings: ultra-high or high except for crowds and sidelines (it's not allowed right now).
There were several moments when GameBench Pro's real-time overlay frame rate counter would show 90 fps and it gives me the feels. The game looked as cool as its PC version when played using a high refresh rate monitor.
However, the average frame rate recorded after more than 15 minutes of playing the game is just 65 fps with 78% stability. The frame rate decreases in busy scenes such as during highlights or fast breaks.
Call of Duty Mobile
The realme 6 Pro can run Call of Duty Mobile at high graphics quality and maximum frame rate preset. This makes the game look infinitely better compared to the low graphics quality on budget smartphones.
I played a multiplayer Frontline match and won (yay!). The resulting average frame rate is also a perfect 60 fps with 96% stability. There were virtually no frame drops nor obvious stutters. It was a very smooth Call of Duty gaming experience.
Aside from the phone's CPU, GPU, and RAM, the game's level of optimization also plays a part in the results of these gaming tests. Call of Duty almost always gets 60 fps but it automatically limits the graphics quality based on the phone's hardware.
PUBG Mobile
PUBG Mobile supports HD graphics quality on the realme 6 Pro but the frame rate can only be set to the High preset. That means it is capped at 30 fps. The graphics quality can be reduced to Balanced and that will enable the Ultra frame rate preset removing the 30 fps limit.
For the HD graphics settings, the measured average frame rate is 30 fps with 82% stability. Meanwhile, Balanced graphics quality resulted in an average frame rate of 40 fps with 100% stability!
My choice is to set the graphics quality to Balanced since the characters and scenes still look good. The higher frame rate makes the game feel way, way smoother and certainly helps in competitive gaming where quick reaction time is essential.
realme 6 Pro Gaming Tests Results:
Here are the results of all the gaming tests I've done on the realme 6 Pro:
| Game | Graphics | Frame Rate |
| --- | --- | --- |
| Mobile Legends | High | 60 fps |
| NBA 2K20 | Ultra-high | 65 fps |
| Call of Duty | High | 60 fps |
| PUBG Mobile | HD | 30 fps |
| PUBG Mobile | Balanced | 40 fps |
Temperature Measurements
The realme 6 Pro reached a worrying 45°C while I was playing NBA 2K20. It became uncomfortably warm at the back even with the free phone case.
Its 90Hz refresh rate might be the main contributor to the increase in temperature. When the refresh rate is manually lowered to 60Hz in the settings, the temperature only reached 41°C.
GameBench Pro also recorded fairly normal temperature peaks of 40°C, 42°C and 41°C while playing PUBG Mobile, Mobile Legends, and Call of Duty respectively. All three games did not exceed 60 fps so it must be the high refresh rate that's warming-up the device.
For context, most smartphones show an elevated battery temperature while playing games even if I keep the room temperature at around 24°C.
The OPPO F11 Pro reaches 40°C when playing PUBG Mobile, the Huawei Y9 Prime 2019 reaches 43°C when playing NBA 2K19, and the realme 5 Pro reaches 40°C when playing Mobile Legends. These are based on my previous gaming reviews.
Battery Life while Gaming
The realme 6 Pro has a 4,300mAh battery. When playing NBA 2K20 with the 90Hz screen refresh rate enabled, the battery life decreases by about 24% per hour which equates to around 4 hours and 16 minutes of battery life with this usage.
Disabling the 90Hz feature decreases the battery consumption to 19% per hour. That's almost 5 hours and 30 minutes of gameplay but without one of the phone's main selling features.
Mobile Legends and PUBG Mobile have similar battery consumptions even when the 90Hz screen refresh rate is turned on since those games do not exceed 60 fps.
Hence, the realme 6 Pro's battery life while gaming is only around 4 hours when the game supports 90Hz refresh rate and about 5 hours and 30 minutes when it's capped at 60 fps.
Conclusion
The realme 6 Pro is like a flagship smartphone in terms of gaming performance. It can run most games in the highest graphics quality and best frame rate preset.
NBA 2K20 supports a 90Hz screen refresh rate and it makes the game look absolutely gorgeous! However, most games only support up to 60 fps and that's perfectly fine with the realme 6 Pro.
It can run Mobile Legends and Call of Duty with perfect smoothness at that frame rate. PUBG Mobile is still one of the most resource-intensive mobile games but the realme 6 Pro can run it at a comfortably smooth frame rate of 40 fps when the graphics quality is set to Balanced.
However, pushing the device to its limits by playing games that support more than 60 fps and setting its graphics quality to high can warm it up significantly while playing. This should be done sparingly and only in a cool environment.
Still, it's very easy to recommend the realme 6 Pro as a gaming smartphone. Its flashy lightning bolt back cover artwork is not just for show, it's a true indication of its powerful hardware that can run games smoothly with a bonus of a high refresh rate screen.
UP NEXT: Realme 6 Pro Full Review!
6.6-inch FHD+ IPS LCD Display (1080 x 2400 Pixels), 399 ppi
Android 10 Operating System
Qualcomm Snapdragon 720G Chipset
6GB or 8GB of RAM
Quad Cameras (64+12+8+2 MP) with LED Flash
16 Megapixel Front Camera
Dual SIM (Nano-SIM)
64GB or 128GB UFS Internal Storage
Expandable Up to 512 via microSD
4G LTE, 3G HSPA+, 2G EDGE & GPRS Networks
Wi-Fi 802.11 b/g/n/ac (Dual Band)
Bluetooth 5.0
USB Type-C
3.5mm Audio Jack
Fingerprint Sensor (Side Mounted)
4300mAh Battery
30W Flash Charge
163.8 x 75.8 x 8.9 mm @ 202 g

₱

16,990.00

Official Price in the Philippines
₱13,990.00 - Price drop on February 05, 2021
Add a comment:
Show Comment Form 💬