Realme 6 Pro Review: Flashy Design, Powerful Hardware!
BY
Daniel Gubalane
ON Jun 28, 2020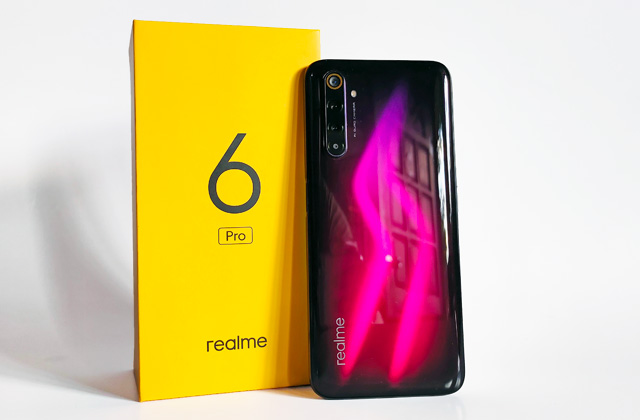 The realme 6 Pro is a flashy mid-range smartphone with a 90Hz display, Snapdragon 720G chipset, and 64MP quad cameras.
I've spent almost a month with the device and here's my full review. It includes my observations on its design, display, camera quality, gaming performance, battery life, and more.
Lighting Bolt Design & Build Quality
The realme 6 has an unmistakable back cover design that produces a lightning bolt optical effect when light hits it at certain angles. It looks awesome! The design is a head-turner and might even be a conversation starter among friends or coworkers.
Both the front and back of the phone use scratch-resistant Gorilla Glass 5. Putting it inside your pocket with coins or keys won't result in huge scratches. However, sand particles and diamonds can still scratch those glass panels.
I also noticed that there's less accumulation of smudges and fingerprints on the back of the device. This is because it has an oleophobic coating that repels oil and grease.
The realme 6 uses the same button and port layout as previous realme smartphones except for the new placement of the fingerprint scanner. It's now embedded in the power button on the right side which is where your thumb usually rests when holding the phone.
The volume buttons and SIM card tray are on the left side of the device. A 3.5mm audio jack, microphone, USB Type-C port, and loudspeaker are all at the bottom. There's another microphone at the top too.
Overall, the realme 6 Pro has a cool design and feels sturdy and well-built when held in the hands. It can feel a bit thick and hefty but that might be due to the large battery and I'm okay with it.
Dual Punch-hole 90Hz Display
The realme 6 Pro has a 6.6-inch display with FHD+ resolution, 20:9 aspect ratio, dual punch-hole for the selfie cameras, and a 90Hz screen refresh rate.
Texts and graphics on the screen look sharp with no noticeable pixelation. It's also quite color-accurate. It can be adjusted in the settings for the user's preference in color vibrancy.
I'm not bothered by the pill-shaped dual punch-hole but I imagine it will be a nuisance for some users. Using wallpapers that utilize this feature can make it look cool. What makes it alright for me is the fact that the secondary selfie camera is actually useful (we'll cover that later).
Its brightness is enough for indoor use but doesn't really go very bright when used outdoors under the blazing sun.
Perhaps the most interesting feature of the realme 6 Pro is its 90Hz screen refresh rate while most smartphones only have 60Hz displays. The higher refresh rate makes animations and transitions look noticeably smoother and snappier.
After using the realme 6 Pro for 2 weeks, it's a bit hard for me to return to my previous smartphone – the Huawei nova 5T. The snappy animations just look so, so good!
However, there are caveats with the 90Hz screen refresh rate. It consumes more battery power and warms-up the phone when playing games that support a high refresh rate.
Thankfully, there's an option to let the phone automatically decide when to enable and disable the feature in the display settings.
Snapdragon 720G Performance
A Qualcomm Snapdragon 720G chipset powers the realme 6 Pro along with 8GB of RAM and the realme UI software.
It performs smoothly whether the user is opening a lot of apps or scrolling down newsfeeds and websites. There's virtually no lag even when switching between different apps.
This is expected since the Snapdragon 720G is a powerful mid-range chipset. I also have to commend realme for their work on the realme UI since it looks clean and doesn't have too much bloatware.
In terms of gaming performance, the realme 6 Pro performs like a flagship smartphone. It can run most games in the highest graphics settings.
Just like previous smartphones that I reviewed, I tested the gaming performance of the realme 6 Pro by playing several games and measuring the average frame rate using GameBench Pro.
It scored an average frame rate of 60fps in Mobile Legends, 60fps in Call of Duty, 40 fps in PUBG Mobile, and 65fps in NBA 2K20. All games were set to High or HD graphics quality!
The 65fps score in NBA 2K20 isn't a typographical error. The device even reached 90fps a few times! However, it warmed up to 45°C when playing for too long with the 90Hz screen refresh rate feature enabled. Turning it off keeps the temperature below 43°C.
It has no heating problem with games that do not yet support frame rates higher than 60fps. It can also run high fps games without warming up by turning down the graphics quality to medium or low.
64MP Quad-Camera Quality (Sample Pictures)
The quad rear cameras of the realme 6 Pro include a 64 Megapixel main camera that uses pixel binning technology to combine 4 pixels into 1 resulting in 16MP pictures by default.
It also has a 12 Megapixel telephoto camera with 2x optical zoom, 8 Megapixel ultra-wide camera, and 2 Megapixel macro camera.
Here are some sample pictures:
The pictures look good with natural-looking colors, sharp details, well-lit shadows, and controlled highlights. Turning-on the Chroma Boost feature results in punchier colors and a slight increase in brightness.
Meanwhile, the ultra-wide camera can shoot a huge portion of the scene and the resulting pictures still look decent albeit with less color saturation.
I also had a lot of fun shooting pictures using the realme 6 Pro's telephoto camera. Its 2x zoom results in good quality pictures and even the 5x hybrid zoom produces usable pictures.
However, the 20x digital zoom spits out pictures that are too grainy. It can be good for magnifying texts in distant subjects though.
Thankfully, the device makes great night-mode pictures! It only takes two to four seconds to capture low-light scenes and turn it into a bright picture with vivid colors.
Meanwhile, its 16 Megapixel main front camera also takes detailed selfies with decent color reproduction. make sure to tune the beautification effects to Natural if you're not a fan of the smoothening filter.
The realme 6 Pro also has an 8 Megapixel secondary front camera that shoots wide-angle selfies. It's not as sharp as the main selfie camera but it can fit more people in the frame making it perfect for group selfies.
It seems like the phone's mission is to provide as many choices to its user.
For videos, the realme 6 Pro can shoot up to 4K resolution at 30 frames per second. The resulting videos look good but it would have been sweet if it can record at 60 FPS at that resolution.
It does have a stabilization feature called Ultra Steady that reduces shakiness in hand-held videos. However, it only supports up to 1080p resolution.
Switching to the Ultra Steady Max results in even less shakiness but it uses the ultra-wide camera with slightly lower quality instead of the 64MP main camera.
4G Connectivity & Sound Quality
The realme 6 Pro is a dual-SIM smartphone with 4G LTE connectivity. It can provide a fast and stable mobile internet connection in an area with decent 4G coverage.
Its Wi-Fi radio supports 5GHz Wi-Fi networks while Bluetooth and GPS both work well too.
Voice calls sound clear and loud from the phone's earpiece. Its loudspeaker also produces rich and loud audio. However, there's only minimal bass from the loudspeaker and there are no free earphones inside the package for a better music-listening experience.
Security & Sensors
The realme 6 Pro has two biometric unlocking methods – a fingerprint scanner and face recognition.
Both are quick and accurate but since the fingerprint scanner is embedded in the power button on the side of the device, I seldom use the face recognition feature. The device automatically unlocks when the power button is pressed with the registered finger.
One particular situation where the face recognition feature is used instead of the fingerprint scanner is when I pick up the device using my left hand and press the power button with an unregistered finger.
The more options for unlocking the device is very much welcome. There are also customizations on whether a light press on the power button triggers the fingerprint sensor or if the user prefers a complete click.
How about the battery life?
A 4,300mAh battery powers the realme 6 Pro for up to a whole day on a single charge. I expected a longer battery life but the 90Hz screen refresh rate seems to be taking a toll on its battery life.
It still scored a respectable 12 hours and 34 minutes of battery life on the PCMark battery life test with the 90Hz refresh rate turned on. However, turning this feature off increases the result to almost 14 hours.
As usual, the test was done with Airplane mode turned on and the screen brightness manually set to around 50%. Hence, this can be compared with the scores of other smartphones that I've already reviewed.
Meanwhile, re-charging the realme 6 Pro from 0% to 100% battery capacity takes around 1 hour and 6 minutes. I used the bundled 30W charger and the phone was turned off while charging.
Conclusion and Recommendation
The realme 6 Pro is a great mid-range smartphone in terms of design, gaming performance, and camera quality. It gets a two thumbs up from me!
It also comes with several extra features that its users will love. These include the 90Hz screen refresh rate, wide-angle secondary selfie camera, and fast charging.
My only issue with the device is the unimpressive battery life when the 90Hz feature is turned on all the time. This can be solved by choosing Auto Select in the display settings or enabling the feature only when playing games that use it.
Still, the realme 6 Pro is one of the best smartphones you can buy right now for less than ₱17,000 in the Philippines.
Realme 6 Pro

Review Summary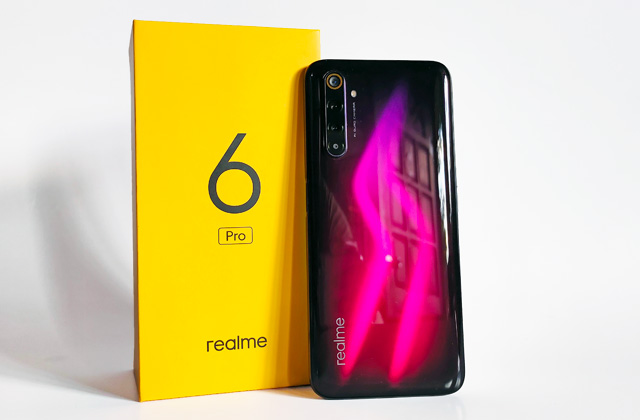 The realme 6 Pro gets two thumbs up from me but users should be judicious in using the 90Hz screen fresh rate.
6.6-inch FHD+ IPS LCD Display (1080 x 2400 Pixels), 399 ppi
Android 10 Operating System
Qualcomm Snapdragon 720G Chipset
6GB or 8GB of RAMGB of RAM
64 Megapixel Rear Camera with LED Flash
16 Megapixel Front Camera
Dual SIM
64GB or 128GB UFS Internal Storage
Expandable Up to 512 via microSD
4G LTE, 3G HSPA+, 2G EDGE & GPRS Networks
Wi-Fi 802.11 b/g/n/ac (Dual Band)
Bluetooth 5.0
USB Type-C
3.5mm Audio Jack
Fingerprint Sensor
4300mAh Battery
30W Flash Charge

₱

16,990.00

Official Price in the Philippines
₱13,990.00 - Price drop on February 05, 2021