Create a Seamlessly Connected Smart Office with Huawei Devices and Services
BY Daniel Gubalane ON Feb 12, 2022 with
30 Shares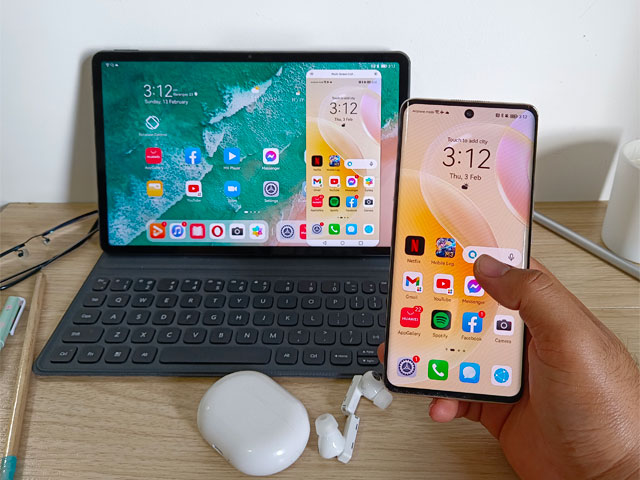 Huawei devices now have seamless interconnection with each other. Using a Nova 8 series smartphone together with a MatePad tablet or MateBook laptop can create a "Smart Office".
This means increased productivity and efficiency because it's very easy to work across different devices. It's even better when more Huawei ecosystem products are added to the setup such as wireless earphones, mice, keyboards, smartwatches, and the M-Pen stylus.
Seamless Multi-screen Collaboration
Huawei smartphones like those from the Nova 8 series and the new P50 series can share their screen with a Huawei laptop or tablet. Once paired, files can be sent effortlessly between the devices using simple drag and drop and calls can be answered on the laptop.
A MateBook and a MatePad can serve as dual-screen workspace where one app is displayed on the laptop and another on the tablet. The tablet can serve as a mirror display of the laptop or as a drawing tablet with the M-Pen stylus.
Huawei earphones automatically pair with phones, tablets, and laptops with a pop-up that shows the current battery level. This feature is also available for wireless Huawei mice and keyboards.
Huawei Apps and Services
Aside from the seamless interconnectivity between Huawei devices, there's another important aspect of Huawei's smart office: apps and services.
All of Huawei's services are tied together by the Huawei ID. It's a secure account for all Huawei apps, services, and devices.
There's also the Huawei Petal Search and Huawei AppGallery for searching and downloading apps on smartphones and tablets. Meanwhile, Huawei MeeTime is a video calling service with 1080p or full HD video quality that works across Huawei smartphones, tablets, laptops, and even televisions.
Huawei Better Together 2022
Huawei devices are definitely "better together" whether for a smart office setup or towards a health and fitness goal. A Huawei laptop works best when paired with a Huawei tablet, smartphone, or earphones.
From January 3 to February 20, 2022, Huawei is offering BIG SAVINGS for several products. There's an ₱8,000 discount on the Huawei MatePad tablet, ₱3000 discounts on the 2021 MateBook D14 and D15 laptops, ₱3,500 discount on the Huawei Watch GT 3, and more.
Here's a full list of the discounted products: Huawei Better Together 2022.
Add a comment:
Show Comment Form 💬