Top 10 Smartphones in the Philippines (May 2020) based on PTG Pageviews
BY Daniel Gubalane ON Jun 01, 2020 with
718 Shares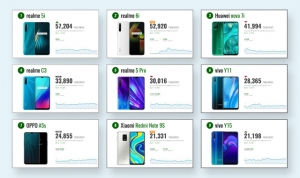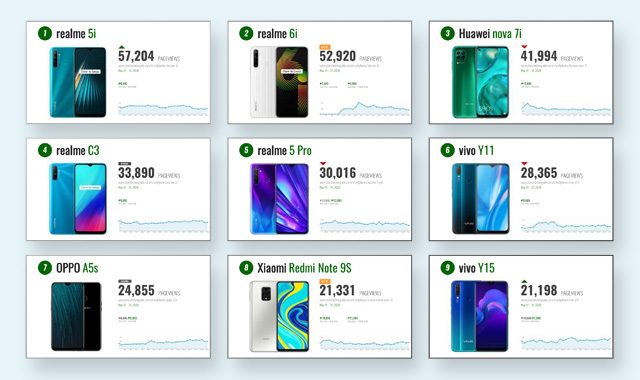 As the community quarantine measures started to ease up in May 2020, people also started searching for their prospective smartphones.
Google Analytics recorded more than 2.28 million pageviews on PINOY TECHNO GUIDE! Around 60% of that (1.35 million) landed on the smartphone specs pages which is the basis for this ranking.
Top 10 Smartphones in the Philippines (May 2020)
| Rank | Smartphone | Views |
| --- | --- | --- |
| 1 | realme 5i | 57,204 |
| 2 | realme 6i | 52,920 |
| 3 | Huawei nova 7i | 41,994 |
| 4 | realme C3 | 33,890 |
| 5 | realme 5 Pro | 30,016 |
| 6 | vivo Y11 | 28,365 |
| 7 | OPPO A5s | 24,855 |
| 8 | Redmi Note 9S | 21,331 |
| 9 | vivo Y15 | 21,198 |
| 10 | Redmi Note 8 | 20,348 |
Top 10 smartphones in the Philippines based on pageviews of individual smartphones specs pages on the Pinoy Techno Guide database.
Related: Top 10 Smartphones in the Philippines (April 2020)
Congratulations to realme Philippines for getting the 1st place with the realme 5i. It's a budget smartphone that I've highly praised in my review.
The brand also got the second place with the new realme 6i, fourth place with the realme C3, and fifth place with the realme 5 Pro. The new realme 6 Pro almost made it to the list at 12th place but since it was launched towards the end of the month, the numbers were just not enough.
Huawei has a single smartphone on the list this month. It's the Huawei nova 7i which dropped two places to 3rd place after getting the first place in April 2020. They also launched new smartphones recently and those might join the list for June 2020.
Meanwhile, vivo got two spots with the vivo Y11 in 6th place and vivo Y15 in 9th place. vivo Y11 is their affordable smartphone while the vivo Y15 got a huge price drop.
Of course, this won't be complete if the very popular OPPO A5s doesn't show up. It just passed one year of being released here in the Philippines but maintains the 7th place in the list!
Xiaomi got 8th place and 10th place with the new Redmi Note 9s and older Redmi Note 8 respectively. The brand launched the other Note 9 variants and Note 10 Lite later in the month so those might show up in the June 2020 list.
Do you agree with this list? I'm sure some of you won't but this is based on PTG pageviews as measured by Google Analytics and filtered to views from the Philippines only.
Add a comment:
Show Comment Form 💬