Huawei 12000 40W SuperCharge Power Bank Review
BY
Daniel Gubalane
ON Jun 15, 2019
WITH
113 Shares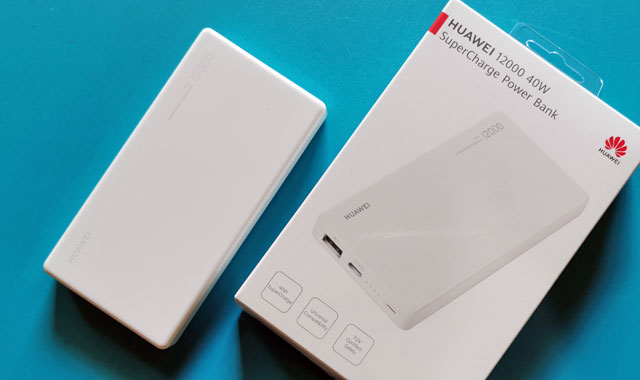 Huawei has a power bank that supports up to 40W of charging speed. This is the same speed as the wall charger of its flagship Huawei P30 Pro smartphone. It's called the Huawei 12000 40W SuperCharge Power Bank!
I was able to use the power bank and test its charging speed. I'll also explore some of its other features in this full review.
What's inside the box?
Unboxing the power bank is straightforward. There's the power bank itself, a USB-A to USB Type-C cable and a couple of booklets – a warranty certificate and user manual.
Design, Dimensions, and Weight
There are two color options for the power bank – white and blue. I got the white one.
It's about as big as a smartphone although not as tall while its thickness is almost the same as a matchbox. It's easy to carry too since it only weighs 225.5 grams.
The device looks simplistic in its design choices with gray texts and tiny indicator LEDs. Its power button has a red accent color while the ports have purple accents.
Charging Phones Using the Power Bank
The Huawei 12000 40W SuperCharge Power Bank supports up to 40W fast charging technology.
In my tests, the power bank re-charges the Huawei P30 Pro from 0% to 100% battery capacity in around 1 hour and 10 minutes! That's almost as fast as the phone's charger that takes 52 minutes to fully charge the phone.
The power bank can also re-charge other smartphones with different charging power starting at 10 watts. When the two ports are used to charge two smartphones at the same time, it can only charge at a maximum of 20 watts for both devices.
Expect similar charging speed with your phone's charger when using this power bank!
Meanwhile, Huawei says the power bank can re-charge laptops. However, it should be using USB Type-C and then connected to the power bank's USB Type-C port. The cable for this function isn't included in the box.
Charging the Power Bank
Charging the power bank itself from 0% to 100% battery capacity takes around 2 hours and 5 minutes when the 40W charger of the Huawei P30 Pro is used. A charger with less power will take longer to do the same task.
When fully charged, the power bank has enough battery capacity to re-charge a Huawei P30 Pro smartphone from 0 to 100% twice. There's still a little bit of battery capacity left after that, enough to recharge the phone again up to around 30%.
Conclusion
The Huawei 12000 40W SuperCharge Power Bank is specifically made for the Huawei P30 Pro. It's small enough to carry comfortably and packs enough power for most trips.
It's also versatile since it can charge non-Huawei smartphones at different fast charging speeds. My only issue with this product is the price. Otherwise, it gets a high recommendation from me.
Huawei 40W Power Bank

Review Summary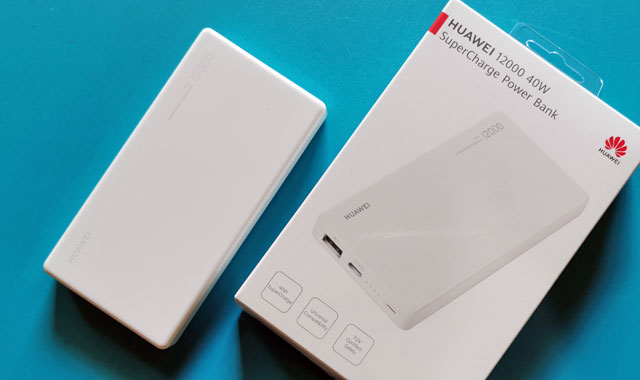 The perfect power bank for the Huawei P30 Pro (for the rare times that you'll need it).