Huawei P30 Pro Review: More than just 50x zoom!
BY
Daniel Gubalane
ON Apr 26, 2019
WITH
109 Shares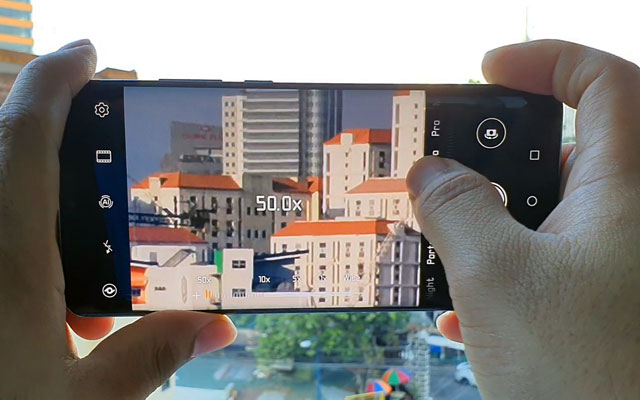 Upon unboxing the Huawei P30 Pro, I immediately tried its 50x zoom feature and it's incredible! However, I had to experience its other features too and see its advantages and disadvantages.
Here is my full review of the Huawei P30 Pro smartphone after using it for several weeks!
Design & Display
The Huawei P30 Pro is designed just like other premium smartphones. It uses glass for both the front and back with curved edges while the sides are metal with flattened top and bottom.
It looks sleek and beautiful although this "Breathing Crystal" color is a bit too flashy for me. There are other color options but I've only seen this and the black version so far.
The phone is large but the curved edges make it more comfortable to hold. Its volume and power buttons are on the right while the USB Type-C port, loudspeaker and SIM card tray are all at the bottom.
Removing the SIM card tray reveals a red rubber seal which signifies that the device is water resistant. I haven't submerged it in water but I have peace of mind while using it near the sink or a pool.
The screen itself is bright, sharp and almost extends all the way to the phone's edges. There's a small notch at the top but it doesn't really bother me so much.
Since it's an OLED screen, a feature called Alway On Display can be enabled in the Settings. It will show the clock and notification icons while the display is "off" without using too much power removing the need for a notification LED.
Leica Quad Cameras with 50x Zoom
The letter "P" in Huawei P30 Pro means Photography and it certainly lives up to that name.
It has four cameras at the back – a 40 Megapixel main camera, 16 Megapixel ultra-wide camera, 8 Megapixel telephoto camera and a Time of Flight camera.
Most pictures shot by the Huawei P30 Pro uses the 40MP camera. The default resolution is only 10 Megapixels since it combines 4 pixels into 1 for a brighter image but the option to shoot at 40MP is readily available.
Here are some samples pictures:
As you can see, colors are great, sharpness is on point and dynamic range is good. The Master AI feature also enhances the image and its effect isn't as dramatic as before.
Low light photography is where the Huawei P30 Pro truly shines. Unlike the Huawei P20 Pro, great night photos are now just a single click on the shutter button.
The dedicated Night Mode is still available and it can produce even brighter photos but requires a few seconds of exposure.
However, what made the headlines is the phone's 50x zoom feature. The 8MP telephoto camera actually only has 5x optical zoom. Still, that requires the camera to be longer than the thickness of the phone. The solution is to use a prism to bend light at an angle and place the camera sideways just like a submarine's periscope.
5x zoom is already powerful but the camera also has 10x hybrid zoom. There are already some pixelation at this point but Huawei's AI image processing still produces good images.
Beyond 10x zoom is purely digital and the camera simply crops the image to make the subject appear nearer. It can go up to 50x and can be useful if you just want to know what is happening in the distance or perhaps show it off on social media.
Meanwhile, the ultra-wide camera is very useful when shooting a landscape or when you are in a tight environment. There's a bit of lens distortion though.
If your'e wondering about the fourth camera, that is a TOF or Time of Flight camera and is mainly used for 3D depth mapping. It supplies the depth data for a more convincing bokeh effect in Portrait mode.
Lastly, the Huawei P30 Pro can shoot videos at up to 4K resolution and 30 frames per second with good quality. Higher frame rates are only available at lower resolutions up to 120 fps at 1080p and 960 fps at 720p.
32MP Selfie Camera
The Huawei P30 Pro is equipped with a single 32 Megapixel selfie camera. Thankfully, it's a big improvement over the selfie camera of its predecessor.
Selfies now look sharper with better overall quality. The skin tone looks more natural too especially if the beauty effect is turned off. I just wish the company can add autofocus in the next iteration.
UI and Performance
The Huawei P30 Pro runs on a Kirin 980 chipset with 8GB of RAM and EMUI 9.1 software on top of Android 9.0 Pie operating system.
It ranks slightly below its competitors in benchmark scores but you don't really need to top those charts for a great performance these days. Navigating the phone's user interface is lag free, apps open quickly and switching to another app is near instantaneous.
Smartphone
Antutu Benchmark Score
Huawei P30 Pro
298,570
OPPO R17 Pro
283,280
Samsung Galaxy S10
311,267
Xiaomi Mi 9
371,420
ASUS ROG Phone
294,930
Antutu Benchmark score of the Huawei P30 Pro compared with other smartphones.
When it comes to gaming, the device can run popular games such as Mobile Legends and NBA 2K19 at a perfect framerate of 60 fps without reaching 40°C in battery temperature. Meanwhile, I measured a framerate of 40 fps while playing PUBG Mobile which is more resource intensive than the previous games.
Related: Huawei P30 Pro Gaming Review
Connectivity and Audio Quality
From Wi-Fi to 4G LTE, the connectivity features of the Huawei P30 Pro all work well. It also has an IR blaster located at the top of the phone which can be used to control appliances much like a universal remote controller.
There's only one port on the device though. Both charging and audio output is done via the USB Type-C port at the bottom. Nevertheless, it supports external displays using a USB Type-C to HDMI connection.
The Huawei P30 Pro doesn't have an earpiece grille. Instead, the upper portion of its screen vibrates and acts as the speaker for calls! Its sound quality is surprisingly good and the design makes more sense compared to having it at the topmost edge.
Likewise, the free earphones included in the package sound decent. However, its loudspeaker did not seem to have received any upgrade.
Security
Huawei finally used an in-display fingerprint sensor in the Huawei P30 Pro. It's an optical sensor and works by shining light on the finger to identify the user's fingerprint. It's convenient since I only have to press my thumb on the screen but the speed can still be improved.
Aside from the fingerprint sensor, there's also Face Recognition on the device. It only uses the selfie camera but I found it reliable enough and slightly faster than the fingerprint sensor. I recommend using it unless there are extremely sensitive information in your smartphone.
Battery
The battery of the Huawei P30 Pro has a capacity of 4200mAh. After a day of my usual smartphone usage, it almost always has around 30% of remaining battery capacity.
It scored a whooping 14 hours and 8 minutes on the PCMark Battery Life test! That's a very high score especially for a flagship smartphone.
Smartphone
PCMark Battery Test Score
Huawei P30 Pro
14 hr & 8 min
Samsung Galaxy S10
9 hr & 1 min
OPPO R17 Pro
8 hr & 31 min
OnePlus 5T
8 hr & 39 min
Huawei P30 Pro battery life test score compared with other smartphones.
Meanwhile, charging the device is crazy fast! It comes with a 40W fast charger in the box and takes merely 52 minutes to reach 100%.
It also supports wireless charging as well as reverse wireless charging. That means it can wirelessly recharge other smartphones.
Conclusion
The Huawei P30 Pro is the perfect smartphone for aspiring smartphone photographers. Its cameras are simply unbelievable! It also has a great gaming performance, premium design, long-lasting battery and truly modern features.
Perhaps the biggest challenge in buying the device is its price. Premium features come at a premium price of ₱50,990 although it's actually more affordable than the Samsung Galaxy S10+ and iPhone XS Max.
Thankfully, there are several installment options to choose from. Huawei also offered a trade-in promo during the launching of the device in the Philippines.
Huawei P30 Pro

Review Summary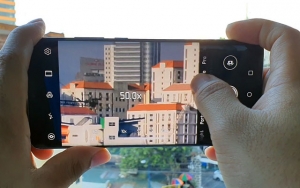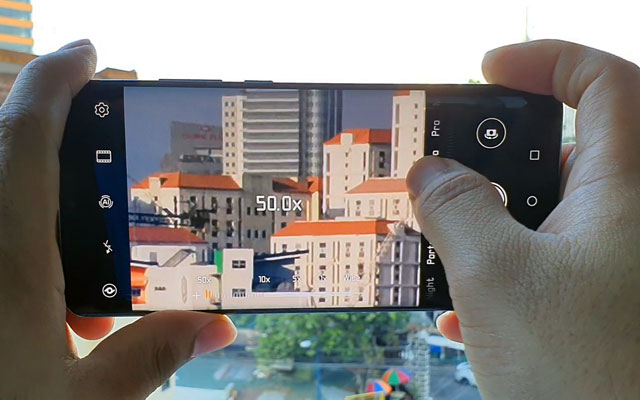 The Huawei P30 Pro has a lot more to offer aside from having an incredible 50x zoom!
6.47-inch FHD+ OLED Display (1080 x 2340 Pixels), 398 ppi
Android 9.0 Pie Operating System
HiSilicon Kirin 980 Chipset
8GB of RAM
40 Megapixel Rear Camera with Dual-tone LED Flash
32 Megapixel Front Camera
Dual SIM
256GB or 512GB Internal Storage
Wi-Fi 802.11 b/g/n/ac (Dual Band)
Bluetooth 5.0
USB Type-C
USB Type-C
Fingerprint Sensor
4200mAh Battery
Huawei SuperCharge

₱

50,990.00

Official Price in the Philippines
₱45,990.00 - Price drop on June 2019