Huawei MateBook D16 Unboxing and First Impressions
BY Daniel Gubalane ON Jul 25, 2022 with
25 Shares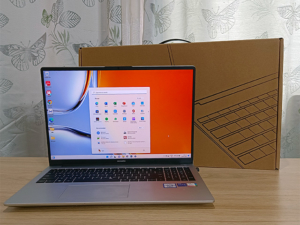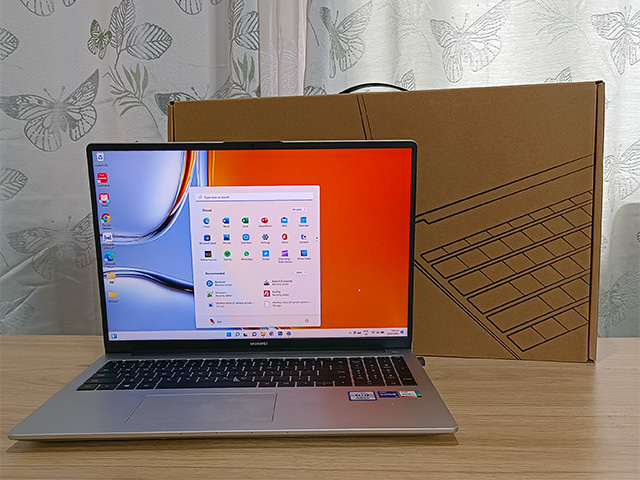 The Huawei MateBook D16 is a laptop designed for productivity. It's packed with features for business professionals, students, and creatives.
I have the privilege to be among the first ones to experience using this laptop and share my thoughts and observations. Let's start with my unboxing experience and first impressions upon using the device for the first time.
What's inside the Huawei MateBook D16 box?
The Huawei MateBook D16 comes in a normal cardboard box that looks too slim for a laptop. Opening the box immediately revealed the laptop wrapped in anti-static plastic along with the charger and cable.
The charger has a rated output of 65W and looks like a small smartphone charger. It uses the same Huawei SuperCharge technology first seen in Huawei's flagship smartphones.
Its accompanying cable has USB Type-C on both ends which means it's reversible on the charger and the laptop. It's also a sturdy cable with more than enough length at 1.8 meters and a white velcro cable tie.
Looking Around the Huawei MateBook D16
I have the Mystic Silver color version of the Huawei MateBook D16 laptop. It has a metallic chassis with a matte finish and a few brandings in the right places.
There's a HUAWEI logo at the back of the lid, Intel stickers on the palm rest, and an NFC sticker beside it.
Before opening the lid, one can't help but notice the four pin holes facing the user. These are the four microphones that Huawei says "makes conference audio more pristine than ever".
Lifting the lid reveals the 16-inch display in all its glory. It has a comfortable 1200 x 1920 pixel resolution, anti-glare coating, and 16:10 aspect ratio. This is called the "golden aspect ratio" because a bigger portion of a document is visible while typing and black bars on videos are minimal.
There's a full-size keyboard complete with a number pad. This is great news for users who input a lot of numbers at work. It also has some unique buttons like an AI Search button and a Camera switch button.
Above the keyboard in its right corner is the power button which also serves as a fingerprint scanner. It's a secure and convenient way to log in.
On the left side of the laptop are several ports including two USB Type-C ports, an HDMI port, and a 3.5mm audio jack. Meanwhile, two full-size USB ports are on the right side of the laptop.
There's no built-in SD card reader though so some users might still need to live the dongle life.
Using the Huawei MateBook D16 for the First Time
The Huawei MateBook D16 isn't the lightest laptop but it weighs a reasonable 1.7 kilograms for a 16-inch laptop. Yes, that's a 16-inch display with narrow bezels on its sides and at the top.
Pressing the power button quickly turns on the device thanks to its 512GB SSD. It also has a snappy performance when I checked some of the default apps thanks to the 12th-gen Intel Core i7 processor.
It runs on Windows 11 Home OS right out of the box. There are also several add-ons from Huawei that many users might find useful.
There's a Huawei Control Panel with shortcuts for useful features like taking screenshots, screen recording, Huawei Share file sharing, connecting devices like wireless earphones, and more.
I tested this by pairing a Huawei laptop and an almost 2-year-old Huawei Freebuds Pro and it works flawlessly. Huawei smartphones, tablets, and monitors can also connect seamlessly with the laptop and function together as a "Super Device".
After playing around with these features, I then installed Google Chrome to start browsing Facebook and watching YouTube videos.
Typing on the keyboard feels satisfying and comfortable. The keys have a satisfying click but it feels like my fingers hit a cushion before hitting the bottom of the keys. It also has two levels of the keyboard backlight.
The trackpad looks a bit small though because of the large palm rest. It's smooth to use with gentle clicks.
Moving on to the webcam, the Huawei MateBook D16 is equipped with a 1080p webcam. The image quality is decent and there are some video conferencing features I need to try for the full review.
So far, I was able to connect to my home Wi-Fi network with no hiccups. The Huawei MateBook D16 has a "metaline" antenna for improved network signals. I also paired non-Huawei headphones, a wireless mouse, and a Bluetooth speaker.
The built-in stereo speaker system sounds decent for casual music listening and video streaming but it only has minimal bass. It tries to make up with software enhancements that can be customized in the Huawei Control Panel.
Huawei MateBook D16 Full Review: Coming Soon!
I will test the performance of the Huawei MateBook D16 laptop further for the full review.
This will include my experience running heavier apps like Adobe Photoshop, video editing software, Microsoft Excel with several sheets, and more. Perhaps even gaming…
Battery life will also be measured along with observations on portability and comfort during prolonged typing sessions.
Let me know if you have questions about the Huawei MateBook D16 that I can answer in the full review. Follow Pinoy Techno Guide on Facebook to be notified once the review is up.
UP NEXT: Huawei MateBook D16 Full Review!
Add a comment:
Show Comment Form 💬