Huawei MateBook D16 Review: A Great Productivity Laptop for Professionals
BY
Daniel Gubalane
ON Aug 11, 2022
WITH
32 Shares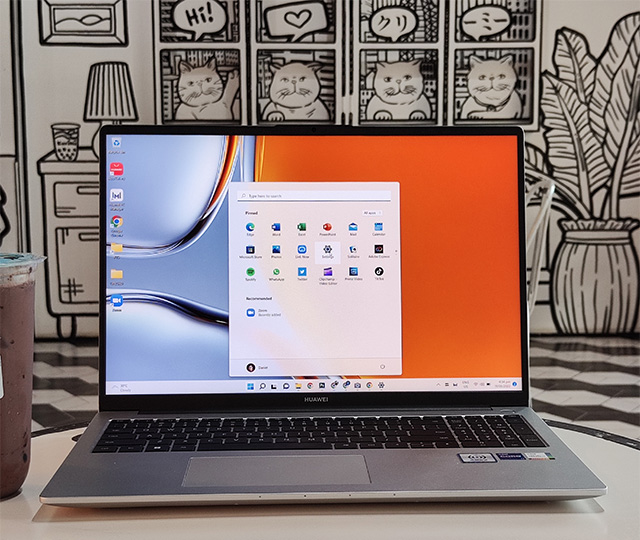 Huawei MateBook D16

Review Summary

★ ★ ★ ★ ☆ 4.8 stars out of 5
Pros:
Large 16-inch display on a sleek body
Very smooth performance for productivity tasks
Comfortable keyboard with number pad
Feature-packed webcam
Huawei "Super Device" multi-device collaboration
Cons:
Average screen brightness and resolution
Average battery life
No discrete graphics card
Share
The Huawei MateBook D16 is a "premium productivity laptop" primarily designed for business professionals.
I've used it for several weeks as my main laptop and experienced its strengths as well as a few weaknesses. Upon unboxing the laptop, my first impressions were amazement at the clean design, keyboard with number pad, and large display.
Huawei MateBook D16 – Specifications
Before we proceed with the review, here are the specs of the Huawei MateBook D16:
Specs
Huawei MateBook D16
Display
16-inch WUXGA IPS LCD Display (1200 x 1920 pixels, 16:10 Aspect Ratio, 100% sRGB)
Keyboard
Full-size keyboard with backlight
Numeric keypad
Touchpad
Webcam
1080p FHD Webcam (88° Wide Angle, AI Smart Conference)
Processor
12th Gen Intel® Core i7-12450H
12th Gen Intel® Core i5-12700H
GPU
Intel® Iris® Xe Graphics
Intel® Iris® UHD Graphics

RAM
8GB or 16GB of RAM
OS
Windows 11 Home
Huawei Super Device
Storage
512GB NVMe PCIe SSD
Connectivity
Wi-Fi 802.11 a/b/g/n/ac/ax with
Metaline 2x2 MIMO Antenna
Bluetooth 5.1
Ports
1 x HDMI
1 x USB Type-C (DisplayPort, Charging, & Data Transfer)
1 x USB Type-C (Charging & Data Transfer)
1 x USB 3.2
1 x USB 2.0
1 x 3.5mm Audio Jack
Audio
2 x Speakers
4 x Microphones
Biometrics
Fingerprint Power Button
Battery
60Wh Li-ion Battery (65W charging rate)
Dimensions
356.7 x 248.7 x 18.4 mm
Weight
1.7 kg
Colors
Space Gray and Mystic Silver
Design and Portability
The Huawei MateBook D16 has a metallic body with a matte finish that looks sleek and sturdy. It has a simple yet elegant aesthetics although I would have preferred the Huawei petal logo on the lid.
It fits in my laptop backpack meant for 15.6-inch models while the smartphone-style charger is noticeably less bulky than traditional laptop chargers.
At 1.7 kilograms, this is a relatively light laptop given that it has a large 16-inch screen. It's also slim at 18.4 millimeters in thickness.
Display
The Huawei MateBook D16 has a 16-inch IPS LCD with an anti-glare surface. It's bright enough for outdoor use but not under direct sunlight.
It's a large screen with narrow bezels all around it making the laptop look sleek and modern. It uses a 16:10 "golden" aspect ratio which balances productivity and multi-media consumption. A larger portion of documents is visible when typing while black bars in videos are minimized.
The 1,200 x 1,920 pixels of resolution is a bit of a bummer though. I've used 14-inch laptops with 2K displays so a larger screen with fewer pixels is slightly underwhelming.
On the positive side, this is a high-quality display that can be used by design professionals and graphic artists thanks to the 100% sRGB coverage according to Huawei. It also has TÜV Rheinland certification for blue light protection and DC dimming for reducing flickers.
Keyboard, Touchpad, and Ports
The Huawei MateBook D16 has a full-size keyboard with a number pad and four special keys – calculator, AI search, minimize, and camera key. The numpad is very useful for professionals and students who need to encode a lot of numerical data.
The keys themselves have a soft landing design, two-level backlight, and a decent 1.5mm of travel. It makes typing comfortable and reduces the strain of prolonged typing sessions.
Its touchpad is smooth and responsive but it isn't very large. The touchpad buttons also have louder clicks than the quieter keyboard keys.
The ports on the Huawei MateBook D16 include two USB ports on the right – one supports the ultra-fast USB 3.2 standard but the other one only supports USB 2.0. On the left side of the laptop are two USB Type-C ports, an HDMI port, and a 3.5mm audio jack.
There's no built-in SD card reader.
Performance and Gaming Experience
There are two versions of the Huawei MateBook D16 – one with Intel Core i5-12450H and another with Intel Core i7-12700H. These are the latest 12th Gen Intel Core H-Series or "Alder Lake" processors both paired with 16GB of RAM.
I have the Core-i7 version and it performs smoothly in productivity tasks. It remains smooth while opening tens of Chrome tabs, playing music on Spotify while editing pictures on Photoshop, watching videos on YouTube or Netflix, entering data on a multi-sheet Excel workbook, or even some video editing using Filmora.
It doesn't have a discrete graphics card for gaming but there's integrated Intel UHD or Intel Iris Xe graphics. Both can support basic tasks well and even run games at low settings since I was able to play Call of Duty: Warzone.
Internal Hardware and Thermal Management
Opening the Huawei MateBook D16 is pretty straightforward and only requires unscrewing ten Torx screws.
There's a single fan inside the laptop that does a good job of cooling the thermal center of the device at a reasonable noise level. Curiously, there's another fan slot that's empty.
The 512GB SSD can be upgraded if you need more storage space. Its RAM is already plenty at 16GB but it's soldered to the motherboard and doesn't have slots for additional RAM sticks.
Software and Interface
The Huawei MateBook D16 has a Windows 11 Home operating system with Huawei-exclusive apps like Huawei PC Manager and Huawei Control Panel.
Other Huawei devices like smartphones, tablets, external monitors, and wireless earphones can be connected to the laptop using the "Super Device" feature. This allows multi-screen workflow with cross-device file sharing, display mirroring, and multi-device search.
Huawei has packed the MateBook D16 with useful software features for what it calls a "Smart Office".
Webcam and Security
The Huawei MateBook D16 is equipped with a Full HD webcam located above the screen for a more pleasing angle than the company's previous laptops.
It's a good-quality wide-angle webcam with several features for video conferencing. It can adjust gaze and simulate zooming and panning so the user always stays at the center of the frame and appear to be looking at the camera instead of the screen.
The webcam can't be used for Windows Hello facial recognition though. There's a fingerprint scanner embedded on the power button above the keyboard for a fast and secure biometric log-in.
Connectivity and Audio Quality
The Huawei MateBook D16 has a feature called "metaline antenna" which enhances network speed and stability according to Huawei.
I conducted speedtests to confirm this and the laptop performed slightly faster than a 2022 flagship smartphone.
The laptop's audio quality isn't perfect though. Its speakers are bottom-firing with greater emphasis in the highs and mids while bass is low. It's good for watching videos but listening to music is better with headphones.
Battery Life and Charging Time
The Huawei MateBook D16 has a 60Wh Lithium-Polymer battery.
Based on the Windows Battery Report, it can last 5 hours and 32 minutes on a single charge which isn't very impressive for a productivity laptop. This might be due to the powerful Intel processor which also requires more battery power compared to its AMD counterpart.
Nevertheless, re-charging the laptop is quick thanks to the 65W smartphone-style charger. It only takes about 1 hour and 20 minutes to fully charge from 0% to 100% battery capacity.
Conclusion
Huawei has already established itself in the "premium productivity laptop" market.
The Huawei MateBook D16 is a great deal for its sleek design, high-quality large display, good performance, full-size keyboard with numpad, comfortable typing experience, and feature-packed webcam.
Its battery life is average at best and lacks discrete graphics for heavy gaming but it comes with a small charger and it isn't really meant for gaming but productivity.
The Huawei MateBook D16 is now available in the Philippines with a starting price of ₱55,999. Check for promos since it may come with a FREE Huawei MateView SE monitor!
Huawei MateBook D16

Review Summary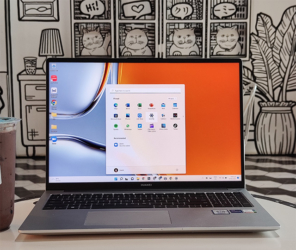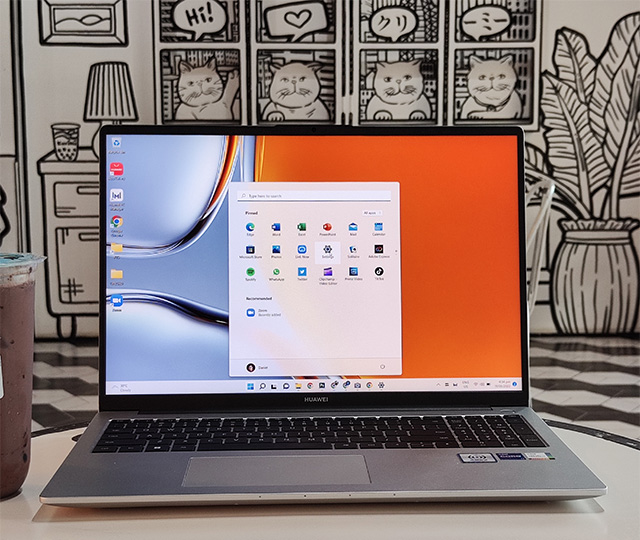 The Huawei MateBook D16 is a great deal for its design, large display, performance, keyboard with numpad, and feature-packed webcam.