Huawei P20 Review — Impressive photography despite having one less camera
BY
Daniel Gubalane
ON May 08, 2018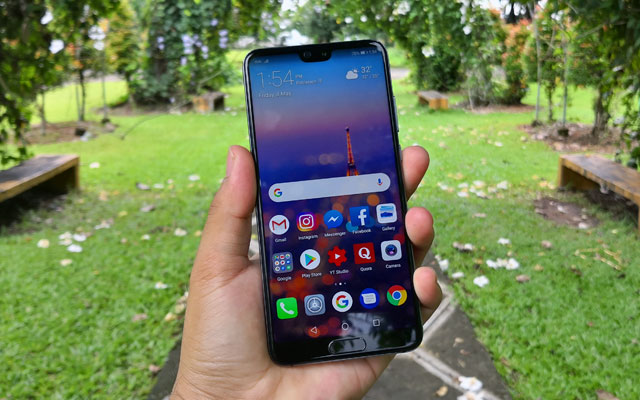 I've been using the Huawei P20 as my main smartphone for several weeks. This made me experience not just its impressive new features but also the quirks of the device which may affect your purchase decision.
Here's my full review that explores the phone's design, display, performance, connectivity, software, sensors, security, audio quality and battery life.
Design and Build Quality
The Huawei P20 uses a glass-metal-glass sandwich design similar to other current flagship smartphones. The glossy front and back panels make it look elegant while the metal sides keep it feeling sturdy when held.
The downside of this design is immediately apparent since it attracts its fair share of smudges and can be slippery at times. A phone case is essential if you don't want to wipe it clean every now and then.
On the other hand, I like how Huawei put some subtle details on the device including a red dash on the power button, Leica branding on the back and a conscious use of symmetrical design. It's also a handy smartphone and one hand usage is comfortable despite my relatively small hands.
I accidentally dropped it at knee height quite a few times and there are no visible scratches or dents on the device. Keys and coins don't scratch the glass front and back panels too when I place the device in my pocket.
The device only has an IP53 water and dust resistance. This means it can withstand dust, raindrops and spills. However, it can't be submerged in water or sprayed at high pressure without taking damage.
Overall, the Huawei P20 looks and feels truly a modern premium smartphone with its glossy body and solid build quality.
The Notched Display
At first, I'm not too keen at Huawei following with the trend set by the Apple iPhone X – a notched display. Thankfully, they implemented it better in terms of its size, customization options and the resulting aesthetics.
The notch is around one fourth of the screen's width and houses the front camera, earpiece, proximity sensor, ambient light sensor and a notification LED light. It's a necessary design choice before phones can go full bezel-less.
Both the right and left side of the notch have plenty of room for the battery info, signal strength and other notification icons. It also has the uninstall button when re-arranging your apps. If it still doesn't suit your taste, it can be effectively hidden by going to the Display Settings then opening the options for the Notch.
The screen itself is a 5.8-inch FHD+ IPS panel with curved edges and rounded corners. It's bright and responsive while colors are vivid and accurate. Color saturation, temperature and tone can all be adjusted in the settings and a 'Natural tone' mode can do this automatically to provide a 'paper-like reading experience'.
Software and Apps
The Huawei P20 comes with EMUI 8.1 software running on top of Android 8.1 Oreo operating system. I have praised the company's neat take on Android in the past and this iteration is no different.
It's still feature packed and now with a heavy push for Artificial Intelligence. There's AI for the camera, power saving, photo organization and more.
There's an abundance of customization options too. The screen's notch can be hidden, navigation buttons can be removed in favor of the home button with gestures, an app drawer can be enabled and themes can be installed for a more personalized look.
There are several pre-installed apps on the device once you open the box. This includes the usual Google suite of apps and Huawei's own apps. There are also third party apps that are grouped in a folder and includes Booking.com, eBay and Netflix. These can be uninstalled though so no problem here.
Huawei P20 Performance
| Benchmark Test | Huawei P20 Score |
| --- | --- |
| Antutu Benchmark v7.0.7 | 207,514 points |
| 3DMark Sling Shot | 3,227 points |
| 3DMark Sling Shot Extreme | 2,962 points |
| Geekbench Single-Core | 1,888 points |
| Geekbench Multi-Core | 6,691 points |
| PCMark Work 2.0 | 6,979 points |
Huawei's latest top of the line processor powers the Huawei P20 – the Kirin 970. It has an octa core CPU with maximum speed of 2.36GHz and a Mali-G72 graphics processor coupled with 4GB of RAM.
Basic tasks such as launching apps and scrolling down feeds are buttery smooth while games are lag-free, even the resource intensive titles. I did run into a heating issue when testing the phone with heavy graphics benchmarks such as 3DMark Slighshot Extreme.
Thankfully, there's no major heating issue when playing games including NBA 2K18, RULES OF SURVIVAL, Mobile Legends, Marvel Future Fight and Asphalt 8 Airborne even on extended periods (like 2 hours on ROS, lol). All these games run smoothly even in the highest graphics setting the games offered.
I'll upload a gaming test of the Huawei P20 on Pinoy Techno Guide's YouTube channel soon.
Camera Review
This section is bound to be the longest in my Huawei P20 review. It may lack the triple camera setup of its big brother Huawei P20 Pro but it still has a feature packed set of cameras.
At the back is a dual camera setup composed of a 12 Megapixel RGB main camera and a 20 Megapixel BW secondary camera! Both are branded with German optics powerhouse Leica.
A feature called 'Master AI' is turned on by default and it analyzes the scene automatically then chooses the most appropriate shooting mode. It's reliable in choosing the shooting mode but the enhancements can be a bit too much.
I turn off the Master AI feature and just shoot in the 'Photo' or 'Auto' mode. Pictures turn out well balanced in brightness, color accuracy, sharpness and dynamic range. It's as simple as pointing and shooting to produce a good-looking picture.
(Click image to open original resolution in a new tab).
However, the real excitement begins when you try out the special shooting modes such as Portrait mode and Night mode. Portrait mode automatically applies bokeh effect and beautification that usually results in nice looking portraits. Meanwhile, Night mode combines several pictures of a dimly lit scene and spits out an impressive night shot even without a tripod!
More sample pictures:
Meanwhile, the Huawei P20 is also equipped with a 24 Megapixel front camera for taking selfies and shooting vlogs. Colors are a bit tamed but dynamic range is decent and details are clearly visible when beautification is turned off.
Here are selfies shot by the Huawei P20's 24MP front camera:
Storage and Connectivity
The Huawei P20 has all the essential connectivity features expected in a flagship smartphone in 2018. There's dual 4G connectivity, dual band Wi-Fi, Bluetooth 5.0, NFC and A-GPS.
Cellular signal reception is impressive while mobile data is snappy as long as the telcos are having no trouble in their networks. There's even a new feature called Wi-Fi Bridge where the device acts as a Wi-Fi repeater for other devices.
Some might not like the absence of a microSD card slot though. The good news is there's plenty of storage onboard at 128GB with 115GB free on first boot. File transfers via the USB Type-C port or wirelessly via Huawei Share are also blazing fast.
Audio Quality
The Huawei P20 doesn't have a 3.5mm audio jack. Instead, it uses the sole USB Type-C port for audio output. There's even a free set of earphones in the retail box that connects to this port.
Audio quality is high especially with the Dolby ATMOS feature turned on. There's a free adaptor if you prefer to use other earphones but I often go totally wireless with the affordable Bluetooth earphones from QCY.
At first, I thought the Huawei P20 has stereo loudspeakers. However, covering one of the speaker grilles block out all sounds which means there's just a single speaker down there.
It's still loud and the audio is clear with no apparent distortions even at the highest volume. It's good for placing calls on loudspeaker as well as occasional listening to music with friends.
Sensors and Security
The Huawei P20 has two biometric unlocking features – a fingerprint sensor and face recognition. I mostly use the latter since it unlocks quickly even in dimly lit environments while the front mounted fingerprint sensor can be difficult to reach at times.
The device also has a slew of other sensors including a gyroscope for AR and VR apps. Sadly, there's no barometer nor an IR blaster which would have been useful extra features for controlling appliances and providing elevation data.
Nevertheless, the Huawei Heath app can still determine the number of floors you climbed using other sensors.
Battery Life
Huawei smartphones have been consistently impressive in terms of battery life. The Huawei P20 continues this trend with up to two days of longevity as long as it's used minimally.
It always lasts a whole day on a single charge despite heavy usage. It almost run out of battery once when we attended the Pet Festival Philippines 2018 where I took hundreds of pictures and videos of dogs, birds and fishes. At around 30% battery life, I turned on its battery saving mode making it alive and functioning well until we returned to the hotel that night.
PCMark's Battery Life 2.0 test gives it a score of 8 hours and 40 minutes of battery life. That's how long it drops down to 20% from a full charge while performing simulated real-world tasks with the screen set to 50% brightness and Airplane mode turned on.
Charging the phone is impressive as well since it uses the Huawei SuperCharge technology. It can go from zero to a hundred percent battery life in around an hour and 25 minutes only!
Review Conclusion
Most news about the new Huawei P20 series focuses on the Huawei P20 Pro with its triple Leica camera. However, the Huawei P20 is around ₱10,000 more affordable while offering a similar experience albeit with a smaller display.
The Huawei P20 has an impressive design, performance and battery life. Its dual rear cameras can produce great pictures almost every time the shutter button is tapped and selfies are stunning.
Its quirks include the lack of a microSD card slot, the notched display which may not be okay with everyone as well as the minimal water resistance. If you're okay with these three issues, then go ahead and get the Huawei P20.
The official price of the Huawei P20 in the Philippines is ₱34,995.00. It's also available through postpaid plans and installments.
Huawei P20

Review Summary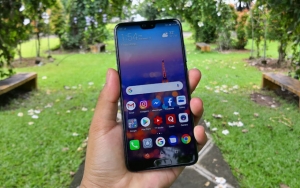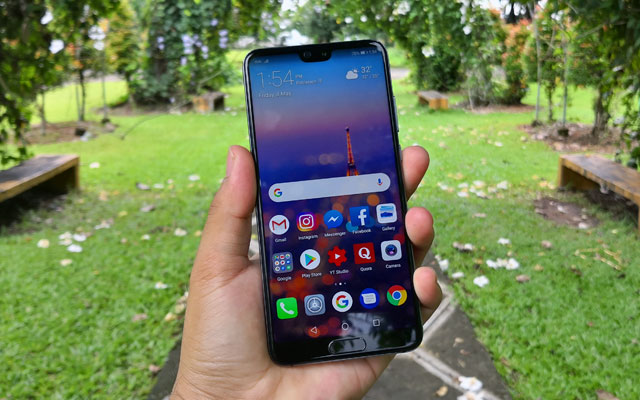 Despite having one less camera than its big brother, the Huawei P20 is still impressive in photography, design and battery.
5.8-inch FHD+ IPS LCD Display (1080 x 2240 Pixels), 429 ppi
Android 8.1 Oreo Operating System
Huawei Kirin 970 Chipset
4GB of RAM
20 + 12 Megapixel Rear Camera with Dual LED Flash
24 Megapixel Front Camera
Dual SIM
128GB Internal Storage
4G LTE, 3G HSPA+, 2G EDGE & GPRS Networks
Wi-Fi 802.11 b/g/n/ac (Dual Band)
Bluetooth 4.2
USB Type-C
USB Type-C
Fingerprint Sensor
3400mAh Battery
Huawei SuperCharge (4.5V/5A)

₱

34,990.00

Official Price in the Philippines
₱30,990.00 - Price drop on August 2018