Huawei MediaPad T2 7.0 Review: Get this for the 4G LTE Connectivity
BY
Daniel Gubalane
ON Nov 03, 2017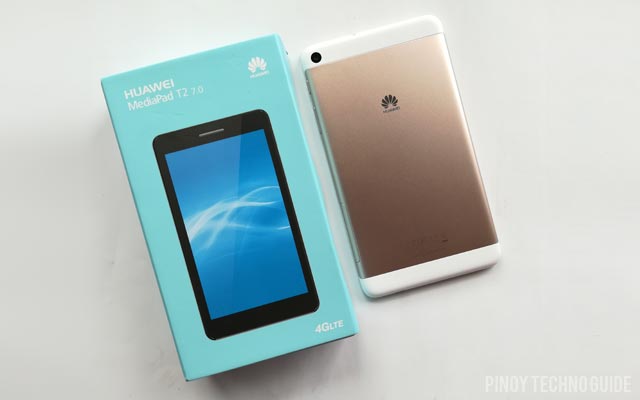 It's hard to find a decent affordable tablet nowadays specially with 4G LTE connectivity. That's what the Huawei MediaPad T2 7.0 tries to achieve.
The tablet provides great mobile data connectivity and a decent video watching experience. However, the quad core processor from Spreadtrum can be easily overwhelmed if a lot of apps are running in the background.
Design and Display
As the name suggests, the Huawei MediaPad T2 7.0 has a 7-inch display with a resolution of 600 x 1024 pixels. It's large enough for watching videos but the resolution can be disappointing if you're used to HD displays. The brightness isn't enough for outdoor use and there's no ambient light sensor to automatically dim the display indoors.
The tablet is housed in a compact body with a largely metallic back cover. This gives it a 'premium' look and the Huawei brand now commands respect when it comes to electronic gadgets.
The end parts of the back cover are made up of textured plastic. It helps in signal reception and provides good grip when holding the tablet in landscape position.
Performance
The Huawei MediaPad T2 7.0 runs on a 1.5GHz quad core Spreadtrum SC9830I processor with 2GB of RAM. On paper, this is a decent combination. However, running Facebook and Messenger in the background easily makes the tablet laggy.
EMUI has a feature that detects these apps and prompts the user to close them. Follow this suggestion for a smoother experience.
When it comes to gaming, the Huawei MediaPad T2 7.0 has no problem with casual games such as Wordscapes and Candy Crush Saga. Even Mobile Legends Bang Bang is playable with the graphics set in the highest quality. However, there are noticeable pixelation and stutters during particle heavy scenes.
Multimedia
As a tablet, the Huawei Mediapad T2 7.0 is perfect for watching movies on the go. It can smoothly play HD videos with minimal stutters when resuming playback after the screen is turned off. There's no point in playing full HD videos since the display cannot render the extra pixels.
The single loudspeaker is front facing which means the audio fires towards the user. However, its volume isn't loud enough so it's better to use earphones.
Connectivity
There is a single microSIM slot on the side of the Huawei MediaPad T2 7.0 for data, calls and texts functions. I used a Smart and Globe SIM card to test its mobile data connectivity and both work flawlessly. However, it takes a huge toll on the battery life.
Wi-Fi and Bluetooth are also available. There's even GPS for using the tablet in turn by turn navigation via Google Maps or Waze.
USB OTG is supported too.
Photography
The Huawei MediaPad T2 7.0 has a 2 Megapixel rear camera and another 2 Megapixel front camera. Needless to say, the pictures are dismal and can be disappointing if you expect too much.
It can still take decent pictures using the rear camera if there is ample light but the front camera is only good for video calls. Selfies come out grainy and full of artifacts even in broad daylight.
Battery
A 4100mAh battery powers the Huawei MediaPad T2 7.0. With moderate use, the tablet can last throughout the day with some social media usage, video watching, managed use of 4G connection and occasional gaming.
When used straight while watching movies or playing casual games, the tablet can only last for 5 hours at most. Charging takes almost 3 hours and 30 minutes from 0 to 100% using the bundled 5V/1A charger.
Huawei MediaPad T2 7.0

Review Summary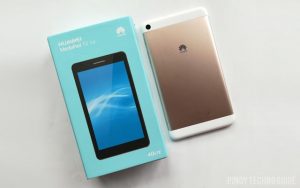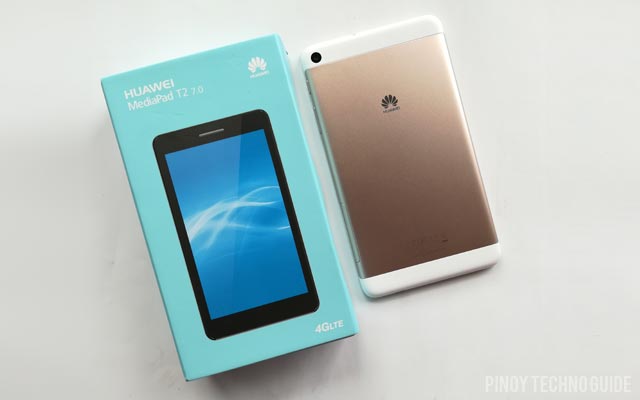 It's a good tablet for browsing social media on 4G LTE, watching videos & playing casual games but ill-suited for heavy games and photography.