Huawei MatePad 11 Review
BY
Daniel Gubalane
ON Aug 25, 2021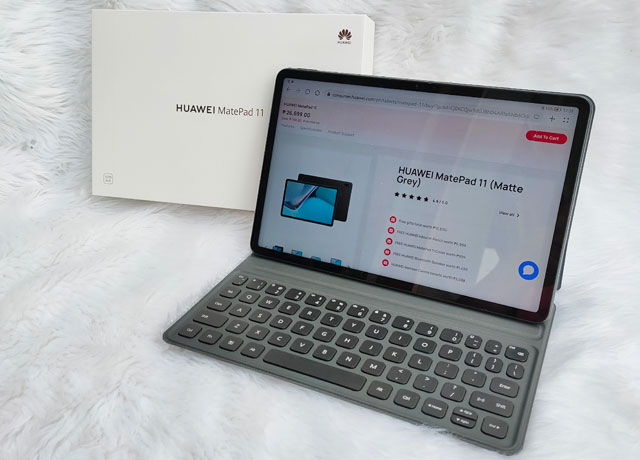 The Huawei MatePad 11 is a "premium midrange" tablet made for young professionals with its powerful productivity features, performance, and portability.
It can be used as a regular tablet to browse social media feeds, play games, or stream your favorite shows. But, it can also transform into a portable mini-laptop using its smart magnetic keyboard case. I spent several weeks with the device and here is my full review.
What I like about the Huawei MatePad 11:
Smooth and powerful performance
High-quality display and audio
Tablet-optimized software
Accessory and peripheral friendly
Long-lasting battery
What I don't like about the Huawei Matepad 11:
Design
The Huawei MatePad 11 has a sleek and pragmatic design. It has a plain matte back accented by its camera module and Harman / Kardon branding.
When the tablet is in landscape mode, its power and volume buttons are located near the top left corner while a USB Type-C port is on the right side. There are two speakers on both sides comprising its impressive quad-speaker, quad-channel audio system.
The front panel of the device is occupied almost entirely by its 10.95-inch display. This is surrounded by a uniform narrow bezel of about a quarter inch. It's just enough for the thumbs to rest on and there's a single selfie camera at the center of the top bezel.
Display and Sound
The nearly 11-inch display of the Huawei MatePad 11 provides ample screen for typing documents, browsing social media, or watching videos. It has vibrant colors, a screen resolution of 1600 x 2560 pixels, and a 120Hz of screen refresh rate which make graphics look sharp and animations feel ultra-smooth.
It's also certified by TÜV Rheinland for being flicker-free and having low blue light emission which help prevent eye strain.
Complementing the high-quality display is the tablet's quad-speaker audio system. It will surprise you with its bass and realistic surround sound. I usually prefer using earphones when watching Netflix shows but I'm perfectly happy with this tablet's loudspeakers.
Performance and Gaming
The Huawei MatePad 11 is powered by a Qualcomm Snapdragon 865 chipset with 6GB of RAM. This hardware combination is more than enough for smooth performance in gaming, multi-tasking, and other resource-intensive apps.
It breezes through the RealPi Benchmark by computing 1 million digits of π in 1.69 seconds only! It also runs the popular game Mobile Legends: Bang Bang with a perfect frame rate of 60 fps in Ultra graphics quality.
Apps on the tablet open quickly and switching between different apps or games feel quick and fluid. It doesn't have any problem in terms of performance even with its split-screen and floating window features.
Camera Quality
The 13 Megapixel rear camera of the Huawei MatePad 11 produces good-quality pictures in well-lit situations. It has sharp details, natural-looking colors, and balanced brightness. It can also shoot up to 4K videos with decent quality.
However, it has a tendency to overexpose highlights and underexpose shadows which means its dynamic range is limited. It also churns out grainy pictures at night without a dedicated Night mode.
Meanwhile, the 8 Megapixel front camera takes good quality selfies during the day and remains decent in nighttime or inside poorly-lit rooms. This is especially useful for video calls and zoom meetings.
Accessories
The best way to use the Huawei MatePad 11 is when it is paired with accessories. This includes the Smart Magnetic Keyboard which transforms it into a mini laptop with a decent typing experience except for a minor bug where words are repeated typed automatically in some apps.
If the keyboard isn't available, there's a Folio cover that can protect the tablet and serve as a kickstand. Meanwhile, the M-Pencil Gen. 2 enables powerful drawing and other stylus features.
It also supports other accessories such as a wired or wireless mouse for a complete laptop-like form factor.
Software and Apps
The Huawei MatePad 11 runs on a tablet-optimized version of HarmonyOS 2 operating system. Its UI layout makes the most use out of the large display while features like floating windows and customizable split-screen results in a true multitasking experience.
It also makes working across different Huawei devices a breeze with the NFC-powered one-tap multi-screen collaboration feature and Huawei Share file sharing features.
Searching for apps is easier on the device thanks to the Huawei AppGallery and Petal Search. However, there's still the real issue of incompatibility with Google apps. The current solution is to use the desktop version of these services just like on a laptop.
Battery Life and Charging
A large 7,250mAh battery powers the Huawei MatePad 11 for more than a day of my usual usage. It can also play videos continuously for 12 hours or browse social media on Wi-Fi for an entire day.
Meanwhile, recharging the tablet from 0% to 100% battery capacity takes a little under 2 hours using its bundled 22.5W USB Type-C charger.
Conclusion
The Huawei MatePad 11 is a great choice when looking for a tablet that can serve as a mini laptop for productivity on the go.
It's a powerful device with a high-quality large display and long-lasting battery on a very portable package. The cameras are decent and will suffice for virtual meetings while apps are readily accessible via the Huawei AppGallery or the browser.
This should be purchased with the Smart Magnetic keyboard though. The M-Pencil is optional for creatives but the tablet works best with the keyboard attached or readily available when needed.
Huawei MatePad 11

Review Summary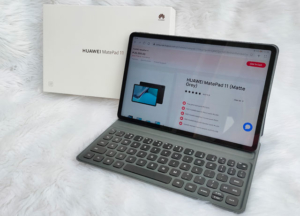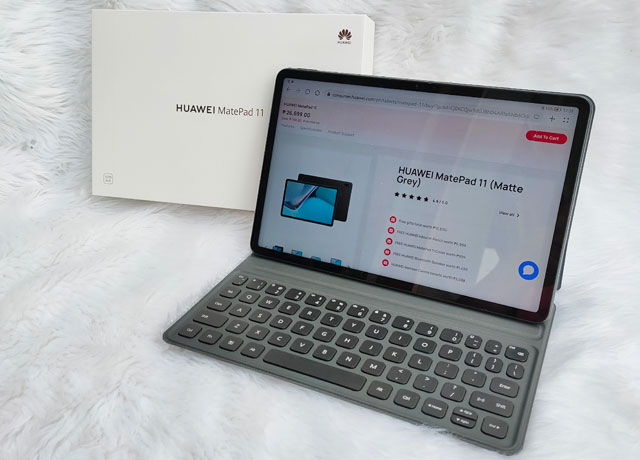 The Huawei MatePad 11 is a great choice when looking for a tablet that can serve as a mini laptop for productivity on the go.