Huawei Freebuds Pro Review: TWS with Impressive Sound Quality and ANC
BY
Daniel Gubalane
ON Dec 22, 2020
WITH
58 Shares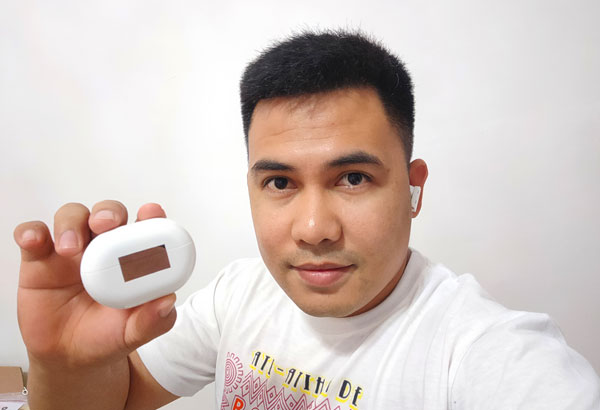 The Huawei Freebuds Pro is a set of true wireless stereo (TWS) earphones that boasts a "redefining" active noise cancellation technology (ANC).
I've been using the earphones for two weeks and this is the full review. It includes a look at the design, sound quality, noise cancellation feature, connectivity, and battery life.
What's in the box?
The Huawei Freebuds Pro comes in a small white box. Opening it reveals the earphones in the charging case, a USB Type-C cord, and some documentations.
There are also two pairs of replacement earphone tips in different sizes. These are useful if the default tips don't fit your ears perfectly. The fit quality can be checked using the Huawei AI Life app making it easier to decide which size to choose.
Design and Comfort
Let's start discussing the design of the Huawei Freebuds Pro with its charging case. It's about the size of a matchbox albeit a bit thicker with rounded corners and edges. There's a single button on the side and a USB Type-C charging port at the bottom.
It can be easily opened even with one hand and closes with a satisfactory snap. It's also small enough to be pocketable and barely occupies space in a pouch or bag. Taking out the earphones can be tricky at first but it gets easier after a while.
The earphones themselves are quite small and lightweight at 6.1 grams each only. The stems are rectangular and actually looks more "Pro" than circular stems.
Each earphone has silicone tips that feel soft and comfortable in the ears. I only used the pre-installed silicone tips and I can wear them in 3 to 4 hours without having my ears feeling sore. It's as comfortable as TWS earphones can get.
The entire system has a premium-looking design and comfortable ergonomics. I have the ceramic white color variant but it's also available in silver frost.
However, there's no water nor dust resistance for the earphones and charging case. It can be used when working out or under a light drizzle but I won't risk rain damage during a heavy downpour or while out swimming in a pool or the sea.
Sound Quality and Controls
I'm not an audiophile so my tests only involve listening to Spotify music, YouTube videos, and Netflix shows.
The Huawei Freebuds Pro sounds incredible when listening to my favorite tracks on Spotify. It has deep bass that is punchy but still sounds natural, clear mids for vocals, and balanced highs for comfortable listening.
It's also perfect for watching videos whether the audio is professionally made or from an amateur recording. It takes poor quality audio and makes it bearable while high-quality sounds are a pleasure to listen to.
The earphones have a wear-detection feature where it automatically pauses or plays the current track or video when the earphones are removed or worn.
Pinching the stem of the earphones also has the same function. A prolonged pinch enables or disables the noise cancellation feature. Meanwhile, a swipe on the stems controls the volume and a double pinch skips a track.
The pinching action also takes a while to get used to but it's more comfortable compared to the usual tap.
"Redefining" Noise Cancellation
Huawei claims that the noise cancellation feature of the Huawei Freebuds Pro is "redefining". I have to agree because it's one of the best I've tried in this form factor.
Turning on the noise cancellation feature seems to turn off persistent environmental sounds such as an electric fan, air conditioning unit, wind, or even a traffic jam. There are several modes of noise cancellation that can be set in the Huawei AI Life app but I like to keep it in Dynamic Mode which automatically selects the best mode for the scenario.
Aside from noise cancellation, the Huawei Freebuds Pro also has an Awareness Mode. It allows the user to listen to sounds from the surroundings without taking off the earphones. The feature can be a bit jarring but the feature can enhance voices.
Connectivity and Compatibility
The Huawei Freebuds Pro is compatible with Android smartphones, iPhones, laptops, tablets, and other Bluetooth devices.
Its wear detection and pinch controls work for most devices including iOS ones. However, there's no AI Life app in the iOS AppStore while the one in the Google Playstore is outdated. The updated version of the app can be found in the Huawei AppGallery.
The earphones have a dual-antenna design and Bluetooth version 5.2 support. These result in a seamless and stable connection in a wider area with less latency for gaming.
Battery Life
Each earphone can last an impressive 7 hours of continuous music listening on a single charge at 50% volume when noise cancellation is turned off.
It can even last more than that when set at a slightly lower volume since 40% volume is already good enough when listening in a quiet room. Turning on the noise cancellation feature or awareness mode slashes the battery life by about 30%.
Meanwhile, the charging case holds about 4 re-charging cycles for the earphones. The whole system can easily last two days without additional charging.
It re-charges via a USB Type-C port and takes about 45 minutes to fully charge and the LED indicator turns green. It also supports wireless charging and can be recharged using a smartphone with a reverse wireless charging feature!
Conclusion
The Huawei Freebuds Pro is an excellent choice of true wireless earphones. It has great sound quality, lightweight design, impressive noise cancellation, intuitive controls, and long battery life.
It can be used with iPhones and Android smartphones but it's best when paired with a Huawei smartphone. The only quirk of the device is the lack of water and dust resistance certification.
For an official price of ₱7,999, I highly recommend the Huawei Freebuds Pro!
Huawei Freebuds Pro

Review Summary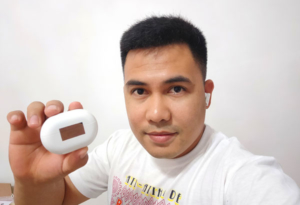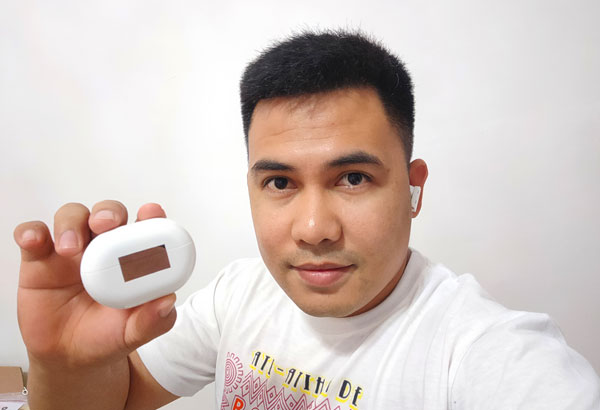 The Huawei Freebuds Pro has impressive audio quality and noise cancellation feature.