Epson Embraces Commitment to Sustainability and Responsible Energy Consumption
BY Daniel Gubalane ON Aug 24, 2022 with
181 Shares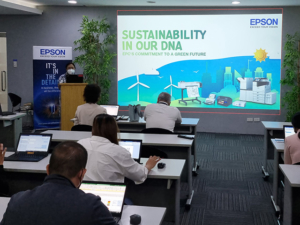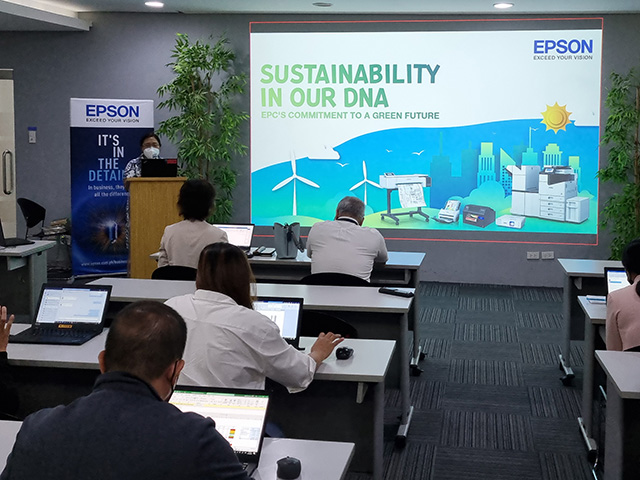 Climate change and the COVID-19 pandemic are two of the largest factors that affect our lives right now and in the future.
While the unprecedented adoption of technology created new space for business growth, it also resulted in a surge of demand for energy which may have negative impact on the environment. EPSON urges companies to prioritize responsible energy and technology consumption.
In a seminar held for its employees, Epson walked the talk by encouraging its staff to practice a sustainable lifestyle. They discussed the company's overall commitment to sustainability, key partnerships, and projects, as well as different practices attendees can pledge to incorporate into their individual sustainability journeys.
The event also featured Dino Calderon, Project Manager of Education for Sustainable Development of World Wide Fund for Nature (WWF)
Philippines, to further raise employees' awareness on biodiversity and sustainable development.
"There is no telling how big an impact we can make if our collective actions zero in on addressing climate change, preserving our environment, and driving economic growth," said Masako Kusama, President and Director at Epson Philippines. "Epson takes pride in our
commitment to advancing towards a more sustainable future, and it is crucial that we learn the different ways—both big and small—in which we can further embrace sustainability."
Sustainability is deeply ingrained in EPSON's DNA. Throughout its 80 years in operation, Epson has continually been recognized for its efforts in lessening environmental impact.
In more recent years, Epson joined the international initiative RE100 and committed to switch to 100% renewable energy at all Epson Group production sites around the world by 2023, with the Philippines achieving this through successfully switching its manufacturing site in Batangas to 100% renewable energy in 2021.
In 2021, Epson introduced Epson 25 Renewed, its revamped corporate vision that pursues the company's aspirational goal of achieving sustainability and enriching communities. In the renewed vision, Epson aims to connect people, things, and information by leveraging its
efficient, compact, and precise digital technologies.
Epson also launched its Environmental Vision 2050 that charts out three key commitments to achieve sustainability and enrich communities:
subscribing to all 17 United Nations Sustainable Development Goals
reducing total emissions by 2030 line with 1.5 o C scenario
becoming carbon-negative and underground resource-free by 2050
Over the past years, Epson has prioritized partnerships that amplify their sustainability goals. Epson forged a partnership with World Wide Fund for Nature Philippines, in line with Epson's escalated efforts to increase awareness on climate change and its effects on the environment.
Formed in 2021, the partnership has multiple projects well underway. Earlier this year, they launched Museo Kalikasan, a three-dimensional and immersive virtual museum that allows users from around the world to experience the exhibit from the safety of their homes.
Meanwhile, Epson Southeast Asia also partnered with WWF to scale up marine life and achieve a low carbon future, with various marine conservation and climate action projects across the Asia, including the Philippines.
Moving forward, Epson will support WWF to work with local communities in Southern Palawan to restore several mangrove sites. In addition, Epson will help WWF establish a Community Learning and Innovation Hub to empower communities to sustain capacity building and share best practices.
Add a comment:
Show Comment Form 💬