Lazada Online Revolution 2017 Schedule of Huge Discounts in Tech and Gadgets
BY Daniel Gubalane ON Nov 07, 2017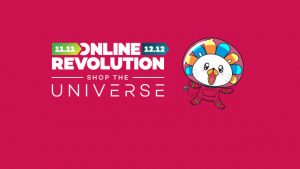 Once again, Lazada Philippines is holding the biggest online sale in the country called Online Revolution 2017 starting on November 9, 2017.
Here is the schedule of the biggest discounts in smartphones, tablets, laptops and other electronic gadgets. We've also included the SRP or original price and the sale price to show the difference.
Nov. 9 Tech Deals
Time
Product
SRP
FLASH SALE
12am
Cherry Mobile OnRev Astro 2 4GB (Red)
₱1,699
₱999
12am
Ace 32" Slim LED TV Black LED-808 DN4
₱9,999
₱4,999
12am
GoPro Hero4 Session
₱9,990
₱6,349
12am
Phoenix WinTab 7 Intel Quad-Core 1GB+16GB 7-inch 800 x 1280 IPS LCD Display Windows 8.1 Wifi Tablet
₱5,999
₱3,599
12am
Sandisk OTG SDDD2-032G 32GB with Sandisk Micro SD Class 10 32GB
₱2,170
₱949
12am
HP Deskjet 1112
₱2,500
₱899
8am
Romoss Sense 6P 20000mAh Dual Output LED Display Power Bank (White)
₱4,599
₱749
8am
Acer Chromebook CB3-131-C4NW N2840 2.16Ghz Celeron 11.6" Chrome OS
₱12,999
₱9,499
8am
VINOVO V4 5.5 inch Touchscreen Quad Core 1GB RAM 8GB ROM Super-Slim Smart Phone (Black)
₱4,998
₱1,779
8am
Cordya YG-500 1200 Lumens Home Theater 1080p Full HD LED Portable Projector (Black)
₱6,800
₱3,239
8am
 Sricam SP012 1280x720 720p P2P Wireless Security IP Camera (Black)
₱3,400
₱1,119
8am
Cloudpad XTAB 32GB (Black) with Free Halo Keyboard and Case
₱4,899
₱3,799
10am
Xiaomi Yi 720P HD Smart WiFi Home IP Camera (White)
₱3,500
₱1,799
10am
Infinix Note 4 X572 3GB RAM 32GB ROM (Champagne Gold)
₱18,000
₱5,799
10am
ACER ASPIRE ES1-332-P1N4 PEN-N4200/4GB/500GB/13.3/W10 (BLACK)
₱18,450
₱14,999
10am
SanDisk SDDD2-032G 32GB OTG Flashdrive
₱999
₱505
12nn
24pcs Portable Flashlight Tool Box Set
₱1,200
₱199
12nn
Microsoft Xbox 360E 4GB and Kinect Sensor Camera Set with Free Kinect Adventures and Kinect Sports Ultimate Collection
₱22,999
₱10,499
12nn
Modoex M9 Phone Quad Smart Watch (Black) Buy 1 Take 1 (Silver)
₱1,885
₱699
12nn
Asus ZenFone 3 Laser 4GB RAM 32GB ROM with Fingerprint Sensor (Gold) 
₱11,995
₱7,299
12nn
MOTOROLA MOTO C 4G 1GB + 16GB LTE (BLACK) 
₱4,299
₱2,899
12nn
 Nikon Coolpix A10 16.1MP 5x Optical Zoom (Black) with FREE 8GB SD Card
₱4,999
₱3,999
12nn
Asus X541NA-GQ079T Intel Quad-Core Celeron N3450, 4GB, 500GB, 14 ", Win 10 (Silver)
₱20,999
₱15,799
2pm
APPO W9 12MP 2" 1080P Ultra HD Plus WIFI Waterproof Sports Action Camera (Black)
₱2,598
₱969
2pm
ZEUS A-120 2.1Speaker (Black)
₱999
₱559
2pm
ETtab C10 10.6" Wi-Fi + Cellular Tablet 16GB (White)
₱7,200
₱2,580
2pm
Epson L360 Multifunction Printer (Black)
₱12,999
₱6,495
2pm
Elizabeth Arden Green Tea Cherry Blossom Eau de Toilette for Women
100ml
₱699
₱349
4pm
Doogee MIX 4G Phablet 5.5" inch Android 7.0 6GB RAM 64GB ROM Octa Core 2.5GHz (Dazzle Black)
₱16,995
₱7,830
4pm
Sharp 50" Full Hd Led Tv Lc-50Le275X
₱29,999
₱19,799
4pm
Oontz Angle 3 Bluetooth Speaker Black
₱4,699
₱999
4pm
ET V380 Smart HD 720P P2P Night Vision IP Camera with 2 antenna
₱3,000
₱759
4pm
Lenovo 110-14IBR (80T6007RPH) Intel Quad Core N3160 14" Windows 10 Laptop (Black)
₱16,999
₱13,099
6pm
Slique 25pcs Aluminum Kitchen Sets (Red)
₱4,999
₱999
6pm
Epson L120 with FREE Universal Audio Splitter
₱4,999
₱4,269
6pm
Zeus All-in-One PC 22"Superslim Quad Core 4GB RAM 128GB SSD Full HD Win10 with Wifi Function with Free Zeus Mk500 Wireless Keyboard & Mouse
₱19,999
₱14,999
6pm
3T Mobile KKP F6 Mini Car Cellphone 10.9cm (Gold)
₱1,499
₱625
6pm
Acer Aspire E5-475-30ZC 14" Intel Core i3-6006U 4GB Windows 10 Laptop with Free Acer Laptop Bag
₱28,299
₱24,799
6pm
 SJCAM SJ4000 12MP Wi-Fi Action Camera (Black)
₱3,599
₱2,299
6pm
Ace 19" Super Slim Full HD LED TV Black LED-505
₱7,799
₱3,199
8pm
LP-08 2.0CH Bluetooth Multimedia Soundbar Speaker System (Black)
₱2,299
₱897
8pm
 iSAFE HD4CHKITP3-DOME CCTV Kit Security System with 8 Channel High-Quality DVR and 4 PCS HD Indoor Dome Cameras 720P - 1.0-Megapixel with High-Definition Night Vision, Smart Phone and IOS Remote View Access and easy USB port Back-up (Black)
₱8,999
₱3,959
8pm
Sunsonic L08A 7" 3G Dual Sim Cellular Tablet 8GB (Black) with Free 10400mah Power Bank
₱4,900
₱1,665
8pm
Apple Macbook Air 13-Inch 128GB, MQD32
₱59,999
₱43,399
8pm
Gaming USB Keyboard and forev ST-18 USB GAMING Mouse Combo
₱1,999
₱535
10pm
Xtreme XP-8800 2.1CH Soundbar Speaker System & Sub-Woofer (Black)
₱5,995
₱3,596
10pm
Lenovo Yoga 300-11 IBR
₱17,995
₱11,599
10pm
APPO HSP12 Ultra-thin One Button Erase 8.5 inch LCD Writing Tablet (Black)
₱1,918
₱615
10pm
ETCAM C5 Underwater HD DV 5MP Waterproof Action Sports Camera (Black)
₱2,500
₱549
10pm
Leagoo M8 Pro 5.7" Inch 2GB RAM 16GB ROM Quad Core 1.3GHz (Champagne Gold)
₱8,990
₱3,865
10pm
FC-POCKET Classic 8 Bit Game Portable Console Family Computer 600 Games(Maroon)
₱1,999
₱399
Looking for the complete schedule? Here's the Complete Flash Sale Schedule of Lazada Online Revolution 2017 including non-tech products.
Shopping at Lazada
Lazada Philippines offers one of the most convenient online shopping experiences in the Philippines. There's no need to sign up for any purchase, shipping can be free above a threshold and cash on delivery is available as payment option.
Freenet now supports Lazada too! Using the app, users can access Lazada without charge on mobile data.
Add a comment:
Show Comment Form 💬