New Motorola 360 Smartwatch Launched in Three Versions
BY Daniel Gubalane ON Sep 03, 2015
The Moto 360 was the first to hit what a smartwatch should be with its round face and decent implementation of the Android Wear platform.
One year later, the company launched its successor in three versions – one for men, another for the ladies and a sport version with an embedded GPS radio.
All three versions of the Moto 360 has the same round face of the previous version with a small gap at the bottom where the ambient light and glance sensors are found. It also keeps the bezel or case as small as possible.
A quad core Snapdragon 400 processor powers the smartwatches aided by 512MB of RAM. Wi-Fi and Bluetooth 4.0 Low Energy are supported too.
It can survive being submerged under water for 30 minutes with an IP67 dust-proof and water resistant certification.
Each Moto 360 comes with either a 300mAh or 400mAh battery depending on the size. These can make the smartwatch last between one to two days in a single charge using its bundled wireless charger.
Buyers can also customize their Moto 260 using Motorola's Moto Maker with over 300 combinations. Try it!
Hundreds of different watch faces; Google Now for news alerts and reminders; health and fitness apps; Google Play Music; and other Android Wear apps from the Playstore make the Moto 360 not just an expensive accessory but a useful one. More importantly, it works with both Android phones and iPhones!
The Moto 360 for men comes in two sizes – a larger one with a screen diameter of 46 mm (1.56 inches) with 22 mm straps and a smaller one at 42 mm (1.37 inches) with 20 mm straps.
The two differs in screen resolution too with the first one having 330 x 360 pixels or 233 pixels per inch while the latter having lesser pixel count at 325 x 360 but higher pixel density at 263 ppi.
Using the Moto Maker, there are several options for the straps including leather and stainless steel. The bezel and watch body can also be in black, silver or gold stainless steel.
Motorola decided to include a version of the new Moto 360 that's designed for athletes – the Moto 360 Sport. While this might sound similar to the Apple Watch Sport, the company boasts that "you can leave your phone behind you when you go running".
Since it has built-in GPS, the Moto 360 Sport can track your activities such as running or riding a bike without the need for a smartphone companion. A pre-installed app from Motorola does the tracking as well as show health and fitness tips.
Its screen uses what Motorola calls AnyLight display that improves readability under bright sunlight. However, its straps are non-replaceable although it's made of strong silicone with UV coating.
Specs:
1.56-Inch Circular LCD Display (330 x 360 Pixels, 233 ppi) – 46mm Version
1.37-Inch Circular LCD Display (325 x 360 Pixels, 263 ppi) – 42mm Version
Scratch Resistant Corning Gorilla Glass 3
Android Wear OS
Qualcomm Snapdragon 400 Chipset
Adreno 305 GPU
512MB of RAM
4GB Internal Storage
Wi-Fi
Bluetooth 4.0
Compass
Gyroscope
Accelerometer
Haptics Engine
Ambient Light Sensor
400mAh Battery – 460mm Version
300mAh Battery – 420mm Version
Wireless Charging
Customizable via Moto Maker
$300 Starting Price in the US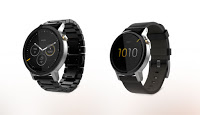 Specs:
1.37-Inch Circular LCD Display (325 x 360 Pixels, 263 ppi)
Scratch Resistant Corning Gorilla Glass 3
Android Wear OS
Qualcomm Snapdragon 400 Chipset
Adreno 305 GPU
512MB of RAM
4GB Internal Storage
Wi-Fi
Bluetooth 4.0
Compass
Gyroscope
Accelerometer
Haptics Engine
Ambient Light Sensor
300mAh Battery
Wireless Charging
Customizable via Moto Maker
$300 Starting Price in the US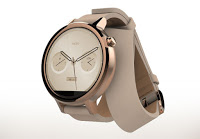 Specs:
1.37-Inch Circular AnyLight Display (325 x 360 Pixels, 263 ppi)
Scratch Resistant Corning Gorilla Glass 3
Android Wear OS
Qualcomm Snapdragon 400 Chipset
Adreno 305 GPU
512MB of RAM
4GB Internal Storage
Wi-Fi
Bluetooth 4.0
GPS
Compass
Gyroscope
Accelerometer
Haptics Engine
Ambient Light Sensor
300mAh Battery
Wireless Charging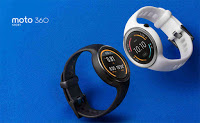 Add a comment:
Show Comment Form 💬