Torque Droidz Drive+: Android Tablet with Call and Text Capabilities for ₱3,999.00
BY Daniel Gubalane ON Aug 07, 2013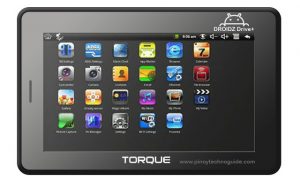 Torque Droidz Drive+ is perfect for you if you need a tablet with call and text capabilities. Although you have to use earphones when you make calls to make you look less awkward having to place this 7 inch tablet near your ear.
Aside from its call and text function. Torque Droidz Drive+ also boasts its 8 GB internal storage memory. This is perfect for storing and watching movies, playing games that require large game files and saving word or excel files to be edited using the Kingsoft Office app.
Based on the photo above, Torque Droidz Drive+ looks good with the usual logo on its upper right corner and a black case.
However, it's noticeable that the Android interface is somehow changed and the icons are customized too.
Torque Droidz Drive+ Performance
Since Torque Droidz Drive+ sells for just ₱3,999.00, you can't expect it to be very powerful. It is powered by a single core Allwinner processor but clocked at 1.2 GHz – that's a better speed than other dual core tablets out there.
You get an awesome 8 GB free internal memory with Torque Droidz Drive+ but its RAM is a mere 512 MB. This tablet is not really for hard core gamers but you should have no problem playing Candy Crush.
Battery capacity has been sacrificed too. Droidz Drive+ is powered by a 2,800 mAh Li-ion battery that should be able to power the tablet up to 12 hours with mild use.
Torque Droidz Drive+ Display and Camera
Torque Droidz Drive+ features a 7 inch capacitive display with a resolution of 800 x 480 Pixels. Certainly not the best screen but it's not that bad too.
It is equipped with two cameras. The first one is a 2 MP camera at the back and the second one is a VGA camera at the front. No LED flash and certainly no autofocus.
Torque Droidz Drive+ Complete Specs
Here's the complete specs of Torque Droidz Drive+ for you. Just check the other features that I haven't mentioned like Bluetooth and Android version.
1.2GHz Allwinner Processor
7 Inch Capacitive Display @ 800 x 480 Pixels
Android 4.0 Ice Cream Sandwich
ARM Mali 400 GPU
512 MB RAM
8 GB Internal Memory
Expandable up to 32 GB via MicroSD
2 MP Main Camera (no LED Flash)
VGA Front Camera
Single SIM with Call and Text Function
WiFi and WiFi Hotspot
microUSB
3.5 mm Audio Jack
No Bluetooth (to be confirmed)
No GPS (to be confirmed)
₱3,999.00 SRP
Available Nationwide at Torque Stores
Torque Droidz Drive+ Verdict
Bear in mind that Droidz Drive+ is not the best android tablet out there. But if you're looking for a tablet that can
make calls and texts,
store and play movies,
play simple games and
browse the internet with WiFi
then Torque Droidz Drive+ is a good choice with its relatively cheap price!
Add a comment:
Show Comment Form 💬