Acer Iconia W3 Review, Specs and Price in the Philippines
BY Daniel Gubalane ON Aug 20, 2013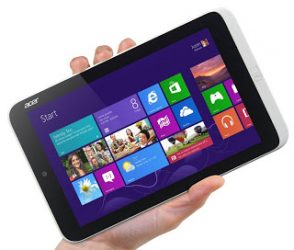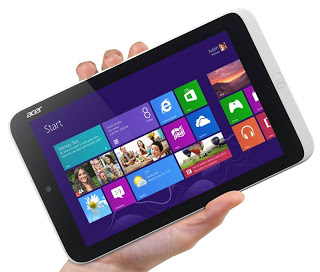 8.1″ Acer Iconia W3
Acer Iconia W3 is the first 8.1 inch tablet to run using Windows 8 Pro instead of the Windows RT. This means you can run all apps in a Windows 8 PC on this tablet.
Is this enough for Acer Iconia W3 to attract a lot of students and professionals? Productivity on the go is the main selling point of Windows 8 tablets but they should also deliver entertainment in the form of games, video consumption and others that you get with the iPad or an Android tablet.
Acer Iconia W3 Physical Appearance, Form and Build Quality
Acer Iconia W3 is a little thick and heavy at approximately 11.2 mm and half a kilogram respectively. It's also encased in plastic which makes it feel like a budget tablet.
Turning to the front side of Acer Iconia W3 in lanscape mode, you'll instantly notice the physical Windows button on the right and a camera on the left. The 8.1 inch display sits at the center with a thick bezel (~1 inch). Many considers this thick bezel an unpleasant sight while some also hails it for greater space to grip your Iconia W3.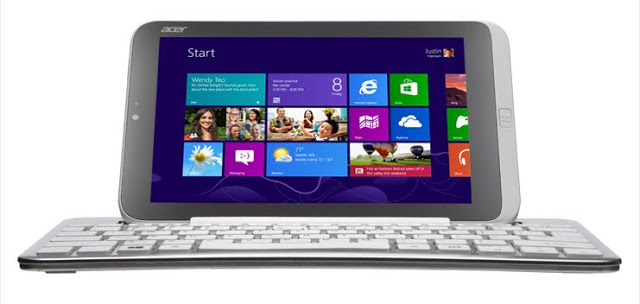 Acer Iconia W3 attached to a Bluetooth keyboard.
There's also a Bluetooth keyboard that can be attached to the tablet for serious productivity. It's just too big if you ask me.
Acer Iconia W3 Performance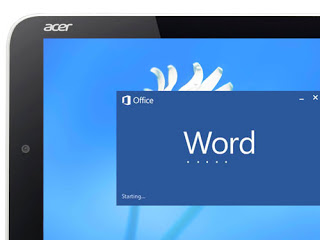 Microsoft 2013 opening on Acer Iconia W3.
Since it's Windows 8, there's no issue with the performance of Acer Iconia W3. Transitions are smooth, apps are very responsive and the 8.1″ screen makes more room for users. Although graphics intensive games or 1080p videos can make the Iconia W3 stutter.
With its full Windows 8 operating system, Acer Iconia W3 works like a charm for those who like to create documents and spreadsheets on the go. Microsoft Office 2013 comes free with the tablet as well as other Acer softwares.
Inside the Acer Iconia W3 is a 1.8GHz Intel Atom Z2760 Processor. This is coupled with 2GB or RAM and either 32GB or 64GB of internal storage.
Battery life for Acer Iconia W3 is impressive at 8 hours on average. Playing intensive games can get your tablet battery empty after 6-7 hours while casual web browsing or using Facebook can even make it up to 9 hours.
Acer Iconia W3 Display and Cameras
Acer Iconia W3's screen provides great graphics but suffers with a narrow viewing angle. The 8.1 inch LCD screen has a resolution of 1280×800 Pixels or 186 pixels per inch.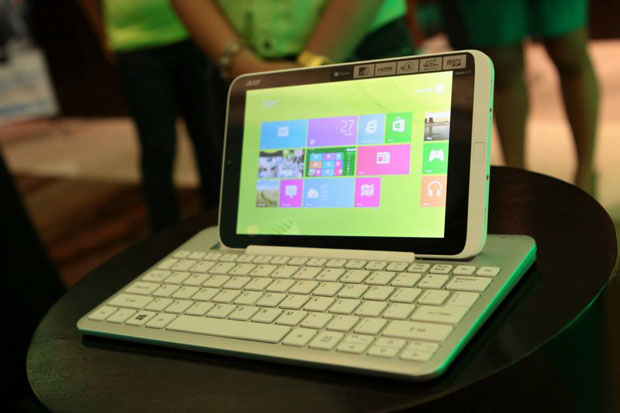 Acer Iconia W3 displayed during its launching event in the Philippines.
There are two cameras both with 2 Megapixel sensors. However, the main camera is placed in a corner. The two don't deliver high quality photos too. This is expected since most tablets are not really used for taking pictures but for video calling.
Acer Iconia W3 Connectivity Features
Acer Iconia W3 has all the essentials when it come to connectivity for tablets. It has WiFi, Bluetooth, microUSB port, 3.5mm audi jack and microHDMI port.
If you like to use a USB dongle to connect your Acer Iconia W3 to a 3G network, you'll be happy to know that this tablet fully supports 3G USB dongles like your SmartBro or Globe Tatoo.
Acer Iconia W3 Price and Availability in the Philippines
If you like the Acer Iconia W3, you can get it for Php19,900 (suggested retail price). If you also want the keyboard, that's Php3,600.
But if you're okay with post paid plans, Smart offers it for Php1,249 per month. This is bundled with the Smart Pocket WiFi.
Acer Iconia W3 Tablet Complete Specs
1.8GHz Dual Core Intel Atom Z2760 Processor
Windows 8 Pro (Full Desktop OS)
8.1 Inch LCD Capacitive Display @1280×800 Pixel Resolution or 186 PPI
2 Megapixel Camera (Front and Back) without LED Flash
2GB RAM
Intel Graphics Media Accelerator 3650
32GB/64GB Internal Storage
Expandable via microUSB
WiFi
Bluetooth 4.0
GPS
microUSB
microHDMI
Php19,900 SRP
Php1249/month Smart Post Paid Plan
Acer Iconia W3 Verdict
Acer has produced a great tablet with the Iconia W3. This is largely due to the use of the full Windows 8 operating system and not the Windows RT.
However, there are certainly several areas that the company can improve including the design or aesthetics and the display.
Aside from that, I like the Acer Iconia W3 tablet.
Add a comment:
Show Comment Form 💬