5 Reasons Why Starmobile Knight is the Best Android Phone in PH
BY Daniel Gubalane ON Jul 08, 2013

Starmobile Knight has been drawing a lot of attention lately with its amazing specs and features. Rated K featured it on Father's Day while GMA's Pop Talk dubbed it as 'pop na pop'.
Why does Starmobile Knight draw such attention?
Here are the top 5 features of Starmobile Knight that makes it the best smartphone in the Philippines now.
1. Starmobile Knight's 18 Megapixel Main Camera Plus 8 Megapixel Front Camera

The feature that attracts the most attention for Starmobile Knight is its 18 and 8 Megapixal cameras. The camera at the back is the 18 MP with autofocus and Backside Illuminated (BSI) sensor while the front camera is the 8 MP one with autofocus and BSI too.
In the photo above, you can see the 8 Megapixel camera on the right side of the front speaker. It's the best camera there is in a smartphone for taking selfies or pictures of your self.
Yes, you can take selfies using the back camera of your current smartphone but it's far easier using the front facing camera. However, most phones only have 2 MP camera for the front. Starmobile Knight's front camera is even better than the main cameras of other phones.
2. Starmobile Knight's Very Clear High Definition Screen with Gorilla Glass
Another feature of Starmobile Knight that makes it the best Android phone in the Philippines today it its high definition screen. With a resolution of 315 pixels per inch, Starmobile Knight's display looks brilliant and sharp.
You don't need a screen protector with Starmobile Knight. It's screen is covered by Corning's Gorilla Glass that protects it from scratches. Knives, keys and coins won't render any mark on the Starmobile Knight's screen.
3. Starmobile Knight Crazily Looks Like an iPhone 5!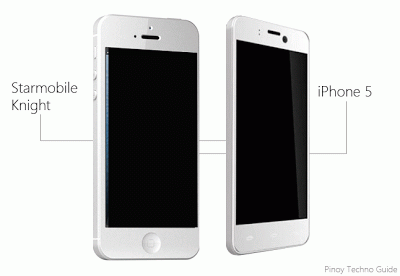 The shape, thinness and position of Starmobile Knight's parts resemble that of Apple's iPhone 5. Starmobile Knight is actually thinner than iPhone 5 but slightly taller and wider.
Check the side by side photo above. If not for the home button and the volume buttons, I'd really think the two phones are iPhones.
4. Starmobile Knight's Quad Core Power
Starmobile Knight won't come empty handed in the battle of quad core phones. It also has a 1.2 GHz MediaTek MT6589 processor which will run Android Jelly Bean as smooth as it can be.
The quad core processor is coupled with 1 GB of RAM for handling more apps at the same time or a very resource intensive app.
5. Starmobile Knight's Complete Connectivity Features
Except for LTE, Starmobile Knight is a complete package when it comes to connectivity. It has WiFi and WiFi hotspot, 3G(HSPA+), Dual Sim, Bluetooth, GPS and FM Radio.
The only thing that puts a scratch on Starmobile Knight's name is its non-removable battery. This is necessary in achieving the thinness of its body.
For more information about Starmobile Knight, check out one of the most read articles here on Pinoy Techno Guide, All About Starmobile Knight.
Add a comment:
Show Comment Form 💬