How to Create a New Line in Excel Cell (Alt + Enter!)
BY Daniel Gubalane ON Jul 09, 2013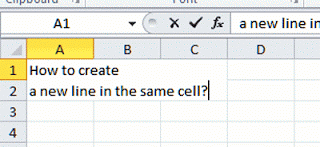 Yes, you can create a new line in the same cell by holding down the Alt key and pressing Enter. This is the new line combination inside a single cell in Microsoft Excel. It will allow you to start a new line within a single cell in your Excel Spreadsheet.
Go ahead, try it!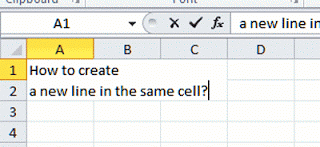 How to Create a New Line in Excel Cell?
However, if you have already typed a very long sentence in a cell, it will run over the other cells.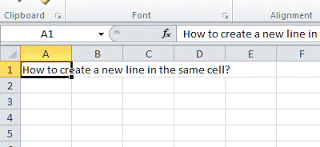 To make it fit inside the A1 cell, you have to click the Wrap Text icon. It is just below the Data tab in Microsoft Excel 2010. This will start a new line after every word in the sentence if it doesn't fit in the cell.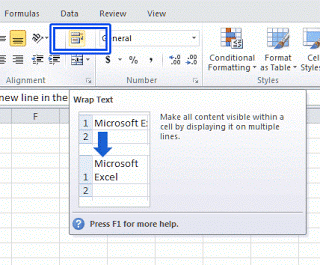 Microsoft Excel 2010 Wrap Text button.
After clicking the Wrap Text button, the content of the highlighted cell will fit inside the cell. The height of the cell will expand though to accommodate all the text or any other data.
If you want to apply this setting to a lot of cells, just highlight all of them and hit the Wrap Text button again.
Add a comment:
Show Comment Form 💬