Starmobile Knight – Quad Core with 18 MP Camera Android Jelly Bean Smartphone
BY Daniel Gubalane ON Jun 04, 2013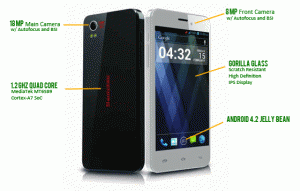 Starmobile Knight might change this company's place on the market.
Starmobile might finally break through its competitors with its latest offering – the Starmobile Knight. This iPhone looking smartphone packs a lot of features that will attract a lot of potential customers.
Starmobile Knight with Specs
To start with, Starmobile Knight features a crazy duo of cameras. The main camera is an 18 MP shooter while the front facing camera comes at 8 MP both with Autofocus and Backside Illumination technology.
Another selling point of Starmobile Knight is its 1.2 GHz quad core processor which is coupled with 1 GB of RAM. This makes running Android 4.2 Jelly Bean as smooth as it can be.
Finally, Starmobile Knight boasts its High Definition screen which is protected by Corning's Gorilla Glass. This makes Starmobile Knight scratch resistant even by a knife.
But that's not all!
Here's the Complete Specs of Starmobile Knight:
1.2 GHz Quad Core MediaTek MT6589 Processor, Cortex-A7
Android 4.2 Jelly Bean
4.7 Inch High Definition (1280 x 720) IPS Display @ 315 PPI
Corning Gorilla Glass
PowerVR SGX544 GPU
18 MP Autofocus Main Camera with BSI and Dual LED Flash
8 MP Autofocus Front Camera with BSI
1 GB RAM
4 GB ROM (Internal Memory)
138 mm Tall, 66.7 mm Wide and 7.5 mm Thin
Expandable up to 32 GB via MicroSD
Dual Sim/Dual Standby, 1 micro SIM
WiFi, WiFi Hotspot
Dual 3G, HSDPA, GPRS
GPS, Bluetooth, FM Radio
2000 mAh Lithium Polymer Battery (non removable)
₱11,290.00 SRP, NOW AVAILABLE!
Starmobile Knight's 18 Megapixel Camera: A Closer Look
When you try too hard to impress techie people, they usually doubt you. That's what happened with the 18 MP camera of Starmobile Knight.
Why would techie people doubt an 18 MP camera? Because a camera with a large pixel count begs for a larger camera sensor which would in turn require a larger phone – not desirable for today's smartphones.
The folks over at
Droidsans.com
opened up an imobile IQX to have a very close look at this 18 MP camera. Starmobile Knight is a rebranded imobile IQX.
The picture shows it for you. The said camera is rated at 12.7 MP only. It produces an 18 MP image by using a technology called Software Interpollation. The software basically scales up the image taken by the 12.7 MP sensor.
The front camera however, is a true 8 MP sensor. Concerns are popping in however about the performance of video calls using that camera. It would require a faster internet connection because the video will have a larger file size.
Starmobile Knight: Packed with Awesome Features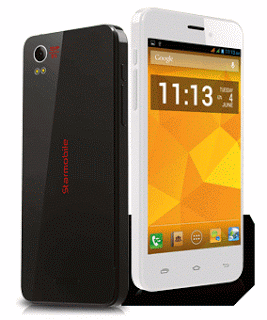 Don't get me wrong about Starmobile Knight. It's a very good phone packed with a lot of features. But you should also know what to believe and what to doubt. A 13 MP camera would be very good paired with an 8 MP for the front. There's no need to exaggerate.
Here are some cool features of Starmobile Knight that we have no doubt. First, it is powered by a 1.2 GHz Quad Core processor. Several locally branded phones are already quad core and its high time for Starmobile use it for their phones. This will ensure a lag-less experience for Knight users.
Another cool feature of Starmobile Knight is Android 4.2 Jelly Bean. This new flavor of Android Jelly Bean lets you share your screen over WiFi, take photo sphere pictures, gesture type, has action buttons in notifications and faster than previous Android versions.
Next in line, dual sim 3G. We are used to have dual sim smartphones but with only one of the SIM's capable of connecting to a 3G network. Now with Starmobile Knight, you can connect to 3G service using any of the two sim slots.
Finally, Starmobile Knight will give you very sharp and crisp text and graphics since its 4.7 inch screen features a 1280 x 720 resolution or 312 pixels per inch. This is powered by a PowerVR SGX544 Graphics Processing Unit and protected from your girlfriend or sister's clumsiness (hold that thought for the comments) by Corning's Gorilla Glass technology.
Starmobile Finally Revealed Knight's Price – ₱11,290.00
Well, seems like Starmobile keeps their pricing strategy for good. Just like you, we are a bit disappointed with the price tag of Starmobile Knight.
But hey! It's 18 MP + 8 MP camera combo right? Plus, there's the quad core processor and scratch resistant gorilla glass!
Add a comment:
Show Comment Form 💬