MyPhone Iceberg Specs, Price and Features – Quad Core 5.7″ Phablet From MyPhone
By Daniel Gubalane on Jul 17, 2013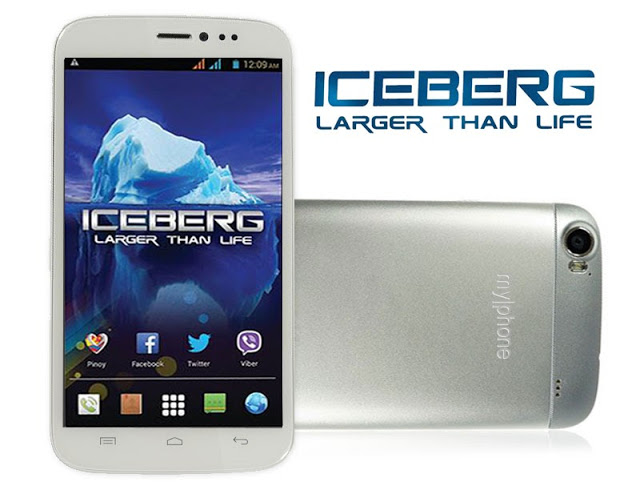 Get Excited! MyPhone Iceberg is a phablet you wish to be yours.
After examining the comments in their teaser photos, I quickly learned that MyPhone Iceberg is very similar to BLU Life View. MyPhone says it's not a re-branded phone but that they have the same supplier with BLU.
MyPhone Iceberg's Clever Teaser Photos
MyPhone Iceberg Teaser Photos | Click to enlarge |
Before we discuss the cool specs and features of MyPhone Iceberg, it's worth noting the clever teasing done by MyPhone for this phablet on Facebook. They certainly raised the longing for MyPhone Iceberg by revealing some of its features and asking us to guess the smartphone's name.
A Facebook user commented that his friend who works at MyPhone told him that the new phone is MyPhone Iceberg and will sell at ₱12,000.00.
I verified that statement and searched for his friend who works at MyPhone using Facebook's new Graph Search. When I saw that he really has a friend at MyPhone, I quickly posted my findings here. Hence, you can always count on Pinoy Techno Guide to provide you with the latest buzz in the local tech sphere. If you want to get the latest tech buzz in the Philippines, Like us on Facebook!
MyPhone Iceberg Special Feature 1: Clever Motion
Clever Motion is like Samsung's Air Gesture that lets you control MyPhone Iceberg by performing certain actions with your hands.
You can wave to take a picture or make the screen of MyPhone Iceberg dimmer and even dial a phone number. Flipping the phone up side down will also mute it.
MyPhone Iceberg Special Feature 2: Wireless Display
Since MyPhone Iceberg runs on Android version 4.2.1 Jelly Bean, it has the wireless display feature enabled. That's right, no need for cords of any sort in order to display your game or movie on a larger screen.
MyPhone will sell a wireless HDMI adaptor for MyPhone Iceberg. The adaptor needs to be plugged into a TV with an HDMI port so that MyPhone Iceberg can connect with it.
The technology behind this wireless display technology is called Miracast and is being developed by hardware giants like Netgear and NVIDIA.
MyPhone Iceberg Special Feature 3: Anti-Theft Application TARA
TARA is an exclusive app for MyPhone users which stands for Theft Apprehension and Asset Recovery Application.
TARA works by disabling your phone when someone steals it or even when you lost it.
MyPhone Iceberg Specs 1: Processor, Operating System and Memory
MyPhone Iceberg is powered by a 1.2 GHz quad core processor which is MediaTek's MTK MT6589. That's a Cortex-A7 chipset with a PowerVR Series 5XT graphics processing unit. Add to that a 1GB RAM and you'll have a very smooth Android Jelly Bean experience in your hands.
Specs Highlight: MyPhone Iceberg flaunts the highest amount of internal storage capacity among the local phones in the Philippines right now. Get this: 16 GB of memory for you! That's four times bigger than most smartphones that only come with 4 GB of internal storage.
MyPhone Iceberg Specs 2: Camera, Screen, Connectivity and Battery
As a MyPhone developer said, "MyPhone Iceberg will remind you of the Titanic when you see it". This is due to its enormous 5.7 inch which is multi-touch and high definition with the added protection of Corning's Gorilla Glass 2.
BLU Life View, MyPhone Iceberg's OEM is made by an American company. Hence the choice of Gorilla Glass against Dragontrail which is a product of Japan.
MyPhone Iceberg 12MP Camera
At the back of MyPhone Iceberg is a 12 Megapixel Camera with a single LED Flash and Backside Illuminated sensor while its front camera is a 5 Megapixel shooter. #selfie, anyone?
Feature Highlight: MyPhone Iceberg has a feature called multi-angle shot that lets you create a panorama like image that you can later scroll to give you an almost 360-degree view of the subject.
Sadly, MyPhone Iceberg is not yet the local phone to feature LTE but it is 3G capable and has two SIM slots.
Battery life for MyPhone Iceberg is on par with other handsets of the same screen size at 2,600 mAh.
MyPhone Iceberg Aesthetics, Price and Availability
You might have noticed the note in the first picture in this post. Yes, the map at the back of this MyPhone unit is gone. Although MyPhone might add it later.
I hope they won't. MyPhone Iceberg is a very good phone with an aluminum back cover and the premium feel when you hold it in your hands might be spoiled by the map design.
The map can be added on jelly cases and flip covers. That's if MyPhone hear me out.
Again, MyPhone Iceberg sells at ₱11,988.00 ₱8,988.00 and formally launched on July 26 at Eastwood City Plaza.
During the event, you can enroll in an installment plan for MyPhone Iceberg that will cost you just ₱499.50 per month for 24 months. MyPhone will accept Citibank, BPI, Metrobank, RCBC credit cards and cash payments.
MyPhone Iceberg Complete Specs [Official]
1.2 GHz Quad Core MediaTek MT6589 Processor, Cortex-A7
Android 4.2.1 Jelly Bean
5.7 Inch High Definition IPS Display at 720 x 1280 Pixel Resolution or 258 Pixels per Inch
Corning Gorilla Glass 2 Scratch Resistant
12 Megapixel Autofocus Rear Camera with LED Flash and BSI
5 MegaPixel Autofocus Front Camera
PowerVR Series 5XT GPU
1 GB RAM
16 GB Internal Storage
No MicroSD Slot
WiFi, WiFi Hotspot
3G (HSPA+), EDGE, GPRS, GSM
Bluetooth and GPS
Wireless Display
USB OTG
FM Radio
Light, Motion, Proximity and Magnetic Sensors
2,600 mAh Li-ion Battery
₱11,988.00
What I Like About MyPhone Iceberg
Quad Core Processor
Muti-angle Shot
Wireless Display
Big, HD Screen
Metal Back Cover with no Map
Installment Plan
What I Don't Like About MyPhone Iceberg
Less than 300 PPI
Too large for my cute hands
Non-expandable memory
How about you? What do you think about MyPhone Iceberg?