Starmobile Play Five Review: Affordable Fifth Anniversary Phone
BY
Daniel Gubalane
ON Jan 21, 2017
The entry level smartphone market is a difficult balancing act to perfect. You'll have to produce a device with good specs at the lowest possible price.
Starmobile tries its luck with the Starmobile Play Five, a 4-inch quad core smartphone with a 5MP camera, 3G connectivity, 512MB of RAM, 1500mAh battery and Android 6.0 Marshmallow out of the box for a price tag of ₱1,799.00.
The company, together with Virtusio PR International, Inc. sent us the device in a Christmas bundle. Hence, we took the opportunity to review it.
Design & Build Quality
The Starmobile Play Five is encased in polycarbonate plastic with a textured back for a better grip. Its audio jack and microUSB port both reside on the top side while the front panel has the 4-inch screen with capacitive keys below it.
Surprisingly, the phone has some heft to it and metallic parts can be seen when the back cover is pried open. I've even dropped it accidentally from my table to a tiled floor and there's no apparent effect on its performance nor produced dents.
Display and User Interface
One thing that might disappoint its users is the Starmobile Play Five's display. Coming from larger smartphones, I find it small and restricting. That's not even the main disadvantage of the display, it's not an IPS panel so colors are washed out when viewed at an angle and the brightness is not enough when I'm out under the bright sun.
The user interface is stock Android 6.0 Marshmallow. It's alright when the phone is first used with minimal lags and a familiar look. However, the Google Play Store throws Not Responding errors which can be annoying if you're not a techie.
Performance
Yes, the Starmobile Play Five has a quad core processor. But, it's the dreaded Spreadtrum SC7731 paired with merely 512MB of RAM. Facebook notifications is enough to make it lag and stutter. This can be fixed though by using Facebook Lite then periodically closing recently opened apps.
Nevertheless, it can run popular casual games smoothly such as Temple Run, Piano Tiles 2 and even Shadow Fight 2! Temple run is even surprisingly smooth. The touchscreen and accelerometer are both responsive enough so your swipes and tilts are executed swiftly.
I've tried playing Asphalt Nitro on the Starmobile Play Five but it's had a lot of lags and stutters. Stick to lightweight games and you'll have a perfect past time playing while waiting for the next trip.
Connectivity & Call Quality
The Starmobile Play Five got aces in terms of connectivity and general phone functions. It easily connects to Wi-Fi networks and mobile data on 3G then let's you browse the internet smoothly. Just don't open a lot of tabs on your browser.
Call quality is likewise decent if not impressive. The audio from the earpiece is surprisingly good compared to other cheap smartphones that produce ear-piercing sound.
On the other hand, the included free earphones has thin cables and unimpressive sound quality. It's alright for the price but if you prefer high quality music listening, grab a better quality earphones.
Camera
The Starmobile Play Five's 5 Megapixel camera at the back lacks autofocus. It's not totally useless though. On the other hand, the 2 Megapixel front camera is the frustrating one. Photos shot with it look like those from VGA cameras.
Here are some sample pictures shot with the Play Five:
Battery Life
Since it already runs on Android 6.0 Marshmallow, the Starmobile Play Five has superb standby time. It can reach more than 3 days without re-charging as long as it's just lying there waiting for a text or call. That's Marshmallow's Doze mode working its magic.
When used as I usually do, it can last a whole work day with some texting and calls as well as intermittent Facebook browsing and gaming. However, it only lasts up to 2 hours and 50 minutes when used constantly as in gaming or watching movies.
It also needs almost two hours to completely re-charge from zero to 100% battery capacity using the included charger.
Summary
The Starmobile Play Five is Starmobile's treat for the company's fifth year anniversary. I had doubts about it at first since it has meager specs but it can run casual games smoothly, has a good call quality and the Marshmallow OS does wonders for its battery life.
If you're willing to sacrifice the screen quality, selfie quality and the regular Facebook app to its Lite version, the Starmobile Play Five is a great buy for ₱1,799.00 only!
Starmobile Play Five

Review Summary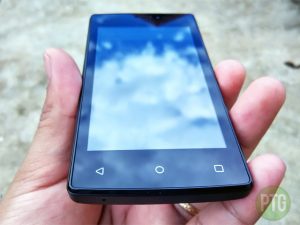 Starmobile's treat for its fifth anniversary is a good entry-level smartphone.