QCY Q29 Pro Review: Good Quality & Affordable True Wireless Stereo Earbuds
BY
Daniel Gubalane
ON Oct 23, 2017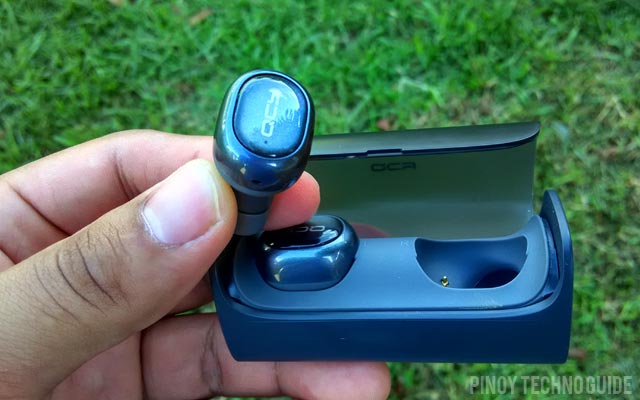 There's an alternative to the Samsung Gear IconX and Apple EarPods with decent sound quality for an affordable price – the QCY Q29 Pro.
It's my first time reviewing a true wireless earbuds or TWE which means they don't have connecting wires or cords whatsoever. I had doubts at first but found myself constantly wearing the QCY Q29 Pro in my ears.
What's in the box?
The QCY Q29 Pro comes in a brown box with a charging case, microUSB cord, a quick start guide and two pairs of replacement earbud tips.
I had to read and follow the setup guide to activate the earbuds and pair them with my phone and with each other for stereo audio.
Design and Controls
On first sight, the QCY Q29 Pro earbuds look big. This is because each earbud contains its own battery, driver and wireless chips. It's very portable though when placed in its charging case.
I had to replace the tips with the smallest pair to get a good fit for my ears. They are comfortable to wear and light tipping the scale at just 5.3 grams each.
There's only one button called the multi-functional button or MFB. A single tap is Play/Pause while a double tap is Next. It can also be used to answer or end a call. However, it doesn't have built-in volume control.
Sound Quality
Hearing the lady voice say "Welcome to QCY" upon activating the QCY Q29 Pro earbuds made be expect it to sound bad. The voice sounds similar to that of low quality speakers.
But I was pleasantly surprised when I played music and heard its decent audio quality. It's a bit bassy but not too much while vocals sound great. Turning the volume all the way up produces some distortion though. Hence, I keep it at around 80% which also extends its battery life.
It's good for taking calls too. There's a built-in microphone to both earbuds that does its job well.
Connectivity
QCY claims a range for the Q29 Pro at 10 meters without obstruction. It's more like 6-8 meters though. Any more than that and the audio starts to get choppy.
Follow the instructions and you'll have no problem in connectivity. I had to remove the earbuds from my phone's list of Bluetooth devices because the left earbud refuses to connect with the right. The correct way is to connect the right earbud first before removing the left earbud from the charging case.
A concrete wall easily cuts the connection.
Battery Life
Each QCY Q29 Pro earbud has a 45mAh battery and can last 3 hours on a single charge. This can extend to 4 hours when used with around 50% volume.
Meanwhile, the charging case also has its own 220mAh battery. Putting the earbuds back in the case re-charges them up to four times – that's 12 hours of additional listening time on the go!
Re-charging the whole setup requires around 40 minutes of plugging in to a USB port. It can be faster with a 5V/2A cellphone charger.
Conclusion
The QCY Q29 Pro is a good alternative to the more expensive true wireless earbuds from more well-known brands. It lets you experience good audio quality without the messy wires.
It happens to be relatively affordable too. It's available for ₱1,999.00 on Lazada. It's compatible with both Apple products, Android and laptops too.
QCY Q29 Pro

Review Summary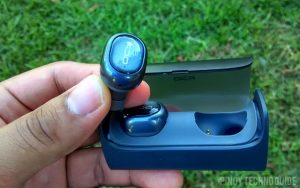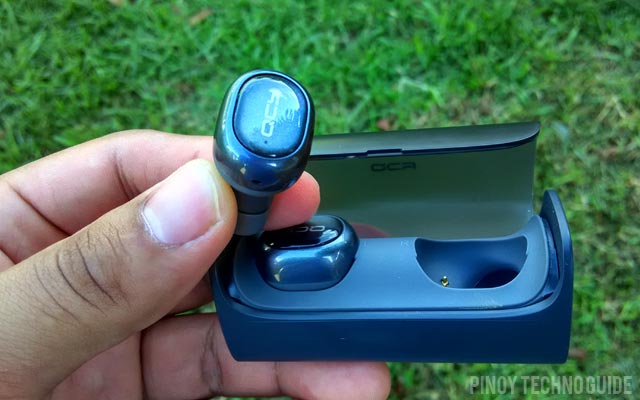 A good alternative instead of the more expensive Samsung Gear IconX true wireless earbuds.