My Lenovo Premium Care Experience
BY Daniel Gubalane ON Oct 29, 2021 with
28 Shares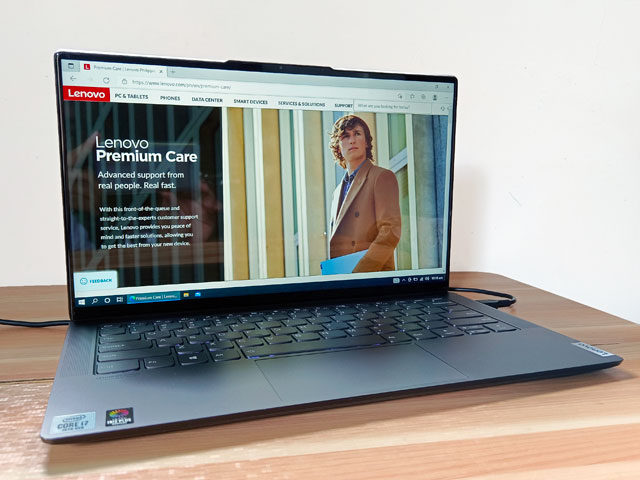 During a recent Lenovo media event, I won a raffle for a hands-on experience with the Lenovo Premium Care warranty service. It involves a broken laptop that I can have repaired via Premium Care and then share my thoughts and experiences.
At first, I thought this was a setup for a good review of the service. On the contrary, I was able to talk to and meet real people who were doing impressive work in fixing the laptop. However, the experience also revealed some aspects of the warranty service that can be improved.
It all began when I received a Lenovo Yoga S940 laptop. It lights up and shows the Lenovo logo but doesn't proceed to boot up to Windows and gets stuck on a black screen instead.
There's a QR code on the underside of the laptop labeled as eSupport. I scanned that using my phone and it opened the Lenovo support page where the warranty status of the device is displayed.
Unfortunately, it shows that the device is already "Out of Warranty". Lenovo laptops with Premium Care should have up to 3 years of premium support. I consulted Lenovo's PR team and they fixed the issue.
A technician from Lenovo Premium Care called me afterward and asked about the broken laptop. I told him that I received a broken laptop and that the person who gave it to me said it has Premium Care.
At this point, I was still thinking that this was all pre-arranged but did not confront the technician.
He walked me through a process called "isolation" where he identifies what's keeping the laptop from functioning normally. He asked me to check if the laptop is simply out of battery and describe what happens when I try turning it on.
The next steps in the isolation process started to convince me that this isn't pre-arranged. The technician asked me to find the laptop's "Novo button". It's a pin-hole on the underside of the laptop that launches a recovery menu or reset function.
It turned slightly technical when we were looking at the laptop's boot menu and recovery options. Not all laptop users would want to deal with this but I just went with it since I have some experience tinkering with laptops including reformatting Windows. Thankfully, he was very respectful even though it already took more than an hour.
Thinking back to that time, I should have told him that I don't know how to open Windows safe mode and other technicalities. Instead, we went so far as downloading a Windows 10 installer on a USB flash drive because he wanted to reformat the laptop.
I was already convinced that the technician doesn't have an idea that the laptop was sent to me by Lenovo's PR team. Otherwise, he would have just sent someone to reformat the laptop since that's one of the main advantages of Lenovo Premium Care.
It's an on-site warranty service which means a technician will go to your house or office to fix the laptop. Standard warranty services usually require the owner to bring the device to the service center.
I also asked him if the service is available 24/7 just like the Lenovo website claims. He said yes but also informed me that the "Tagalog" support is only available up to 11 PM. That's too honest if this was pre-arranged.
I received the broken laptop in our petshop in Ormoc City. This may have also contributed to the technician's eagerness to solve the issue through voice call.
However, the internet speed was too slow for downloading Windows 10. I had to complete the process at home where we have an optical fiber internet connection. He also said he'll check if on-site service is available in my hometown.
The next day, I already have the Windows 10 USB installer ready. However, I was about to plug it into the laptop and start the reformatting process when I realized that the laptop only have USB Type-C ports.
My regular USB-A flash drive can't be plugged in without an adaptor. When I told the technician about the problem, he quipped "'yun lang". He then reassured me not to worry because he already confirmed that on-site service is available in my area.
Lenovo Premium Care promises "next-day on-site service" but the technician asked for a few days since he will send replacement parts for the laptop. Shipping from Metro Manila to Ormoc City usually takes a week.
After exactly 7 days, the technician informed me that the parts are already in Ormoc City and another technician will conduct the on-site service the next day.
The technician from a Lenovo service partner went to our petshop the next morning bringing a motherboard and SSD for the laptop.
He called beforehand asking if I can bring the laptop to their office but I insisted on Lenovo Premium Care being an on-site warranty service. He was concerned whether the petshop was too crowded for a laptop repair involving tiny screws.
I assured him that most customers buy their needs in the afternoon and provided a table for him to work on.
The technician replaced the laptops internal parts almost effortlessly and ensured that it was put back properly. Screws were organized, ribbon wires are reconnected snuggly, and thermal pastes were applied.
I felt sympathy for the technician working on a small table among cages, travel crates, dog treats, and all the fur from dogs being groomed. However, this is also a great convenience for laptop owners who can't leave their stores, office, or homes during these trying times.
After fixing the laptop's hardware, the technician installed Windows 10 and ensured that all of its functions work well.
The previous technician also called me afterward and asked if the laptop has been fixed. Since it's already working properly, he marked the issue as resolved and assured me of the availability of support whenever I stumble another problem in the future.
Here are the best aspects of my hands-on experience with Lenovo Premium Care:
The Lenovo technicians are not just helpful but also respectful. They patiently guided me through the different processes and asked me politely to do the tasks they need in fixing the laptop.
QR codes in the underside of the laptop provide an easy way of verifying its warranty and then contacting support service.
The technicians may have a few requests but these are reasonable. If these are not doable on your part, they'll find another way and help you anyway.
On-site service makes it very convenient. The on-site technician will service broken laptops in your house, work, or business.
The replacement parts and labor were all free of charge.
On the other hand, I have two suggestions on how to improve Lenovo Premium Care:
Technicians should ask whether the owner of the laptop is comfortable with technical tasks. Some of the steps may sound simple such as selecting an option in a menu or pressing a button but the overall experience can be stressful for non-techy customers. Some may prefer the on-site service immediately.
The eSupport QR code on the laptops should work flawlessly. I understand that my unit is a special case but seeing something like "20 months of Premium Care" on its warranty status would have made the experience more authentic.
Lenovo Premium Care changed my perception about laptop warranty. It's usually a hassle finding a service center to have a broken laptop repaired or nearly impossible to find a real person to call through hotlines.
Lenovo's on-call and on-site warranty service have helpful, polite, and knowledgeable technicians who will help you fix laptop issues. They will also guide you on how to get started in using a new device.
Lenovo Premium Care is a worthy add-on to a new laptop and a great freebie for models that are bundled with it for free.
#
Thank you to the Lenovo PR team for the chance to experience Lenovo Premium Care. Huge thanks too to Emerson, Lenovo technician assigned to my case, and the technician who repaired the laptop in our petshop.
Add a comment:
Show Comment Form 💬