MyPhone My35 Review
BY Daniel Gubalane ON Jan 09, 2016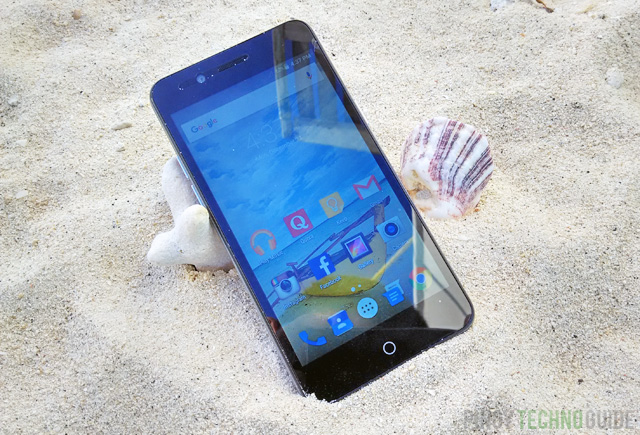 The MyPhone My35 comes in a normal-looking box with the term '5.0" Octa-Core' prominently displayed. Unboxing it reveals the phone, a wall charger, USB to microUSB 2.0 cord, earphones, quick start guide, warranty certificate and a bookmark.
On a separate package is the free 8-year commemorative watch of the company. It's inside a can surrounded with iconic Filipino designs on the outside and cushioned by several foams inside. The watch itself is of high quality that seeing it makes you feel you've got more than what you paid for.
I gave the watch to the Swedish boyfriend of my wife's cousin as a souvenir for attending our wedding and spending Christmas here in the Philippines and he loved it!
The first thing that you'll notice with the MyPhone My35 is its reflective circular Home key. It doesn't light up unlike the Recent Apps and Back keys on the right and left.
Its 5-inch HD display is flanked by 4 mm bezels on the side and 16 mm on the top and bottom. Surrounding the phone is a metallic frame that certainly provides protection and adds a 'premium feel' but also makes it larger by 1 mm on all four sides.
What do you think of the map?
At the back is a patterned glossy cover with the infamous Philippine map design. It's a finger print and smudge magnet. You'll have to wipe it once in a while to preserve its pristine look.
The said cover can be pried open to reveal two slots for a micro-SIM card, one micro-SD card slot, its non-removable battery and a large loudspeaker.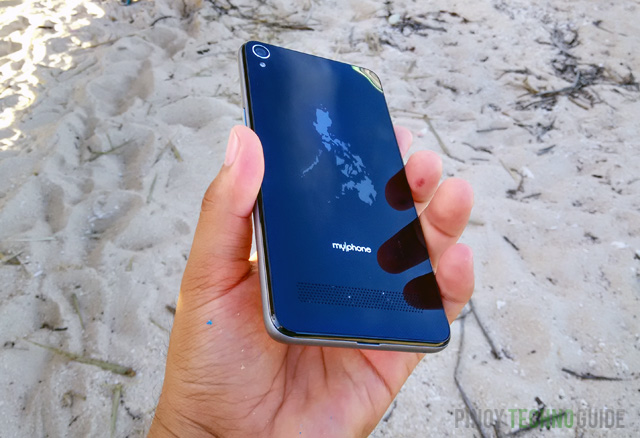 That's a BIG loudspeaker!
Overall, the phone's design and construction feels solid and sturdy. It may not appeal to people looking for a 'sexier' phone but those who are pragmatic and a bit adventurous will appreciate it.
The screen of the MyPhone My35 is your usual 5-inch HD IPS panel capable of detecting up to 5 touch points simultaneously. It easily responds to a tap – probably too sensitive at times. This might be due to the pre-installed screen protector.
Colors are vibrant enough especially if the MiraVision Vivid Mode is turned on. The quality doesn't change that much when the screen is viewed at an angle.
This is important. If you enable Adaptive Brightness, don't put the brightness slider all the way to the left because it will essentially turn off the display.
I have mixed feelings with the MyPhone My35's cameras. It can capture above average quality pictures with ample lighting but suffers a lot at night.
Even without using HDR, photos from the rear and front cameras look alive with clear details and vivid colors. This is most probably the result of good image processing. The Samsung image sensor at the back surely helped too.
When the LED flash is used, pictures and videos shot at night look alright. I also like that there's an option to use the flash as a torch even when not in video mode. Don't use the flash and you'll be very disappointed though.
Sample pictures are on my personal blog.
MyPhone says the My35 has Hi-Fi audio. However, all I could appreciate is its loudspeaker. It's loud and clear even if the volume is at around 90%. It can fill a fairly large room with music and drown out other phones. It's also a great music player while I'm taking a bath.
There's a feature called Loudness Enhancer in the Sound Settings that does what it says and further enhances the quality of sound from the loudspeaker.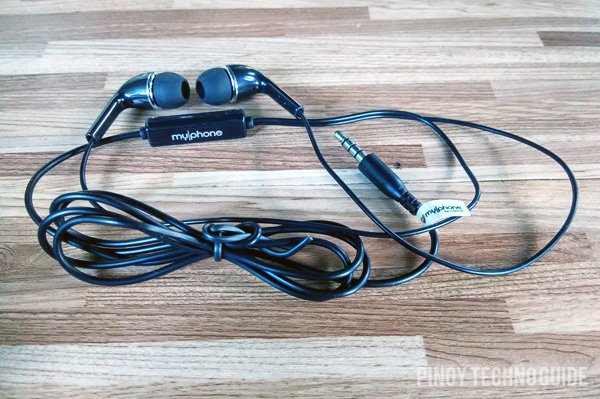 Unimpressive.
Listening through the earphones is a different story though. The free set of in-ear earphones itself is of low quality. A higher quality earphones greatly improves the sound quality but I can't attribute it to the phone's Hi-Fi audio but rather to the earphones.
This is a feature where the MyPhone My35 comes with flying colors. Its 3,140mAh battery easily lasts through 2 days of moderate use. That's calling, texting, browsing social media via Wi-Fi or mobile data and taking pictures.
Excessive use of mobile data can drain the battery in less than 24 hours though. Still, you won't need to re-charge it before reaching home at the end of the day.
It can also last more than a week on standby. Set it aside and you'll still be able to wake it up after 8 days.
The MyPhone My35 is a great smartphone for its price. Its specs allow it to perform smoothly while the design comes as solid and practical. Photography is above average during the day and alright at night as long as the flash is used. Its loudspeaker and battery life are great too!
I can recommend it to those who are looking for a good smartphone with long lasting battery life, good performance, alright cameras and a great loudspeaker.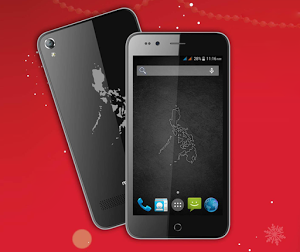 MyPhone My35
5.0″Display
1.3GHzOcta Core
13.0MPCamera
4GLTENetworks
3GBRAM
3140mAhBattery
Add a comment:
Show Comment Form 💬