Apple Unveils iPhone 6 and iPhone 6 Plus, Apple Watch and Apple Pay
BY Daniel Gubalane ON Sep 10, 2014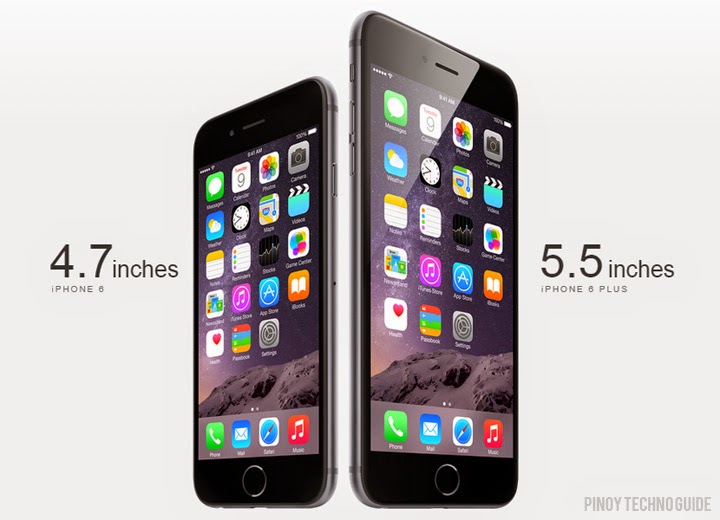 In its annual event on September 9, 2014, Apple unveiled the next generation of iPhones called iPhone 6 and iPhone 6 Plus with bigger 4.7 and 5.5-inch displays.
This is expected but what followed made the event exciting – the launch of a mobile payment system called Apple Pay and the Apple Watch. Apple is finally taking over technologies that rival companies already tried but failed like Google Wallet and the smartwatches by Samsung, LG, Motorola and others.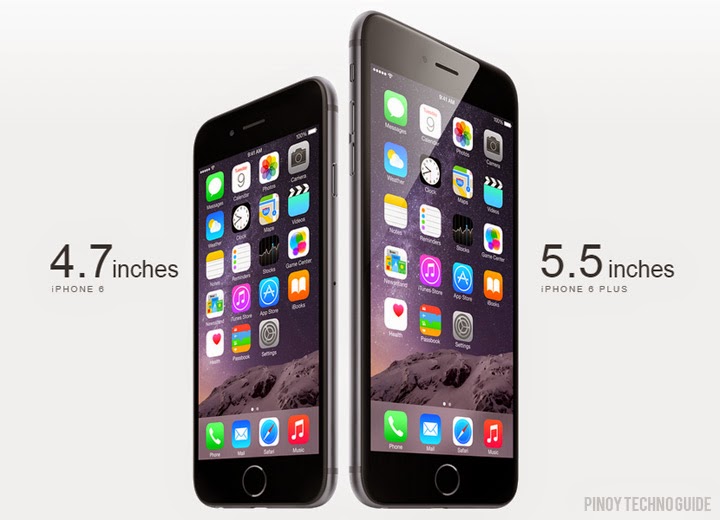 Meet the iPhone 6 and iPhone 6 Plus!
Apple iPhone 6 and iPhone 6 Plus
If you've been longing for a phablet iPhone, the iPhone 6 Plus is Apple's answer with its 5.5-inch display with 1920 x 1080 pixels or 401 pixels per inch. On the other hand, the iPhone 6 caters for those who still prefer a more manageable size.
Both devices are powered by a new 64-bit A8 chipset with an M8 co-processor and boasts voice over LTE and Wi-Fi networks!
Sadly, Apple kept the 8MP resolution for the camera. Nevertheless, DSLR technology called Focus Pixels has been added as well as Optical image stabilization for the iPhone 6 Plus.
Apple Watch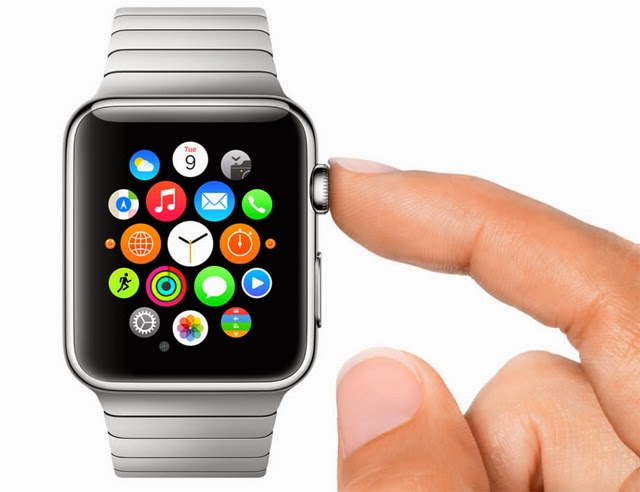 Apple Watch showing its home screen and how it can be controlled using the crown.
Perhaps the most awaited announcement from Apple is its first wearable device – the Apple Watch. Apple was expected to define what a smartwatch should be and they more than delivered.
The Apple Watch is the best smartwatch to date both in design and function. It runs a very customized OS that can be controlled by touch, voice and a crown – that little knob in your watch that you use to set the time!
Just like other smartwatches, it also has several sensors for tracking health and fitness stats such as heart rate, calorie expenditure and steps you've taken.
Moreover, the Apple Watch is capable of communicating to others like sending messages in the form of text, voice, animated emoticons and even by tactile feedback using a combination of subtle vibration and sound effect. You can even send your heart beat!
Apple Pay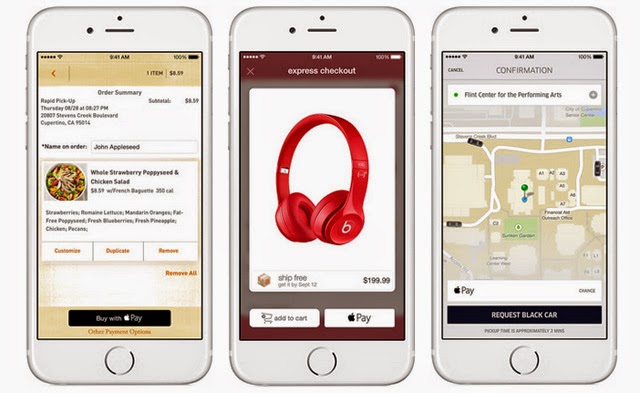 Purchasing using Apple Pay
Google Wallet has been launched for several years now but it has failed to take off. Apple took the challenge of implementing a mobile payment system and called it Apple Pay.
Apple Pay aims to replace credit cards by making payments easier and more secure. The system works using NFC technology to process payments using your iPhone 6 or iWatch.
Apple also partnered with well-known establishments like McDonalds, Nike and Subway to make this possible.
Conclusion
Apple has once again proven its capability at making technology into a form that appeal to the usual consumer. True, the iPhone 6 and iPhone 6 Plus are not very exciting except for the larger displays.
However, the announcement of Apple Pay and the Apple Watch has cemented Apple's status as the leader in mobile technologies.
Add a comment:
Show Comment Form 💬