How to Root Your Android Smartphone without a PC
BY Daniel Gubalane ON Aug 21, 2014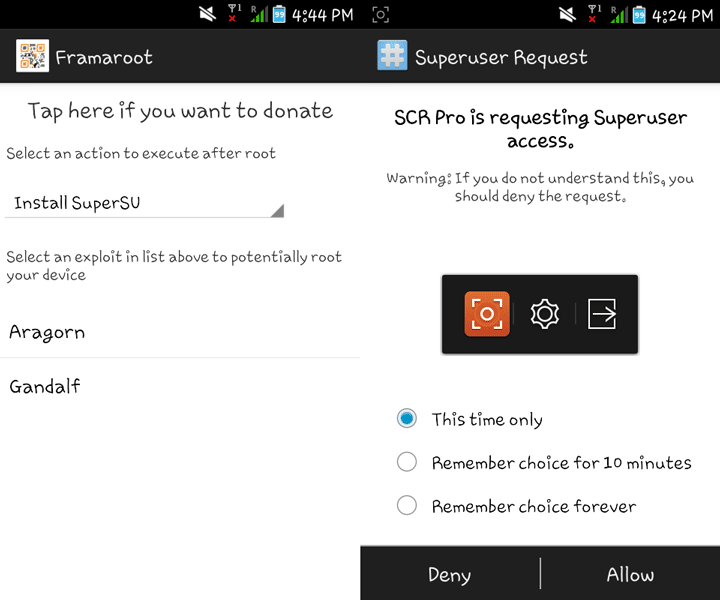 Why root your phone?
Rooting your Android smartphone opens up a wide array of customization and performance improvements like removing bloatwares and installing apps that require root access.
I once published an article on how to root an Android smartphone easily using Kingo Root on a PC. However, you can also install certain apps that can root your phone with just one tap without the need for a laptop or desktop computer.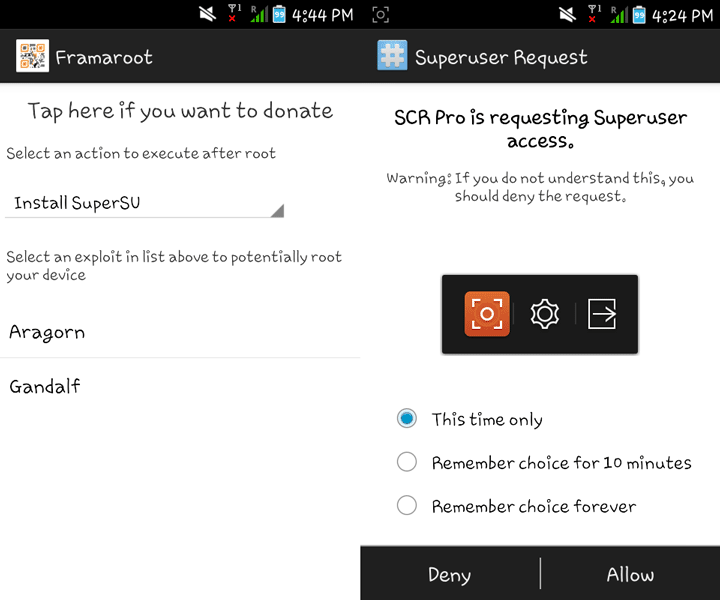 Screenshots of Framaroot and SuperSU managing superuser access of an app.
Disclaimer: In most cases, rooting your Android phone will void the manufacturer's warranty. You have to unroot it first before it can be accepted in a service center. It might also cause small or huge damage to your smartphone. Proceed at your own risk!
Rooting without a PC Using Framaroot
The most famous way of rooting an Android phone without a PC is by using an app called Framaroot. It was developed by XDA Developers senior member alephzain.
After downloading Framaroot.apk, make sure that you set your Android phone to allow installing apps from non-market or unknown sources. Go to Settings > Security and check this option. You can then install Framaroot.
Launch the app and tap any of the characters from Lord of the Rings – Gandalf, Boromir, Pippin, Legolas, Sam, Frodo, Aragorn and Gimli. If the result is a success, then you've just rooted your Android smartphone. Check your app drawer for the SuperSU app with the flying blue Android or Sharp (#) icon.
Rooting Android 4.4+ Kitkat Smartphones without a PC
For smartphones running on Android Kitkat, rooting can be tricky with different techniques failing to install Supersu. Thankfully, another XDA Recognized Developer Geohot released an app called Towelroot that can root smartphones running on Android's latest version like the Samsung Galaxy S5.
The steps are similar to using Framaroot but instead of characters from Lord of the Rings, Towelroot only has a single button saying, "Make it Rain". Tapping this button will root your Android 4.4 Kitkat smartphone. You'll need an active internet connection for this.
Take note that you'll need to download SuperSU because Towelroot doesn't install it automatically. SuperSU will let you control if you allow an app to gain superuser access or not.
Now what?
Now that you have a rooted Android phone, here are some root-only apps that you might enjoy:
Root Explorer – allows user to access system folders to edit, replace or delete files like bloatware apps and advanced device settings.
Greenify – prevents applications like Facebook from running in the background freeing more RAM and hence, making your Android phone run as smooth as when you first used it.
Titanium Backup – creates backups of your phone's data, system and files.
Add a comment:
Show Comment Form 💬