Top 10 New Features of iOS 8
BY Daniel Gubalane ON Jun 03, 2014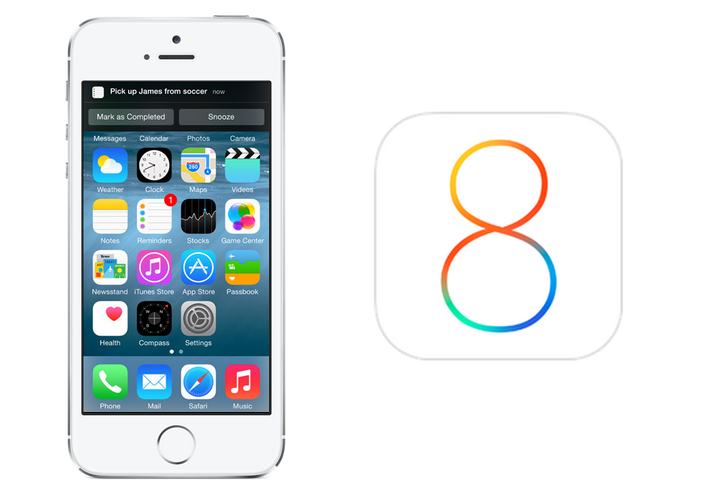 Apple unveiled the iOS 8 during the Worldwide Developers Conference 2014 held in San Francisco, California.
It is the "Biggest Release Since the Launch of the App Store" according to Apple. Here, we've listed 10 of the most important changes with Apple's mobile operating system.
Take a look at iOS 8!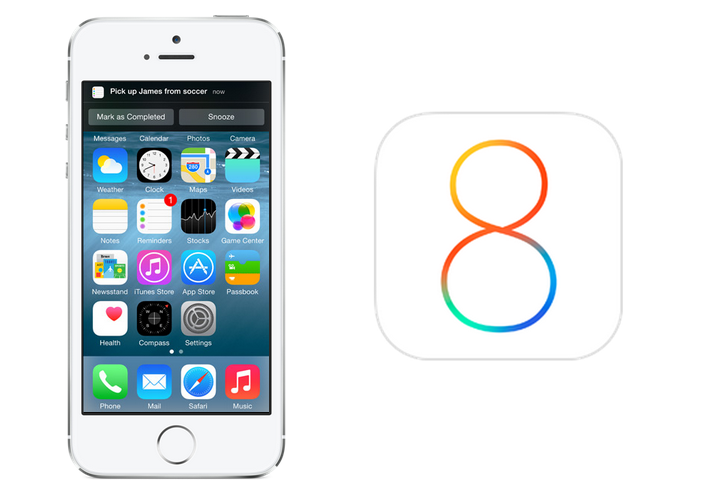 iOS 8
1. Family Sharing
You can now share purchases with family members like music and apps. This will prevent multiple purchases of the same item for up to six family members.
Family Sharing will also create a shared calendar, family photo stream and location tracking.
2. New Health App
Apple is definitely moving forward with Health and Fitness by introducing the new Health App.
It integrates your health monitoring devices like the Nike Fuel Band and other health and fitness apps that you've already installed on your device. In essence, the new Health app provides you with a " clear and current overview" of your health in one place.
3. New Messages Features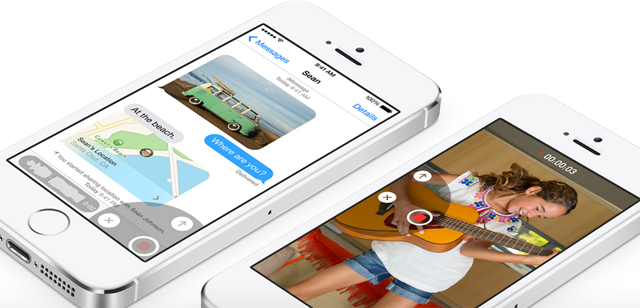 Sending audio and video on iOS 8. (Apple)
Messages now allows you to send audio or video with only a few steps.
When composing a message, hold down the microphone icon and you start recording. Release and swipe up to send your recorded audio. You can also do this with a video or picture by tapping the camera icon.
You need an active internet connection for these to work and can only be received by another iOS device.
There's also a quick reply feature from the Notification Center. Just swipe down when you receive a message and you'll be able to reply directly.
4. Predictive Typing and Custom Keyboards
Apple has made new improvements with its QuickType keyboard. However, most of these are already present in Android phones.
QuickType also learns from your typing to produce better word suggestions which even depends on which app you are currently in.
What's interesting is that iOS8 how allows your to install other keyboard apps like Swype.
What's even more interesting is that iOS8 already has support for Tagalog!
5. Apps and Mac OS X Yosemite Integration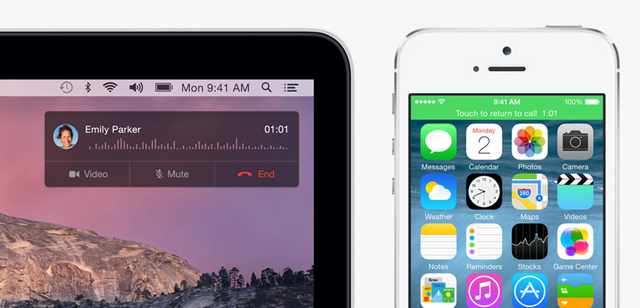 Taking an iPhone call using Mac OS X Yosemite
iOS8 allows different apps to access data from each other. This is maximized with the new Health app but other apps will also benefit from this.
Apple has also taken phone to laptop integration to the next level by showing how natural it feels to start composing a message in your phone and finishing it on your Mac.
You can even answer phone calls on your Mac and your photos and files are synced across all your devices.
6. Widgets in the Notification Center
iOS8 still can't accommodate widgets like Android because its home screen are filled with app icons. Hence, widgets go to the Notification Center.
Swipe down and in the Today tab you can add widgets like the usual Facebook and Twitter or some other widgets yet to be added to the App Store.
7. Spotlight Powered by Bing
Searching using Spotlight also got several changes. Notably, it now includes results from Wikipedia, App Store, Mail and Messages.
What's interesting is Apple's decision to go with Bing to power Spotlight under the hood.
8. TouchID API
Finally, Apple has released the API for iPhone's finger print sensor for app developers to take advantage of.
We will soon see many apps adopt this for in-app purchases and other processes that require authentication.
9. Interactive Notifications and App Switcher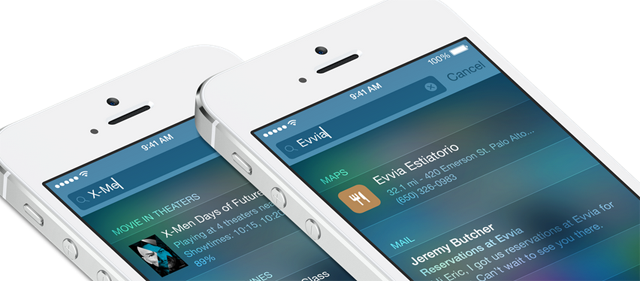 Spotlight Search on iOS 8 (Apple)
Just like with messages, notifications in iOS8 come with different actions. You can mark new emails as Read, reminders as Completed or comment on a Facebook status update.
If you go to the App Switcher, you'll see your most frequent contacts and you can then send them a text message or call them.
10. Swift and 4,000 New API's
The WWDC is originally held for developers. This year, those hard working people get a new programming language and 4,000 new API's that open iOS8 devices to new features.
Developers can now create widgets for the Notification Center, custom actions, allow photo editing before pictures are imported, share via an app and more.
Games will also benefit from the SpriteKit, SceneKit and Metal gaming technologies that Apple made available for devs.
Our only concern is that programmers has to learn all of these once again. How hard can it be?
Add a comment:
Show Comment Form 💬