MyPhone Vortex Personal Review
BY Daniel Gubalane ON Sep 28, 2013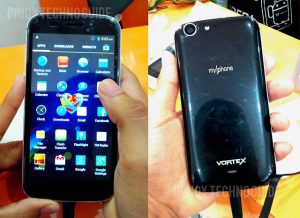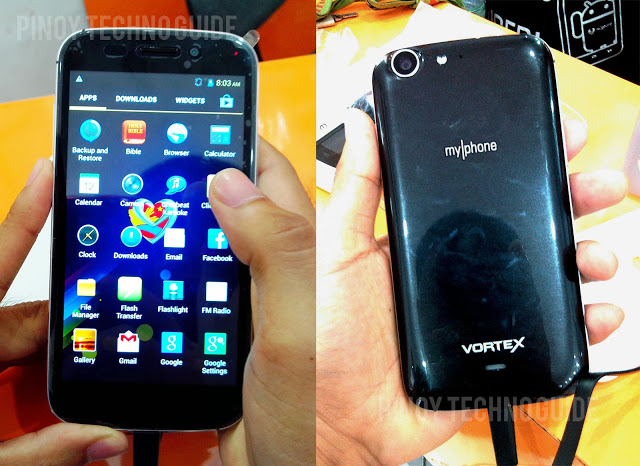 Above is a collage of the contents of the MyPhone Vortex. The box itself looks premium just like that of MyPhone Iceberg.
I immediately noticed that both the charger and earphones of MyPhone Vortex have flat wires. It adds to the premium look to someone using the phone. The earphones remind me of Beats Audio earphones and they surely sound good too.
MyPhone Vortex also comes with a free 8 GB micro SD card with the contents of the Pinoy App pre-installed. There's no need for you to download the MyPhone App Contents anymore to enjoy Pinoy multimedia files.
The photo above is the quality that you'll get using MyPhone Vortex without any tweaks in the camera settings. Click the image to open the original photo and see it in its full resolution.
For those who are into photography, MyPhone Vortex' camera has an aperture of f/2.2. That's the same as that of Nokia Lumia 1020 and iPhone 5S. That means you can take high quality photos faster – goodbye blurry pictures!
I wasn't able to take a photo using the MyPhone Vortex with a flash. But here's a short sample video:
It's a high definition video at 29 frames per second and it surely looks fantastic. Make sure you play it in HD. My Intel Atom powered netbook even stutters while playing this video using VLC Media Player!
MyPhone Vortex runs on Android 4.2.1 Jelly Bean with several modifications and additional features. First, there's a white themed user interface from the settings, to SMS up to the file manager that I love. It just looks cleaner compared to the normal dark theme of Android.
Previously, I wrote that MyPhone Agua Vortex might feature blow to unlock. However, MyPhone did not pursue that. You can still install that feature using M! Unlock from
here
.
Don't be disappointed, MyPhone Vortex still has Clever Motion and here's a video of me trying to take a picture by waving my hand:
You have to wave in front of the sensor found at the top part of MyPhone Vortex. There are also other clever motion gestures like wave to dim the display and more that you can turn on in the settings.
MyPhone Vortex Performance and Web Browsing
I wasn't able to test MyPhone Vortex with any benchmark app but based on the smooth transitions and fast response time of the touchscreen and clever motion sensors, I can imagine MyPhone Vortex running whatever game you throw at it.
If you want to know the full specs of MyPhone Vortex, read my feature article for Vortex.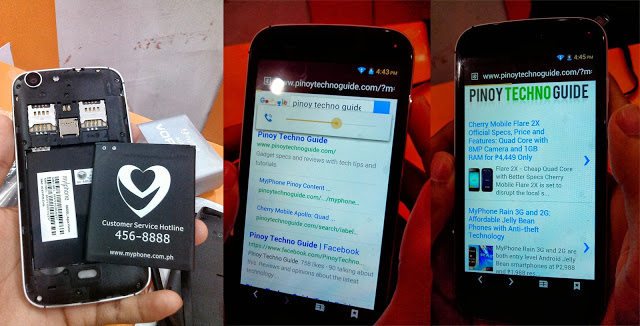 MyPhone Vortex has a 2,000 mAh removable battery and web browsing is smooth on WiFi.
Thankfully, MyPhone Vortex has a removable 2,000 mAh standard Li-ion battery that should keep MyPhone Vortex alive for more than a day of mild use. There's also a micro SD slot that can accommodate up to 32GB of additional storage if the 16 GB internal storage isn't enough already.
"The two SIM's are capable of connecting to 3G networks", the MyPhone sales representative told me. That's good news since most dual sim phones only offer 3G connectivity to one SIM.
I connected MyPhone Vortex to a mobile WiFi hotspot and searched for Pinoy Techno Guide on Google. Browsing is a delight on WiFi and I'm sure using mobile internet will also give the same experience based on previous MyPhone models.
MyPhone Vortex Verdict: Highly Recommended!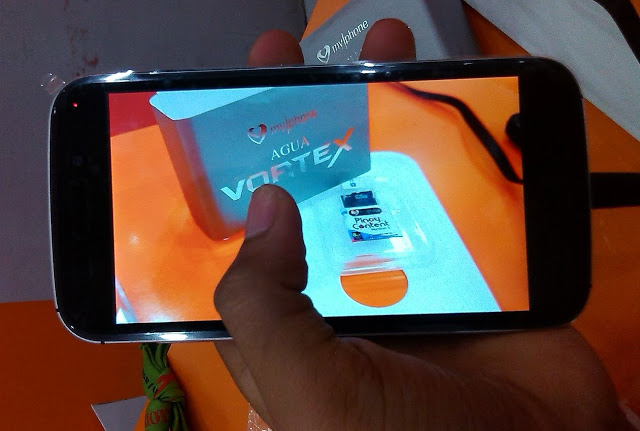 MyPhone Vortex – a highly recommended smartphone for budget conscious Filipinos who want to own a high end phone without spending too much for those from international brands.
If I am to choose an Android phone for P12,400, I'd definitely buy a MyPhone Agua Vortex. It's just the right size for me – 5.0 inches, has the premium look and feel and complete with the specs that I want.
You can also ask the sales representative of the MyPhone Concept store or kiosk if they accept installment plans. The concept store in Ormoc City accepts installment using BDO credit card only. Your area might have different requirements.
I you like MyPhone Vortex too, share your favorite feature in the comments. You can also ask any question and I'll try to answer them.
Add a comment:
Show Comment Form 💬