MyPhone Iceberg Personal Review
BY Daniel Gubalane ON Sep 29, 2013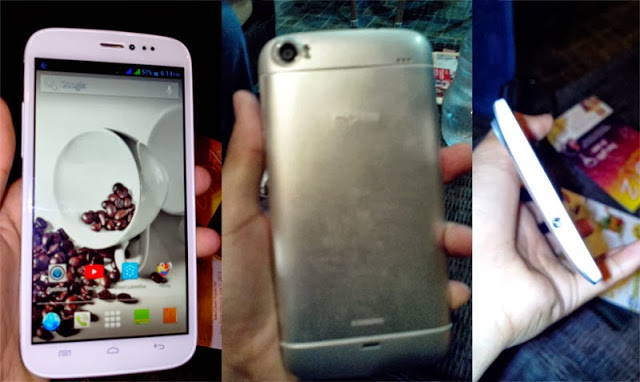 MyPhone Iceberg is the start of a new trend with MyPhone units. It's the first to adapt the Agua tag in its name and it's also the first to be shipped in a nice looking box.
The box comes with the actual MyPhone Iceberg unit, flat wire charger and earphones. My friend's Iceberg came with a white charger but I didn't have a photo of it. The one in the photo is from a black Vortex.
MyPhone Iceberg Performance and Web Browsing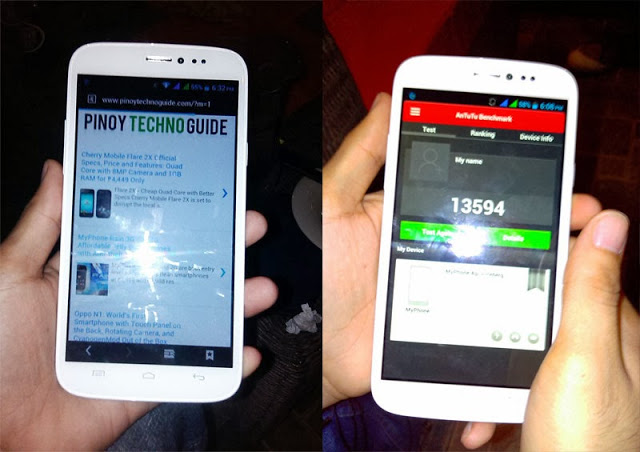 MyPhone Iceberg showing Pinoy Techno Guide's mobile home page and its Antutu benchmark score.
I asked Numer to download and run Antutu Benchmark on his MyPhone Iceberg and the result is impressive. Transitions are smooth and games run flawlessly without any lag. These are all the effect of its quad core processor.
Web browsing is also fast on WiFi. I logged in to the Pinoy Techno Guide mobile website and it came up in no time.
If you want to find out the rest of the specs of MyPhone Iceberg, read our feature article
here
.
MyPhone Iceberg Camera Samples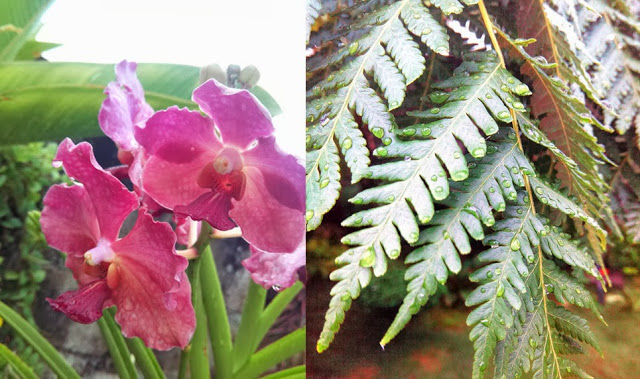 Sample photo captured using MyPhone Iceberg in its normal settings. Photo by Numer Cabeltes.
MyPhone Iceberg captures high quality photos with its normal settings. However, I noticed that at 75% zoom of its pictures in Photoshop, the grains are already visible.
When I got my hands on MyPhone Iceberg, we were in a low light environment. I snapped the photo below and I was disappointed.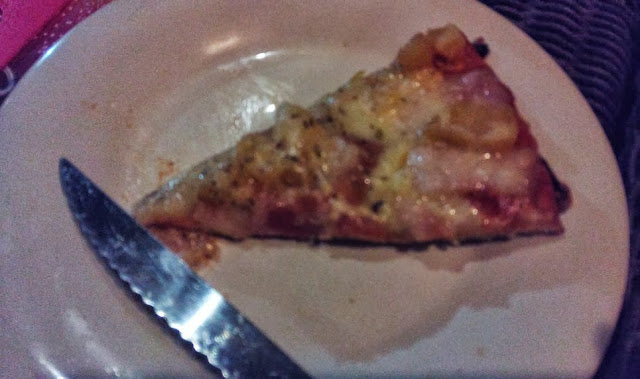 A sample photo taken using a MyPhone Iceberg without flash in a low light environment.
However, I think it's my fault and I did not let the MyPhone Iceberg focus properly. Still, it's not a nice photo of a delicious pizza.
I turned on the flash and here's what I got instead: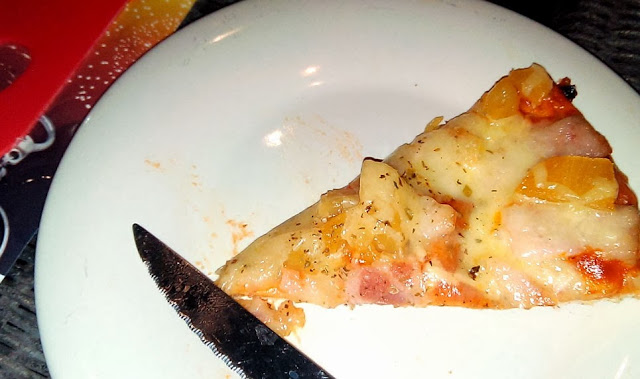 A sample picture taken using a MyPhone Iceberg with flash.
Now, that's a nice photo!
I also took a sample video with and without flash. Watch it!
Numer told me that his MyPhone Iceberg becomes hot when shooting videos. But that's the only thing that increases its temperature. Calls and gaming doesn't.
MyPhone Iceberg Special Features
MyPhone Iceberg has several special features. The most interesting among them is its Clever Motion technology where you can control the phone using gestures like waving in front of it and flipping the phone upside down.
Here's a video showing how wave to capture works:
Waving your hand in front of the sensor on the upper portion of MyPhone Iceberg makes it take a photo for you.
The feature is very useful when you take a photo of yourself using the phone's main camera. By waving in front of it instead of pressing the home or volume button which will shake the phone, you'll be able take a sharp and high quality selfie.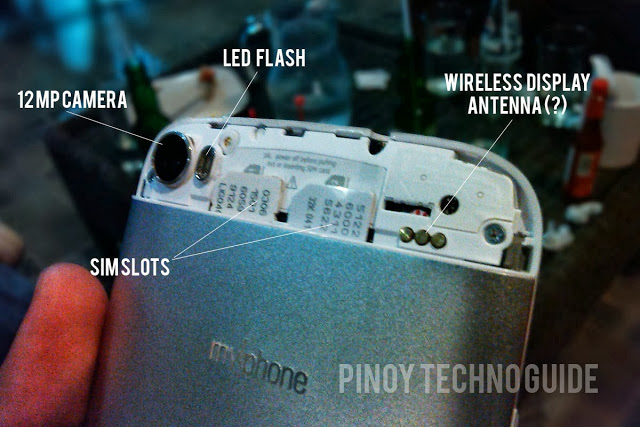 Here's how MyPhone Iceberg's back looks like with its small cover removed.
I included the photo above because a MyPhone sales representative told my friend that the three circular thingy is the wireless display transmitter. That leads me to another feature of MyPhone Iceberg that I really like – wireless display.
As of this writing, I wasn't able to get my hands on the wireless display adapter that MyPhone said it will sell separately. I hope they can release it soon or at least, recommend a wireless display adapter that will work with MyPhone Iceberg.
The photo above also shows the two sims of Iceberg that are both capable of 3G connectivity. It also shows that MyPhone Iceberg has a non-removable battery – only the top part of the back cover can be removed.
MyPhone Agua Iceberg Verdict: Recommended!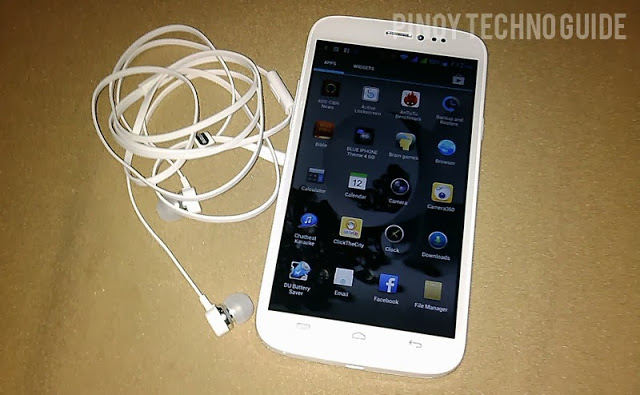 MyPhone Agua Iceberg is a phone you won't regret buying.
MyPhone Iceberg is definitely a smartphone that I recommend for Filipinos. It's fast, beautiful and sturdy.
If you are worried about its removable battery and lack of micro SD card slot, you can also consider
MyPhone Vortex
. But I don't think you need more than the 16 GB internal storage that comes with Iceberg if you're not a heavy gamer.
Are you a MyPhone Iceberg owner or are you a future MyPhone Iceberg owner? Tell us about it in the comments below.
Add a comment:
Show Comment Form 💬