Samsung Ativ Q – Convertible Ultrabook with Windows 8 and Android, Best of Both Worlds!
BY Daniel Gubalane ON Jun 21, 2013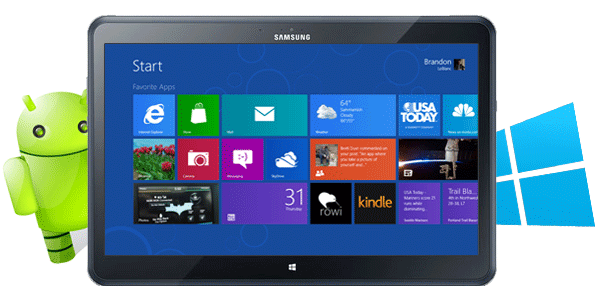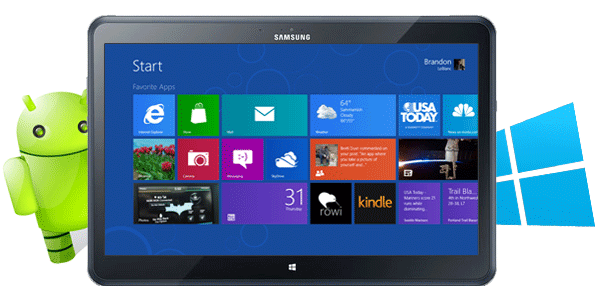 Samsung Ativ Q – Convertible Ultrabook with Windows 8 and Android Jelly Bean OS
Samsung Ativ Q – Amazing!
Samsung recently launched Ativ Q, a convertible ultrabook with dual operating system – Windows 8 and Android Jelly Bean. Prepare your self to be amazed by what this ultrabook can do.
Samsung Ativ Q is preloaded with both operating systems and can switch to either one with just a tap of a button. You can therefore be productive with your Windows 8 OS and have fun and ease with the fastest Android device on the planet.
Samsung Ativ Q Dual OS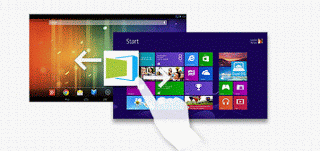 Samsung Ativ Q Dual OS
There's no word yet on how Samsung achieved this feat. Although you can dual boot your current laptop with Android, Samsung Ativ Q is and entirely different approach since you don't need to shut it down to use the other OS.
Windows 8 and Android Jelly Bean on Ativ Q can also access all the files produced by both. For example, you can take a picture using Windows 8 and then browse that picture on the Android Gallery App.
Samsung Ativ Q Convertible Ultrabook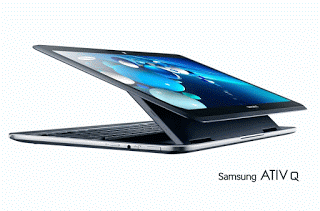 Ativ Q can be converted into several configurations aside from being in a laptop form. It can be transformed into a tablet by sliding up the keyboard under the screen.
Samsung Ativ Q can also be formed into a configuration where the screen is flat up on a platform and the keyboard is on the table or desktop. Some call this the POS mode. And to top that, you can even turn the screen so that it faces the person in front of you. The display automatically inverts to suit the perspective of that person.
Samsung Ativ Q Screen, Processor and Other Specs
Samsung Ativ Q is not just a typical ultrabook with just a gimmick of the dual OS. It's a monster too both outside and inside. Here's a list of Samsung Ativ Q's specs:
1.6 GHz Intel Core i5 Haswell
13.3 Inch Capacitive Display @ 3200×1800 Pixel Resolution or 275ppi
Corning Gorilla Glass Scratch Resistant Screen
Windows 8 and Android 4.2 Jelly Bean Dual O
Intel HD Graphics 4400
4 GB DDR3L RAM
128 GB SSD
MicroSD Support up to 32 GB
720p Front Camera
Wi-Fi and Wi-Fi Hotspot
Proximity Sensor
Ambient Light Sensor
Accelerometer with On/Off Switch
with S Pen
327.0×217.8×13.9mm
1.29 kg
up to 9 Hours Battery Life
1xUSB3.0, 1xUSB2.0, HDMI,RJ45 (dongle), HP/Mic combo, micro SD
Price is TBA
Samsung Ativ Q with World's Highest Screen Resolution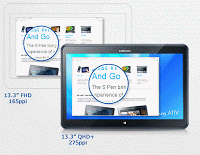 Samsung Ativ Q's screen has a very high resolution at 3200×1800 Pixels that it is still sharp even when using a magnifying glass. It is 2.8 times as sharp as full HD screens and is labeled as QHD+.
Ativ Q's screen is also amazingly bright even in direct sunlight. Even while flipping the screen to your preferred configuration, the display stays sharp with IPS technology.
Samsung Ativ Q Availability in the Philippines
Ativ Q was just launched yesterday, June 20, 2012 so we don't expect it to hit the stores here in the Philippines in days. It might be available in the coming weeks.
Hopefully, Ativ Q won't come with a very high price. Filipinos are known for their allergy to expensive gadgets. However, the features of Samsung Ativ Q surely makes it worthy of a ₱35,000.00+ price tag.
Share your thoughts in the comments section.
Add a comment:
Show Comment Form 💬