What's New with Samsung Galaxy S4's Camera?
BY Daniel Gubalane ON Mar 17, 2013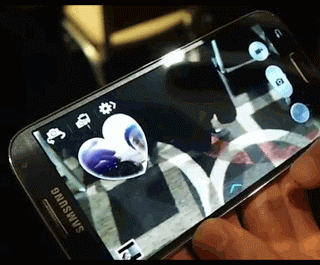 Galaxy S4 aims to "record it all" for you
The new Samsung Galaxy S4 is equipped with a powerful 13 Megapixel rear camera and a 2 Megapixel front camera. But this is not about the numbers.
While a jump to 13 MP from 8 MP of Galaxy S3 is a huge improvement, S4's camera does more than capture your favorite moments in an image. It ads more functions that you can use for the perfect way of recording your favorite moments.
Samsung Galaxy S4's Dual Camera Feature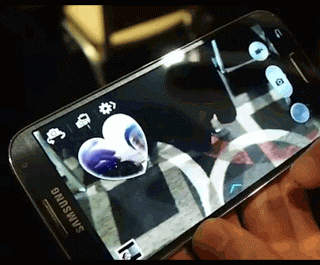 Samsung Galaxy S4 Dual Camera Mode.
Screenshot credit: Hardware Zone
When you make a video call, you use the front facing camera of your phone. What about the high quality camera at the back?
S4 takes advantage of the available hardware and use it to present a more complete experience by adding the images taken by the rear camera. Hence, you will have the footage of the two cameras in a video call.
You can choose how to display the two footage. There is a split option and overlay with shapes like heart, stamp, oval among others.
You can choose which camera is will take the large portion of the screen or turn off the dual camera feature completely.
Samsung Galaxy S4's Camera Eraser Feature
Picture this: You're having a nice time in Paris and your friends ask you to take a picture using your new Samsing Galaxy S4 of them while the Eiffel Tower is in the background. You snap a picture and realizes that a stranger walks directly at the back of your friends ruining the moment.
What would you do?
Thankfully, S4 is equipped with the eraser feature. It takes a series of shots in a very small amount of time and when a person does not appear in all those pictures, he or she will be erased.
You might now think twice before jumping in front of a group picture using a Samsung Galaxy S4.
Samsung Galaxy S4's Air View
When you browse your photos in your cellphone, you are presented with pictures arranged based on the date they are taken. Now with Air View, your pictures are organized in a smarter way so that they don't get mixed up with each other.
You can also preview a photo by hovering your finger above that photo. This was done in Galaxy Note II using the S-Pen.
Create a Moving GIF with Samsung Galaxy S4's Drama Mode
Are you a Harry Potter fan? Samsung galaxy S4 can now take moving pictures. In a period of 4 seconds, it takes a hundred shots to give you a moving picture of your favorite moment. It will then loop this picture so that it moves forever.
Of course, you will not enjoy its effect on print. You have to view it in your galaxy S4 or on a digital picture frame.
Describe Your Photo using Sound and Picture
A picture is worth a thousand words. But picture sometimes need sounds for clarity and dramatic effect.
Galaxy S4 solves this by letting you add sound to your picture. This is useful when you take a picture and want to add a description of that photo.
The Quality of Picture is Still up to You
These features might make you jump and order a Samsung galaxy S4. But all these features can only be realized if you also create the right conditions for a great photo.
Sure, the lighting conditions are out of our control but it would be insane if you take a picture of your friends behind a very bright light and expect to see their faces.
Add a comment:
Show Comment Form 💬