Huawei Watch Fit Review: Premium Fitness Features within Reach!
BY
Daniel Gubalane
ON Nov 23, 2020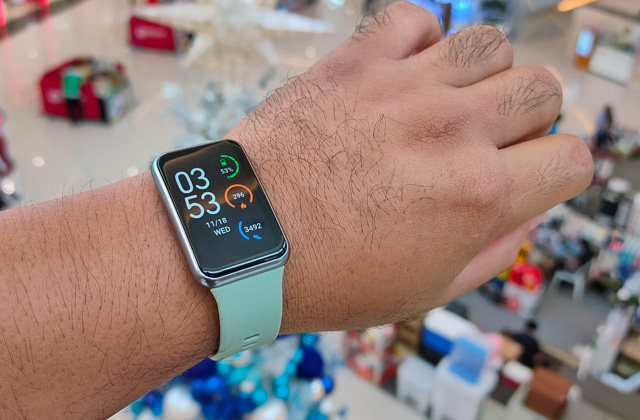 As its name suggests, the Huawei Watch Fit is a smartwatch that focuses on health and fitness with a large display and chic color choices. It's within reach at a price of ₱4,999 and is now available in the Huawei Store.
I've been wearing the watch for several weeks while testing its features, performance, and build quality. Here's my full review of the Huawei Watch Fit!
Design, Comfort, and Build Quality
The Huawei Watch Fit has a slim and rectangular body with rounded corners and edges. Its vertical orientation is a bit unusual but actually makes more sense in terms of usability and aesthetics.
Surrounding the display is a polycarbonate frame with a metallic finish that protects the device from accidental scrapes. It has a single button on the right side with sensors and a magnetic charging dock on the underside.
There are three color choices for the straps – Graphite Black, Cantaloupe Orange, and Mint Green. I have the green one and it looks good but I would have preferred the black strap. It can be replaced but not with third-party straps.
The Huawei Watch Fit feels light and comfortable when worn but still has a sturdy build. It doesn't feel cheap but also not as premium as the Huawei Watch GT 2 that I have previously reviewed.
One of the issues when it comes to smartwatches for highly active users is scratch and water resistance. I'm happy to report that there are no scratches on the Huawei Watch Fit yet even after wearing it while moving sacks of pebbles and tilling our small garden. It's also certified 5 ATM water-resistant and can be used while swimming in a pool or the ocean.
Huawei has successfully managed to balance build quality with affordability for the Huawei Watch Fit.
Display and Software
The Huawei Watch Fit has a 1.64-inch AMOLED display with a resolution of 280 x 456 pixels resulting in a pixel density of 326 PPI.
It looks sharp and bright even when used outdoors, has vivid colors, and deep blacks. All smartwatches should have this display technology if they intend to look premium. This is one of the best features of the watch when compared to its similarly-priced competitors that use LCD.
Meanwhile, there are many choices for the watch face design. The default one wasn't my favorite so I chose among the alternatives. A customized picture from the paired smartphone can also be used as the watch face background.
Having a large display results in bigger UI buttons making navigation easier on the Huawei Watch Fit. Swiping across the different home screens show information about heart rate, stress levels, media controls, and workout records.
Workout modes, SpO2 measurement, breathing exercises, phone finder, and more features can be accessed by pressing the power button.
Health and Fitness Features
The Huawei Watch Fit supports up to 96 workout modes including running, swimming, cycling, yoga, boxing, and more. It then tracks the heart-rate, intensity, and calories during the workout.
There's a built-in GPS on the watch which means it can be used without the paired smartphone to track jogging or running data. However, it takes a few seconds to get a GPS lock.
When sitting for a long time, the watch reminds the user to "Get Active". It also tracks the daily steps and active hours which results in a motivational screen when certain accomplishments are reached.
The Huawei Watch Fit is very comfortable to wear that it's a non-issue when worn in bed to track sleep quality. It can accurately measure the amount of deep sleep, REM sleep, and mid-sleep awakenings. The resulting data and scientific advice in the Huawei Health app help the user easily analyze and improve sleep quality.
Another useful health feature is the tracking of stress levels. When feeling high-stress levels, the watch can guide the user with breathing exercises and motivational reminders.
It can also measure blood oxygen levels or SpO2, track menstrual cycles, and estimate VO2max. However, there's no altimeter on the device so it can't determine precise elevation and ambient pressure.
However, these data can only be analyzed using the Huawei Health app since there's no support for third-party apps yet.
Connectivity and Battery Life
The Huawei Watch Fit is compatible with Android and iOS smartphones. However, pairing is easier with Android phones compared to iPhones.
An app called Huawei Health needs to be installed on non-Huawei smartphones to pair the watch. In the app, the user has to tap the Device tab then tap on ADD. It provides more detailed workout data, additional watch face designs, settings, updates, file transfers, and account details.
Notifications on the paired smartphone can also be sent to the watch. The user can then be notified of SMS contents, calls, and other reminders based on the user's preference.
In terms of battery life, the Huawei Watch Fit can last more than 10 days on a single charge! More active users with daily workout routines might need to recharge it after 8 or 9 days.
Re-charging the device takes around an hour and uses a small magnetic dock. It's attached to the USB cord so the chance of losing it is low.
Conclusion
The Huawei Watch Fit offers most of the health and fitness features in Huawei's premium smartwatches at a more accessible price.
It's design, display, UI, and overall aesthetics also make it a desirable gadget not just for technology but also for fashion. It has its own unique character and fits certain personalities.
I highly recommend the Huawei Watch Fit for those who are looking to start a healthier and more active lifestyle as well as aspiring athletes.
Huawei Watch Fit

Review Summary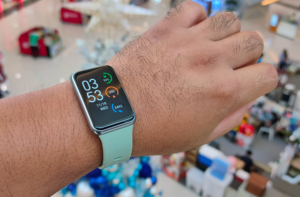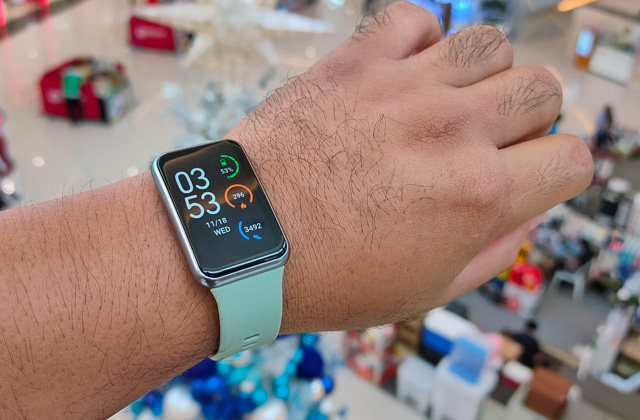 The Huawei Watch Fit offers health and fitness features at a more accessible price.