Huawei P20 Pro Review: Best Photography Smartphone in the Philippines?
BY
Daniel Gubalane
ON Jun 29, 2018
WITH
65 Shares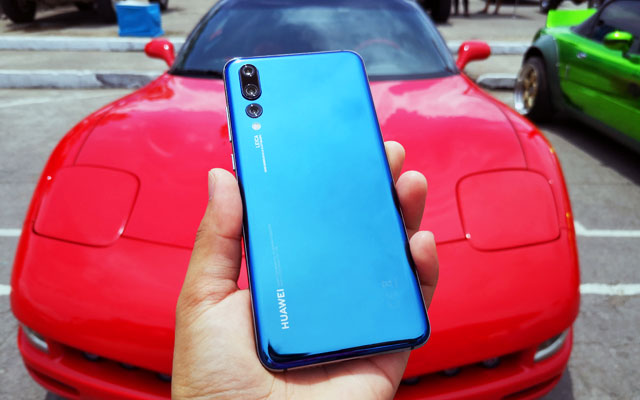 A month passed by since publishing my Huawei P20 review before I got a review unit of the Huawei P20 Pro but the wait is definitely worth it!
Its triple rear camera system makes me want to take pictures wherever I went while the big screen and powerful hardware got me more addicted to battle royale games. My main complaint is its slippery glass body which is also prone to smudges.
3x Optical Zoom and 5x Hybrid Zoom
Since the Huawei P20 Pro has three cameras at the back with the main one having a resolution of 40 Megapixels, it can perform 3x optical zoom as well as 5x hybrid zoom.
Both zoom modes can make the subject of the picture appear closer without too much decrease in image quality. The 3x optical zoom uses the 8 Megapixel telephoto camera while the 5x hybrid zoom uses both the 8MP lens and the 40MP main camera along with software enhancements.
During daytime, the 5x hybrid zoom can produce good pictures of distant subjects that look better compared to manually cropped images. It can still take good photos at night if the subject is well lit or if it gives off light by itself. Otherwise, you should fall back to 3x optical zoom.
The phone's zooming capability alone is enough to make it stand out among other flagship smartphones. Most competitors can only achieve 2x zoom before their image quality becomes rubbish.
It's especially useful when attending events where you want to take pictures of distant subjects such as graduations, festivals or just plain exploration of beautiful places in the Philippines.
The Huawei P20 Pro Night Mode
Another defining camera feature of the Huawei P20 Pro is its Night Mode. It combines several techniques including HDR, long exposure and A.I. stabilization allowing users to take stunning pictures in low light situations without the need for a tripod.
Upon setting the phone's camera to Night Mode, the software immediately measures the amount of light in the scene and sets how many seconds it needs to produce a great image. The resulting pictures look just like how the eyes see the actual scene. It can even look brighter especially if the scene is very dim.
Since it needs a few seconds to take a picture, the subject should have minimal motion. Your shaky hands can be compensated by the phone's software but a walking subject will result in a blurry photo. In these cases, try using the default Photo Mode because it can still produce good night time pictures.
Selfies, Video Recording and More Camera Features
The Huawei P20 Pro's triple rear camera is its biggest feature that it deserved those two previous sections in this review. Taking the phone for a walk and taking pictures 'point and shoot' style will almost always result in great pictures. However, it has the tendency to over sharpen indoor images even though the lighting is quite good.
Huawei added a camera feature called Master AI that automatically detects the scene being photographed. It's always on point with the A.I. part but the enhancements can be too much.
Video recording is a bit in a disadvantage compared to its competitors though. When set to 1080p video resolution, it can produce smooth and crisp videos but bump it up to 4K and stabilization is disabled resulting in shaky footage.
Thankfully, the 24 Megapixel front camera churns out pleasing selfies day and night despite the lack of a dedicated front LED flash. It just tends to add a little beautification even though the feature is disabled.
Its glass body though…
The Huawei P20 Pro is a gorgeous smartphone especially its twilight variant. Even the solid color variants look stunning. Their glass and metal construction just exudes a modern and exquisite aesthetic.
However, glass attracts a lot of smudges and fingerprints that I had to wipe the device often to make it look pristine. A phone case helps a lot although it also hides the phone's beauty.
Nevertheless, Huawei made sure the Huawei P20 Pro is a tough device despite using glass for its front and back. I already dropped the phone several times from knee height to waist height but there are no cracks in the glass panels!
The phone's IP67 water and dust resistance rating also makes me at ease using it on the beach.
Bigger and Better Screen
The Huawei P20 Pro has a notched 6.1-inch OLED display with 19:9 aspect ratio, rounded corners and curved edges. It's definitely bigger and better than the one on the P20.
It's better suited for playing battle royale games because you can see distant enemies clearly. Of course, watching videos and browsing social media apps are also satisfying. If you don't like the notch, it can be effectively hidden in the Settings.
The panel itself is bright, produces vivid colors and has deep blacks since its using OLED technology. It's also very responsive with support for up to 10 touch points at the same time.
Powerful Kirin 970 with 6GB of RAM
Even though the Huawei P20 Pro runs on the same chipset as the Huawei Mate 10, I still feel a smoother performance. This is probably due to the newer software, EMUI 8.1 as well as the 6GB of RAM.
App launches are fast, animations are fluid and the extra features of the software are useful. I don't really have a problem with EMUI although a Huawei P20 Pro running on stock Android would be cool.
Resource intensive games also run smoothly including popular titles such as PUBG Mobile, Rules of Survival, NBA2K18, TEKKEN and Mobile Legends. I tested all of these games in the highest graphics settings without hiccups.
Connectivity Features
The Huawei P20 Pro has several connectivity features that I constantly use. Of course, there's dual band Wi-Fi and 4G LTE with excellent signal reception. There's also an Infrared blaster that enables the device to serve as a universal remote controller for appliances.
Perhaps my favorite connectivity feature of the device is its Easy Projection feature which is also known as EMUI Desktop Mode. It can connect to a TV via a USB Type-C to HDMI connection to make a desktop PC setup complete with a touchpad function on the phone.
Sound Quality
Just like the Huawei Mate 10 Pro, the Huawei P20 Pro also ditched the 3.5mm audio jack in favor for a USB Type-C audio output. Each package even comes with a free set of USB Type-C earphones and USB Type-C to 3.5mm audio jack adaptor.
The free earphones sound okay with the phone's Dolby Atmos feature enhancing the sound quality by a lot. Plugging in other earphones using the adaptor results in a notification to use the free earphones but the sound quality is usually better if you have a decent pair of earphones.
Thankfully, the loudspeakers sound alright that you can listen to music without it hurting your ears. It's stereo but both speakers are bottom firing negating the effect when watching videos in landscape orientation.
Sensors and Security
The Huawei P20 Pro has both face recognition and a fingerprint sensor for biometric unlocking. The fingerprint sensor sits under the capacitive home button and works flawlessly.
Meanwhile, face recognition only uses the front camera without any fancy infrared camera or dot projector. Huawei warns that it's less secure but I haven't fooled it with a picture of my face no matter how I try. It also works even in low light!
Moreover, the other sensors on the phone include a gyroscope, proximity sensor, compass, ambient light sensor, and accelerometer.
Battery Life
The Huawei P20 Pro wins once again in battery life. Its 4000mAh battery can last up to two days on minimal usage and I always have around 40% battery life left after a whole day of mixed usage.
Playing heavy games continuously results in a little more than 6 hours of battery life. It's perfect for grinding to be a grandmaster on Rules of Survival.
Perhaps my favorite feature of Huawei's flagship smartphones is the Huawei SuperCharge. For the Huawei P20 Pro, it only takes 1 hour and 25 minutes to fully charge the device from 0 to 100% battery life!
Price and Alternative Options
The ₱44,990.00 price tag of the Huawei P20 Pro is what makes people think twice. However, there are actually two ways to make it more affordable. First, you can get it under a postpaid plan from either Smart or Globe. The other is getting it directly from stores that offer 0% interest installment plans such as MemoXpress and stores with Home Credit.
If that's still way too pricey, the Huawei P20 offers almost the same features sans the third rear camera and with a smaller screen for ₱10,000.00 less in price. There's also the Huawei P20 Lite or the Huawei Nova 2i in the midrange category.
Conclusion
I had a lot of fun using the Huawei P20 Pro and I can imagine others enjoying it too. Its triple cameras will inspire you for take artistic photos even in difficult situations and they almost always come out great!
It doesn't fall short on performance, screen quality, connectivity features and more importantly, battery life. You'll just have to provide a phone case though. There are affordable choices as well as more premium ones.
All in all, I highly recommend the Huawei P20 Pro. It's the best smartphone for photography in the Philippines!
Huawei P20 Pro

Review Summary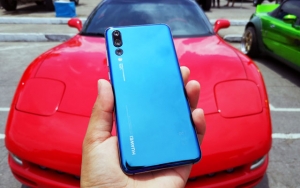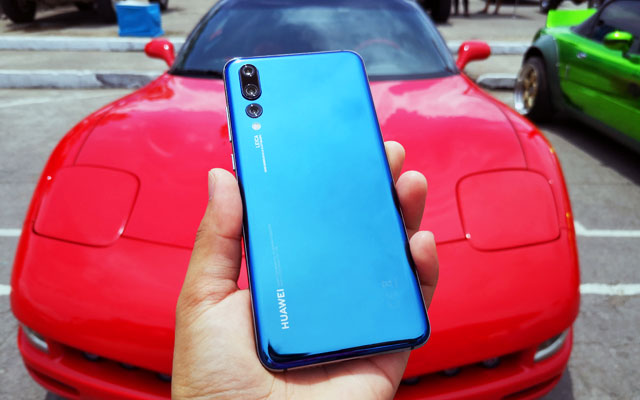 The triple camera system of the Huawei P20 Pro with a 40MP main camera makes it the best smartphone for photography in the Philippines.
6.1-inch FHD+ OLED Display (1080 x 2240 Pixels), 408 ppi
Android 8.1 Oreo Operating System
Huawei Kirin 970 Chipset
6GB of RAM
40 + 20 + 8 Megapixel Rear Camera with Dual-tone LED Flash
24 Megapixel Front Camera
Dual SIM
128GB Internal Storage
4G LTE, 3G HSPA+, 2G EDGE & GPRS Networks
Wi-Fi 802.11 b/g/n/ac (Dual Band)
Bluetooth 4.2
USB Type-C
USB Type-C
Fingerprint Sensor
4000mAh Battery
Huawei SuperCharge (4.5V/5A)

₱

44,990.00

Official Price in the Philippines
₱40,990.00 - Price drop on August 2018