Huawei MatePad (NEW) – Full Tablet Review
BY
Daniel Gubalane
ON Jun 26, 2021
WITH
78 Shares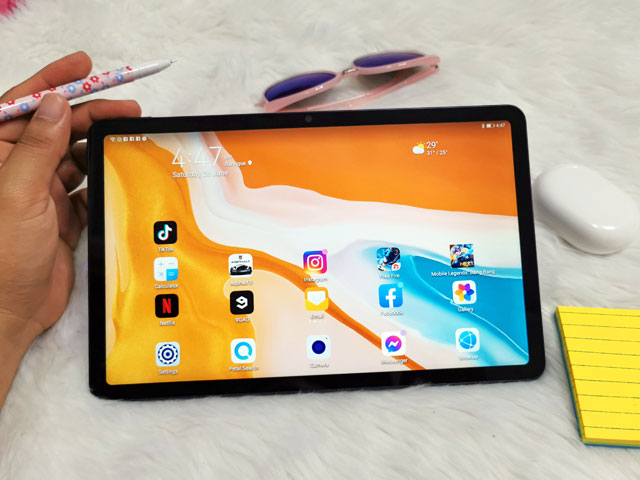 The new version of the Huawei MatePad remains a high-quality mid-range tablet with several notable improvements. These include larger storage space, better connectivity, and a more affordable price.
I've been using the tablet for a couple of weeks while testing its performance, multimedia experience, camera quality, parental controls, and battery life.
Design and Ergonomics
The Huawei MatePad is a midsize tablet with a matte finish back panel embellished with a shiny Huawei logo and Harman/Kardon branding.
It has a decent grip on the back and sides. There's also ample resting place for the thumbs in the uniformly-sized narrow bezels on the front. The power and volume buttons are ergonomically placed near a corner for easy reachability in any orientation.
There's an LED notification light beside the front camera while a microSD card tray is accessible on the side.
It's not the lightest 10-inch tablet at 450 grams but it can easily fit in a backpack for portability. It's best used with a tablet cover and Huawei is kind enough to include a Flip Cover with each purchase subject to availability.
Multimedia Experience
The Huawei MatePad provides a great multimedia experience for streaming shows on Netflix, YouTube, iWant, or other streaming platforms.
It has an impressive 10.4-inch 2K display and quad-speaker setup with Harman/Kardon tuning. The pictures look sharp, vibrant, and dynamic while the sound has good bass, clarity, and perfect stereo balance.
I've watched several YouTube videos and the first few episodes of "Loki" on the tablet. The high-quality display accompanied by the great-sounding speaker system made it much more enjoyable.
There's also an Eye Comfort mode for reducing eye strain during prolonged usage and an EBook Mode for an even better reading experience. Support for the Huawei M-Pencil is still present but the stylus is sold separately.
Performance: Gaming and Multitasking
The Huawei MatePad is powered by a Kirin 810 chipset with 4GB of RAM and GPU Turbo software enhancement.
This allows it to run popular games like Mobile Legends, Call of Duty, and Asphalt 9 smoothly at high graphics quality. Using GameBench Pro, I was able to measure an average framerate of 60 FPS in both Mobile Legends and Free Fire Battle Royale.
Reviewing the tablet's gaming performance actually made me slightly addicted to Free Fire as the bigger display offers an advantage when aiming at distant enemies.
The Huawei MatePad also has enough performance for multitasking. Switching between different apps and games is a breeze while its split-screen function works fluidly for many apps.
I often found myself loading the browser and Messenger in the split-screen mode so I can reply to a chat while watching a YouTube video or reading through an article.
Apps and Productivity
It would be imprudent of me if I won't mention the fact that the new Huawei Matepad uses the Huawei AppGallery instead of the Google Playstore.
Installing popular apps like Facebook, Messenger, and Tiktok is still very easy especially if the Petal Search widget is used. It's a search bar on the home screen that can search for apps within the Huawei AppGallery and other trusted sources.
Google apps like Gmail and YouTube can be accessed using the browser. I changed the User Agent in the browser's settings to "Computer" and it loads the full desktop version of these websites for full functionality. Pressing a button on the top of the browser toggles the mobile version.
Nevertheless, I was able to install my essential productivity and work-related apps like Microsoft Office, GCash, Zoom, and the Facebook Page Manager.
Camera Quality
The Huawei MatePad is equipped with a single 8 Megapixel camera at the back with an LED flash. There's also an 8 Megapixel camera on the front with an ultra-wide field of view.
Its rear camera can produce decent pictures but with slightly washed-out colors. It also has poor low light image quality.
On the other hand, the selfie camera takes impressive selfies both indoors and outdoors. Its ultra-wide FoV also makes framing in tight spaces a breeze.
There's one more feature of the selfie camera called FollowCam which works on the Huawei MeeTime app. It automatically adjusts the zoom level and field of view to fit several people in the frame. Hand gestures will also result in the frame panning in the intended direction.
These smart camera features are especially useful during video calls with several family members. It can also make a work presentation interesting and professional.
Connectivity
The new Huawei MatePad doesn't have cellular connectivity. Hence, it relies on Wi-Fi networks for internet connectivity or a smartphone's Wi-Fi hotspot function. It supports regular Wi-Fi networks, the faster 5GHz Wi-Fi networks, and the new Wi-Fi 6 standard.
It also has several device-to-device connectivity features including the usual Huawei Share feature for transferring files.
There's also the new Multi-Screen Collaboration feature which opens a floating window. It will then mirror a Huawei smartphone's display when connected via Bluetooth. This can be smoothly controlled on the tablet and even have calls routed to the tablet's speakers.
Parental Controls
An interesting and useful feature of the NEW Huawei MatePad is called Kids Corner. It turns the tablet's user interface into a kid-friendly version.
There's a PIN code for the parent that locks the tablet's other apps and functions. There's also a collection of kid-friendly apps including learning apps, coloring apps, and others.
While the feature is engaged, there's also an option to turn on Eye Comfort. This prevents blue light eye irritation in children.
Battery Life and Charging
The Huawei MatePad has a large built-in 7,150mAh battery. It usually lasts an entire day on a single full charge with around 20% battery life left to spare after my usual usage.
It can survive more than 12 hours of continuous video playback or 9 hours of Mobile Legends gaming with the screen brightness set at 50%.
Meanwhile, a 25W Huawei SuperCharge adaptor is bundled with the tablet. It can re-charge the device via a USB Type-C port to full charge in 2 hours and 30 minutes.
Conclusion
The new Huawei MatePad may only have minor improvements – larger storage and Wi-Fi 6 support. But, these are the exact aspects of the tablet that needed an upgrade to make it future-proof.
The Huawei MatePad has good build quality, vivid display, impressive performance, feature-packed selfie camera, kid-friendly features, and a long-lasting battery. It's perfect for online learning, gaming, and entertainment. It can also be a productivity tablet.
The Huawei AppGallery and Petal Search have already grown into a reliable source of apps. Meanwhile, apps with compatibility issues can be easily accessed using the browser in a one-touch desktop mode for full functionality.
It remains a great choice among mid-range Android tablets with a competitive price tag of ₱18,995.00. It can even be an alternative to the 10-inch iPad which already starts at ₱24,990.00.
Huawei MatePad (NEW)

Review Summary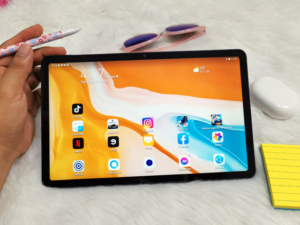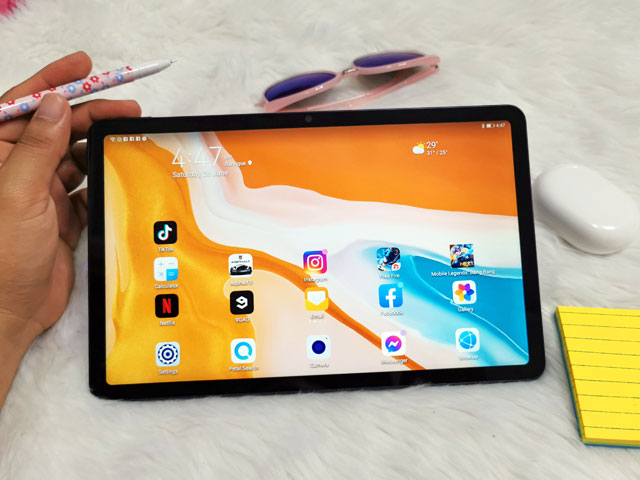 The new Huawei MatePad is a powerful tablet with a vivid display and an immersive quad-speaker system.