DERE TBOOK T10 Laptop Review
BY
Daniel Gubalane
ON Feb 17, 2021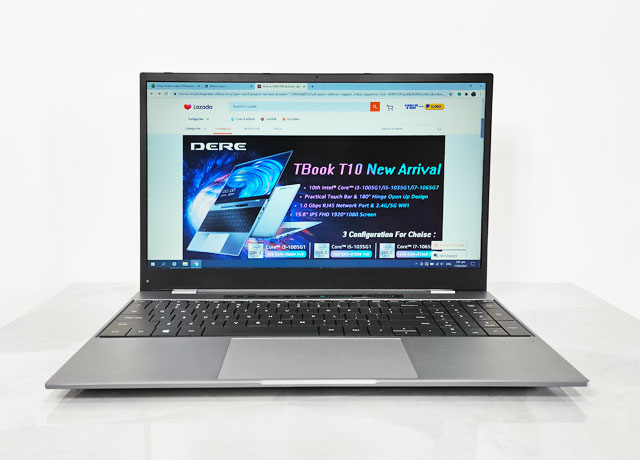 The DERE TBOOK T10 is a 15.6-inch laptop with a touch-bar, metallic body, and 10th-gen Intel Core processor.
I've used the laptop for three weeks after the company sent a review unit. During this time, I tested its general performance, build quality, battery life, ergonomics, and connectivity.
Is this a great buy given the great specs but a relatively unknown brand? Here are my thoughts and full review.
SUMMARY
What I liked about the DERE TBOOK T10:
Metal body that looks premium
Uncommon features (e.g. touch-bar & backlit keyboard)
Good performance & connectivity
Decent battery life
What I disliked about the DERE TBOOK T10:
Bezel not glued properly, peeling off
Centered trackpad, prone to accidental touches
Where to buy DERE TBOOK T10:
The DERE TBOOK T10 laptop is available at the DERE Official Store in Lazada Philippines.
Design, Display & Build Quality
Upon unboxing, I immediately noticed the premium-looking metal chassis of the DERE TBOOK T10. It's one of its main advantages over other laptops in its price range that only have plastic bodies.
There are even several freebies included in the package including a 64GB KODAK USB flash drive. The laptop itself is protected by a layer of air column bubble wrap.
Lifting the lid reveals its 15.6-inch IPS LCD display with narrow side and top bezels. Yes, it's a 1080p screen with decent brightness and vibrancy but there's still a noticeable display quality shift when viewed at an angle.
What's worrying though is the plastic bezel around the display. It tends to peel off along with the protective plastic cover during the unboxing process. The user should be extra careful or have some adhesive ready.
The display can tilt back up to 180° making the laptop completely horizontal. One application of this feature is when using the device in bed while watching YouTube videos or Netflix shows. A touchscreen version would have been perfect.
The DERE TBOOK T10 emulates the look of premium laptops with some perks including the metallic body, unique touch bar, and 180° hinge. However, it should improve the build quality of the device.
Keyboard, Touch Bar, and Typing Experience
DERE refers to the keyboard design of the TBOOK T10 as a "chocolate keyboard". I'm not sure if it's an apt name but it has chiclet-style keys that are very close to one another making them appear to be "floating".
It looks good but I still prefer the "island chiclet" style of keys. The narrow spaces between keys might also make cleaning the keyboard a bit difficult.
Nevertheless, the typing experience is quite good with decent travel and soft backlight for night-time typing. I also appreciate its large touchpad although it's positioned in the middle, not directly under the spacebar so it takes some getting used to.
What sets the device from other laptops in its price range is the touch bar on top of the keyboard. It's handy for adjusting the volume and brightness using swipe gestures. It also has several useful shortcut buttons for locking, screen recording, taking screenshots, and more.
Performance and Software
The DERE TBOOK T10 laptop that I reviewed is the base version with an Intel Core i3-1005G1 and 8GB of RAM. This is enough for opening more than 10 Chrome tabs, office apps, and a music player at the same time.
It can also handle more resource-intensive apps such as Photoshop, video editors, and heavy games. Using Handbrake, it was able to convert a 30-second 4K 60fps video to 1080p 30 fps in 2 minutes and 23 seconds.
I played Asphalt 9: Legends on the DERE TBOOK T10 and it ran the game smoothly with its striking graphics and heavy particle effects. However, it doesn't have a dedicated graphics card necessary for more demanding games.
Connectivity, Ports, Audio, and Camera
There are a total of eight ports on the device. These include two USB 3.0 and one each for USB Type-C, 3.5mm audio jack, SD card reader, gigabit ethernet, mini-HDMI, and DC power port.
Meanwhile, the DERE TBOOK T10 also has dual-band Wi-Fi connectivity. That means it can connect to traditional Wi-Fi networks as well as newer 5GHz Wi-Fi networks.
There's a pair of downward-facing loudspeakers on the laptop. It will suffice for casual movie watching but puts out tinny audio especially at high volumes.
Lastly, there's a 1080p webcam above the laptop's screen. It's of low quality though and won't capture good-looking videos in less than ideal lighting situations.
Battery Life and Charging
A 45,600mWh battery powers the DERE TBOOK T10 laptop. It lasts up to 7 hours of continuous normal usage including browsing the web, watching videos, and using office apps.
It's not the best laptop in terms of battery life but it's decent enough. Playing games also shortens the battery life to around 5 and a half hours but with no dramatic increase in heat.
Meanwhile, re-charging the laptop from 0 to 100% battery capacity takes around 2 hours and 18 minutes. Unfortunately, it only uses the normal circular DC port instead of the available USB Type-C port for charging.
Conclusion
The DERE TBOOK T10 is a decent laptop with several uncommon features usually reserved for high-end models. I like its metal body, decent performance, touch-bar, and backlit keyboard.
However, the build quality should be improved and there should be no imperfections that can easily be avoided by using ample adhesive. There's also a question about after-sales service and warranty although Lazada states that the device has a "1-Year Local Supplier Warranty".
Overall, I'm only recommending this laptop to consumers who are adventurous enough. If you have a tight budget, stick to more established laptop brands and read reviews before buying.
DERE TBOOK T10

Review Summary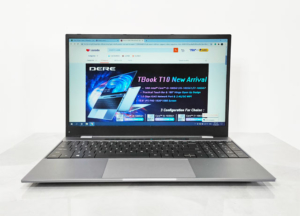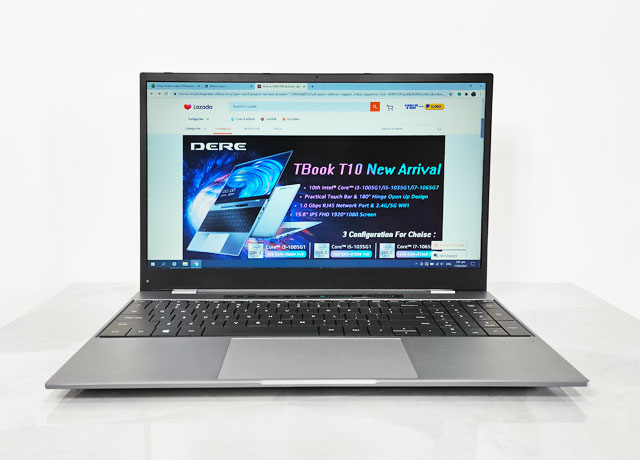 A metal-clad laptop with touch bar and 10th-gen Intel Core chipsets.