Huawei Freebuds 3: Five Features I Like and One I Don't!
BY Daniel Gubalane ON Feb 16, 2020 with
42 Shares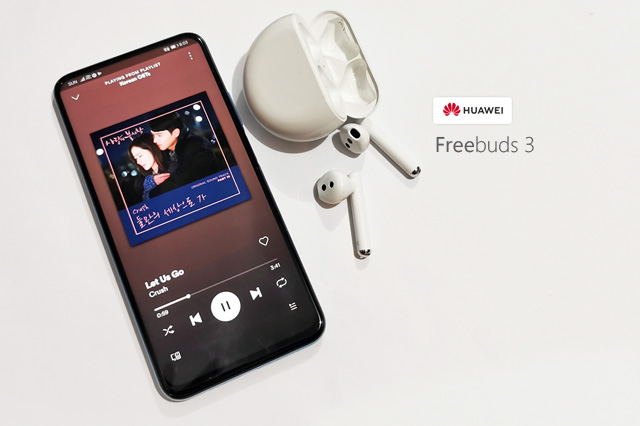 I have been using the Huawei Freebuds 3 for two months now. I like its audio quality, Active Noise Cancellation technology, customizable controls, and more.
However, it's currently not my True Wireless Stereo (TWS) earbuds of choice. The main reason is its new "Dolphin Bionic Design". I'll explain this below but first, let's talk about the features that I like.
Audio Quality
The Huawei Freebuds 3 is one of the best-sounding TWS earbuds in its category and price range. This is largely due to its 14mm driver or speaker while most earbuds use smaller 11mm drivers.
It slightly favors mid-range sound frequencies leading to clearer vocals and string instruments. The highs sound pleasant while the bass is full and punchy especially in higher volumes.
It's great for casual music listeners who like to listen to alternative, pop, rock, and similar genres. It also has good spatial separation which is useful for playing video games and results in a more immersive experience in watching videos.
Active Noise Cancellation
The Active Noise Cancellation or ANC feature of the Huawei Freebuds 3 is not as good as more expensive headphones that block out almost all of the outside noise. Nevertheless, it's a pleasant surprise for a first-time experience with ANC technology.
It's most effective in blocking out low-frequency ambient noise such as machine hum. For example, the noise from the running engines during traffic will be reduced but the honking will still pass through.
There was one time when I used a noisy blower to dry out the fur of our dog. I didn't have ear mufflers so I used the Huawei Freebuds 3 with ANC turned on to lessen the noise.
Quick Bluetooth Pairing
The Huawei Freebuds 3 has a custom chip called Kirin A1 that allows fast Bluetooth pairing, stable connection, and less latency.
After the initial pairing setup, the earbuds will automatically connect to the smartphone upon the opening of the lid of the charging case. The phone will also show the current battery level of the individual earbuds as well as the charging case.
It also helps in making the Bluetooth connection stable even when going to an adjacent room separated by a concrete wall. Meanwhile, latency is substantially lessened resulting in a less audio lag of games and the audio tracks of movies. There's no issue where the audio track is out of sync with the mouths of characters in videos.
Long Battery Life
The Huawei Freebuds 3 lasts about 4 hours of continuous usage. After the battery capacity of the earbuds is depleted, these can be recharged by putting them back in the charging case.
After a few minutes, the earbuds are ready to go again for another 4 hours. The charging case carries a battery capacity of 16 hours for the earbuds. Hence, the Huawei Freebuds 3 can last a total of 20 hours!
The charging case supports charging via a USB Type port or wirelessly using wireless chargers or a compatible smartphone that supports reverse wireless charging including Huawei's flagship smartphones.
Customizable Controls
When paired with a Huawei smartphone running on EMUI 10 and up, the Huawei Freebuds 3 has built-in controls in the Settings. Otherwise, the controls can be accessed in a downloadable app called AI Life.
The options available for customization include the direction of Active Noise Cancellation and shortcuts. A double-tap on each earbud can be mapped to play music, answer calls, skip a track, or launch Google Assistant.
Bionic Dolphin Design
This is my only issue with the Huawei Freebuds 3 – its design. It uses an open-fit design with a small protrusion that goes slightly inside the ear. It undoubtedly helps in improving the audio quality without being an in-ear earbud.
However, the hard plastic casing of the earbuds and the small protrusion becomes a bit uncomfortable after an hour or two. Huawei's next TWS earbuds should use silicone tips to improve this aspect of its design.
Huawei Freebuds 3: Conclusion
The Huawei Freebuds 3 is loaded with several useful features such as ANC, customizable controls and instant pairing. Its audio quality is amazing for an open-fit TWS earbud.
However, its design kept it from becoming my TWS earbuds of choice. Hopefully, the next generation will improve the design for more comfortable use.
Add a comment:
Show Comment Form 💬