Asus Zenfone 5 Review – Perfect Premium Smartphone for the Budget Conscious
BY Daniel Gubalane ON Aug 07, 2014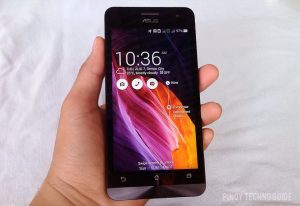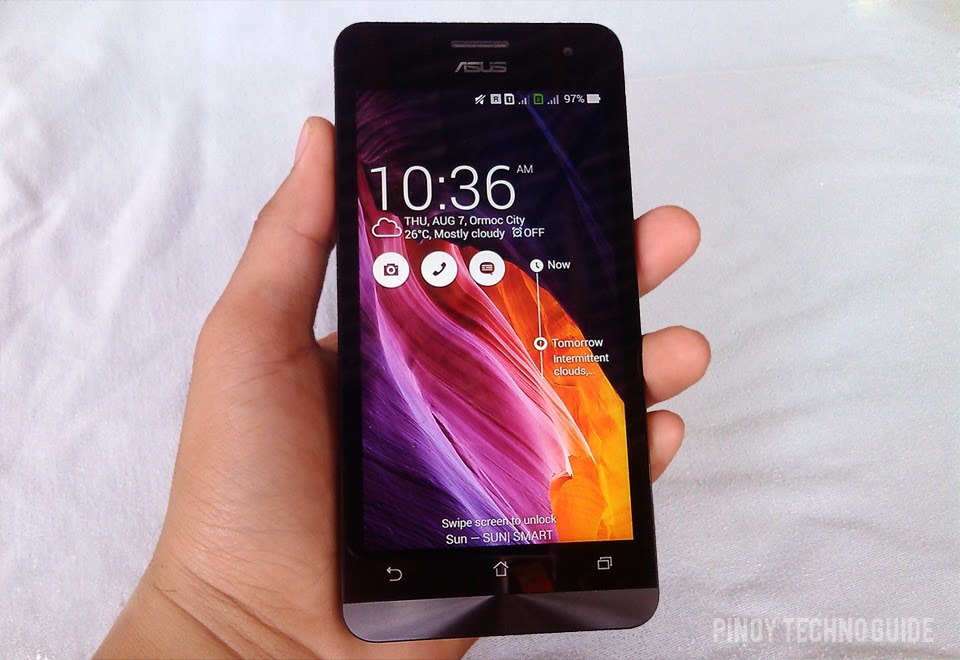 If you're looking for a premium smartphone from a trusted brand at an affordable price – pick the Intel powered Asus Zenfone 5 for ₱6,495.
After unboxing the Zenfone 5, I was immediately amazed by the build quality, unique user interface and smooth operation. However, there are also a few issues with the Asus Zenfone 5.
Asus Zenfone 5 Unboxing, Design and Build Quality
The Asus Zenfone 5 comes in a similarly colored box as the unit. A travel charger, microUSB cord, earphone with an extra pair of earbuds, warranty card and a user manual are also present inside the box.
I asked a few friends to hold the Zenfone 5 and tell me their impressions. The constant answer is that it feels premium and compact unlike the smartphones from the local brands.
One defining design detail of the Zenfones is the 'rainbow pattern' on the bottom part of the device and in the volume and power buttons. It looks like the effect on a CD because if you look closely, these are actually circular grooves.
The screen of the Zenfone 5 has a Corning Gorilla Glass 3 covering which makes it scratch resistant. A kitchen knife, coins and a bunch of keys didn't leave any mark after several tests.
However, the bezels are slightly wide at around 4 mm – that's the space between the screen to the edge of the device. The Zenfone 5 is also taller than other 5-inch phones that a small portion sticks out of my pocket.
Another issue with the design of the Zenfone 5 is its capacitive buttons. The back and menu button are misplaced. I am used to the back button on the right side of the device where I can tap it without my thumb reaching out. It takes getting used to this arrangement. Oh, those buttons don't have a backlight too.
Asus Zenfone 5 Performance
Let's dive into the performance of the 1.6GHz Intel Atom processor of the Zenfone 5 with 2GB of RAM. Needless to say, there are no lags and hard core games run smoothly.
It got a score of 19,736 points on AnTuTu Benchmark with 'Excellent' score for both 2D and 3G graphics and 'fluently support large mobile games'. Its PowerVR SGX 544MP graphics processor also got 60.3 frames per second on NemaMark2!
These test results were also supported by my brother's hours of smooth experience in playing NBA2K14, Modern Combat 5 and Candy Crush Saga. Aside from games, Zenfone 5 also played fullHD movies without a hitch.
Asus Zenfone 5 Camera with Sample Photos
Asus boasts the PixelMaster camera technology built in the Zenfone 5 but while the sun is still up, I'm already amazed by the shots.
Asus Zenfone 5 has an 8MP main camera and a 2MP front snapper with 13 built-in shooting effects. I had to change the picture resolution from the default 6MP to the maximum though. Here are more sample photos taken with the Zenfone 5 in low light mode:
The low light mode is excellent at taking pictures in low light. However, it can only take up to 2MP pictures. I also find it difficult to use the Depth of Field effect because you have to keep the Zenfone 5 perfectly still in order to make it look good.
In most cases though, the Auto setting is produces that perfect picture with the HDR mode producing excellent shots of buildings and sceneries – perfect for documenting your escapades!
Asus Zenfone 5 Display and ZenUI User Interface
If I had to pick the best feature of the Zenfone 5, it will be the ZenUI. After purchasing a new Android phone, I usually look for ways to customize it but not with the Asus Zenfone 5 – it's the best Anroid experience I had so far.
ZenUI is just a skin on top of Android but the folks at Asus did a very beautiful job with it. There are even tools built-in instead of having to download additional apps. It has a RAM booster, flashlight, reading mode and What's Next that shows reminders on the lockscreen.
The ZenUI even has an Easy Mode that changes the phone's layout to make it friendly for the seasoned ones and those who are not very familiar with the technology.
Asus Zenfone 5 Phone Functions
Let's not forget the main function of the Asus Zenfone 5 – to make calls and send text messages!
Texting is easy using the stock messaging app and the Asus keyboard. I had to turn off the autocorrect feature though because I usually text in Cebuano.
Calls are also a good experience. Sound quality is excellent using the phone's speaker or the earphones. There's even an option to record the call already built-in with the dialer.
Asus Zenfone 5 Connectivity (Wired and Wireless)
Asus Zenfone 5 comes with two micro SIM slots both with 3G connectivity. However, mobile internet speed heavily relies on your location. While in the city, I was able to download a 50MB file in 10 minutes but it's another story at home.
Wi-Fi connection is fast and reliable as well as Bluetooth. I had a problem with the GPS though with the Zenfone 5 taking too long to pin point my exact location Zenfone 5 has Miracast wireless display but I haven't tested this feature yet. It also has the Asus PC Link app which mirrors your phone's display on a computer screen via a microUSB connection.
USB OTG isn't supported yet but the upcoming Android 4.4 Kitkat update is said to have this feature.
Asus Zenfone 5 Battery Life and After Sales Support
One feature of the Asus Zenfone 5 that might become its weakest point is the battery. The 2,100mAh non-removable Lithium-Polymer battery gave the Zenfone 5 an average uptime of 15 hours and 24 minutes.
Playing hard-core games shortens the battery life to just  little more than 5 hours. Watching movies results in 7-8 hours of uptime while using Wi-Fi or 3G and GPS at the same time gives 6-7 hours of battery life.
Non-removable battery of the Zenfone 5.
When I leave the Zenfone 5 mostly idle though, it can stay without a re-charge for 18 to more than 20 hours. That's sending texts, making occasional calls and snapping a few pictures.
Re-charging the Zenfone 5's battery from zero percent to full capacity took an average time of 2 hours and 20 minutes.
It's also worth noting that Asus has a very good support for the Zenfone 5. My unit already received several software updates to fix reported bugs and add new features.
I'm also confident that they'll be able to fix any problematic Asus Zenfone 5 in the different Asus service centers throughout the country.
Asus Zenfone 5 Review Summary
Let's first look at the specs of the Asus Zenfone 5:
The Asus Zenfone 5 is a great choice for an affordable smartphone at ₱6,500 with these features and a trusted brand.
Asus Zenfone 5 Quick Settings
Pros:
Good design and build quality
Great user interface with the ZenUI
Very Smooth Performance
High quality pictures even in low light
Great after sales support
Cons:
Average battery life
Few design issues
Limited supply
Verdict: Pinoy Techno Guide highly recommends the Asus Zenfone 5.
Add a comment:
Show Comment Form 💬