How to Apply for an NBI Clearance Online
BY Daniel Gubalane ON Feb 05, 2014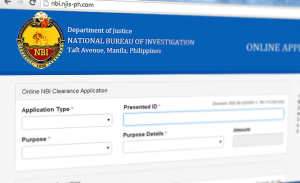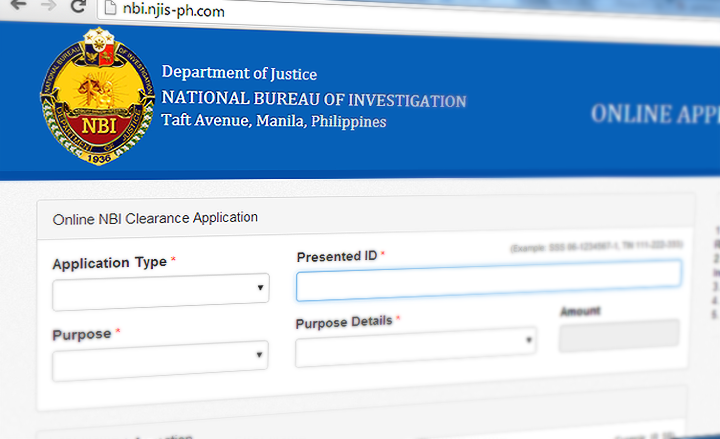 A Step by step Guide
The newly launched Online NBI Clearance Application System allows you to fill up the application form before going to the NBI clearoffice. This reduces the time you need to spend lining up with other applicants.
This article will guide you how to properly fill up the online application form and proceed to the payment, biometrics and releasing of your NBI Clearance.
Filling up the Online Application Form
1. When you log on to the official Online NBI Clearance website, you'll be greeted by the form that you need to fill up. Some of the fields are self-explanatory while you need to be careful with some. For example, Present ID can be your SSS number or Tax Identification Number (TIN).
2. After filling up the first part, you'll know how much you have to pay in the Amount box. The fee ranges from Php115 if your purpose is for local employment up to Php415 for student VISA.

3. The next part is your personal information like name, civil status, nick name and the likes. You shouldn't have any problem with this part. When you're done, click the SUBMIT button to open the remaining steps.
4. You'll have to be careful when filling up your contact details because the system will send a confirmation to your email address. Your phone number must also be a valid one in order to be accepted by the system.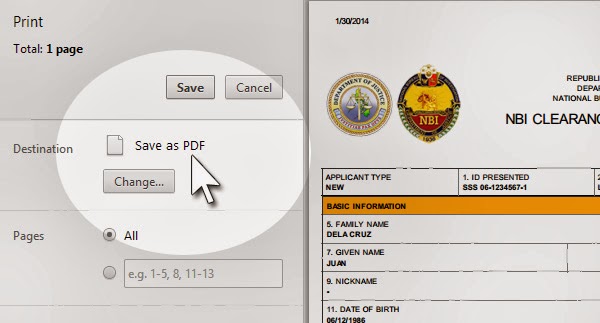 Saving the NBI Clearance Application form as a PDF file to be printed later. – Photo © PTG
5. When you're done, click the SUMBIT button once again and your QR code will be shown. Click the PRINT button to have your application form ready for signing. If you don't have a printer, you can save the application form as a PDF file to be printed later.
Payment, Biometrics and Releasing
Bring your printed application form, 2 valid ID cards and the amount that you have to pay to the NBI clearance center near you.
Ask the guard or any employee for the instruction to ONLINE applicants immediately. The clerk should immediately ask for the code and printed application form from you. You will then proceed to the biometrics section where your photo and finger prints will be taken.
After all of that, you should now pay and wait for your NBI Clearance to be handed to you.
Thoughts about the Online NBI Clearance Application System
When I first viewed the website, my first thought was WTF! It's a project that most sophomore IT students can finish alone. It's just a simple data entry system designed to receive your data and give you a printable document version.
What's lacking with the system is a payment module. They could even tap Paypal to make it easier for credit card payments. The NSO have done it, why not them?
Nevertheless, it's still something rather than nothing at all.
Add a comment:
Show Comment Form 💬