New Cherry Mobile Smartphones for Christmas 2013: 12 Cherrys of Christmas
BY Daniel Gubalane ON Oct 19, 2013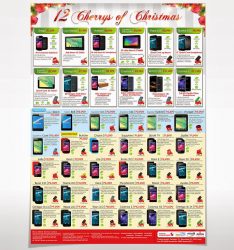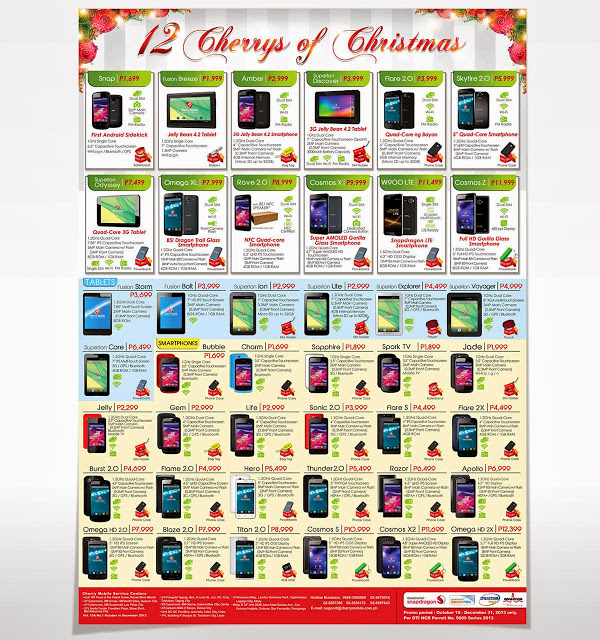 Wait for it!
If you're planning to buy an Android phone or tablet soon, you might want to hold on to what you currently have. Cherry Mobile will release more models for the Christmas season.
A photo of a Cherry Mobile poster entitled "12 Cherrys of Christmas" has been posted on Facebook revealing several new models that you should look out for.
Here's the Official Poster: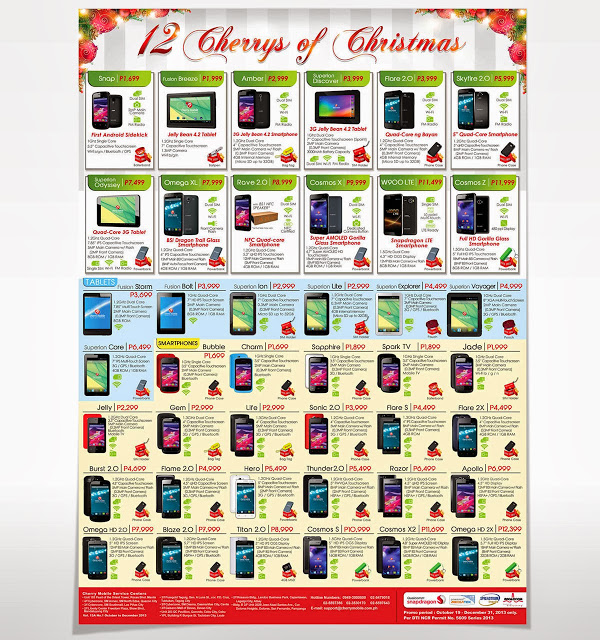 Official poster from Cherry Mobile.
New Smartphones
Probably the most interesting model smartphone in the poster is Cherry Mobile Omega HD 2X (lower right corner). It's a quad core Android phone with 2GB of RAM – another first among locally branded smartphones.
Update! I overlooked it but there's an LTE capable smartphone in the poster – W900 LTE.
There's also the 2.0 versions of Cherry Mobile Sonic and Titan which looks attractive for me. It's the third one in the bottom. Look for a Flare S too!
Another new model is named Cherry Mobile Hero which is a very affordable quad core smartphone for Php5,499 only.
Of course, several cheap smartphones are also included (starts at the third row). There's the cheapest Cherry Mobile Bubble followed by Charm, Sapphire, Jade, Jelly, Gem and Amber (the first row).
New Tablets
Cherry Mobile recently announced two new Superion tablets and it looks like there are four more – Cherry Mobile Superion Odyssey, Ion, Lite and Core. All tablets in the Superion Series have call and text capabilities.
If you're looking for a WiFi only tablet more suitable for gaming, there are also new models under the Fusion series – Cherry Mobile Fusion Breeze and Storm.
Now What?
Now with all these new models, what will happen to the old models? Some will be phased out like Flare while others will just be priced down.
However, there's a growing concern with the quality of Cherry Mobile's after sales service. With more models they introduce, the more their technicians find it difficult to repair their phones.
But overlooking that issue, it's very good to have a choice – a lot of choices!
http://www.pinoytechnoguide.com/2013/01/cherry-mobile-price-list.htmlYou can check out the updated Cherry Mobile price list here.
Add a comment:
Show Comment Form 💬