How to Connect Your Laptop to Your TV Using HDMI
BY Daniel Gubalane ON Aug 12, 2013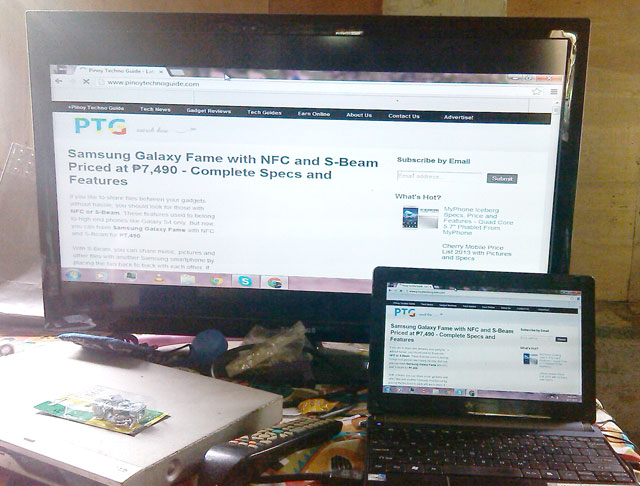 Watch and Hear Your Laptop on Your TV Using HDMI
Most laptops are fitted with an HDMI port that you can use to connect it to your TV. HDMI stands for High-Definition Multimedia Interface and transfers not just the video but also the sound.
I've connected my girlfriend's netbook with their TV via HDMI and we enjoyed watching movies and playing games on a bigger screen. Here's a picture of the set-up: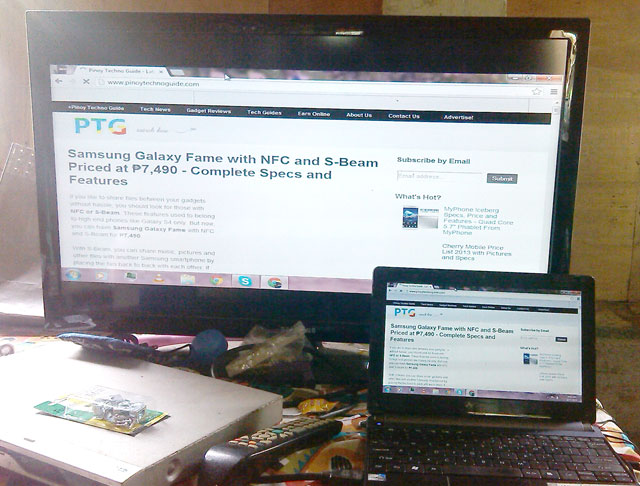 My girlfriend's netbook connect to their TV via HDMI showing Pinoy Techno Guide.
Requirements to Connect Your Laptop to TV Using HDMI
You can get yourself an HDMI cord for as low as ₱150 from most electronics store.
Step 1: Plug in the HDMI cord to your laptop's HDMI port and the one on your TV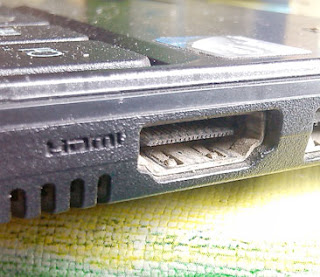 HDMI Port
Most HDMI ports are found on the side of your laptop and at the back of your TV. Make sure that it fits perfectly. Based on experience, it is difficult to plug in the HDMI cord for the first time.
Step 2: Change the source to HDMI in your TV's remote
This one varies with different TV models. Some will have a button that directly connects the HDMI source but some will require you to change the mode of your TV to HDMI. You may also try the TV/AV button.
Step 3: Choose Duplicate, TV Only or Extended Display
If a black screen appears, that means the display of your laptop is not yet set up properly.
Press and hold the Windows button and press P to bring up these options:

If you are going to watch a movie or play a game, I suggest using the TV only option (choose the Projector only option). This will use the entire screen of your TV at it's full resolution. The duplicate option will display a picture based on the resolution of your laptop and part of your TV's screen will just be black.
Conclusion
You can connect your laptop with your TV using an HDMI cord. This will display what's on your laptop on your TV's screen including the sound.
If you have a laptop with an HDMI port, you better take advantage of this feature especially in watching movies.
Add a comment:
Show Comment Form 💬