10 Reasons Why You're Gonna Love Lenovo K900
BY Daniel Gubalane ON Jul 19, 2013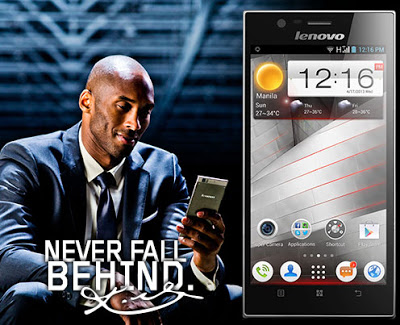 You're gonna love Lenovo K900 and here are 10 reasons why: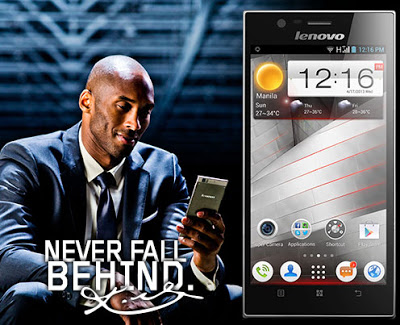 NBA superstar Kobe Bryant holding his Lenovo K900 | from source
1. Powerful Intel Processor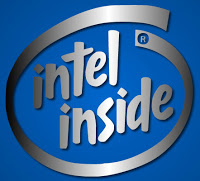 Lenovo K900 is one of the first smartphones to use an Intel processor instead of an ARM based one. It's a very powerful Intel Atom Z2580 Clover Trail processor that made a headlines with its blazing performance without compromising battery life.
Lenovo K900's Intel Atom processor has a technology called Hyper-Threading Technology that allows it to process multiple tasks at the same time more efficiently. Plus, it's clocked at 2 GHz! That's more than enough power to run Android Jelly Bean 4.2.1 and any other resource intensive app or game you might use.
2. Crystal Clear Display at 1080p
Lenovo K900 has a full High Definition display measuring at 5.5 inches diagonally. If you're so techie, that's 1080 x 1920 pixels or 401 pixels per inch. That means you won't be able to distinguish a pixel in Lenovo K900's screen, just pure image or text.
3. Very Thin and Metallic Body

If you are worried that you might find Lenovo K900 too big, worry no more! Lenovo K900 is just 6.9 mm thick (or thin) making it comfortable to hold in one hand.
Add to its thinness the feeling of holding a premium phone since Lenovo K900 is enclosed in a mix of non magnetic stainless steel and polycarbonate material.
4. Scratch Resistant Screen with Corning Gorilla Glass 2
We're not finished with Lenovo K900's screen. It's not just full HD but scratch resistant because it is covered by a layer of Corning's Gorilla Glass 2.
5. Lots of Memory Storage Space and RAM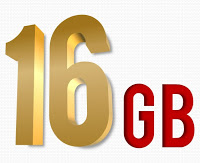 Lenovo K900 comes with 16 GB of internal storage and 2 GB of RAM. That means more space to store your apps, pictures and other files. It also makes room for more RAM intensive apps like games and playing full HD (1080p) videos.
You might have known that Lenovo K900 has no microSD card slot. But it already has a lot of storage space in it.
6. Wireless Display using Intel WiDi Technology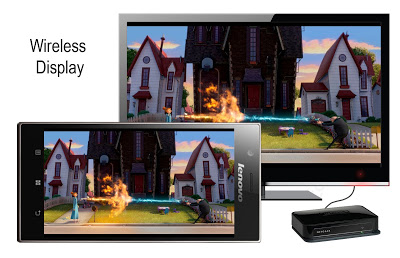 Wireless Display Technology using Lenovo K900
Oh yeah! Lenovo K900 supports wireless display using Intel's WiDi technology, that's short for Wireless Display.
You need a wireless HDMI adapter like the NETGEAR Push2TV* HD Adapter
. Just connect the adapter to the HDMI post of your TV and connect with it using your Lenovo K900.
7. A 13 MP Camera Made by SONY
Lenovo K900's camera is not just an ordinary smartphone camera. It features a lens called Exmor R™ CMOS Sensor with Backside Illumination Technology.
This makes Lenovo K900 capture your special moments in vivid clarity without the undesirable noise when the lighting is poor.
8. Globally Compatible Access to 3G Internet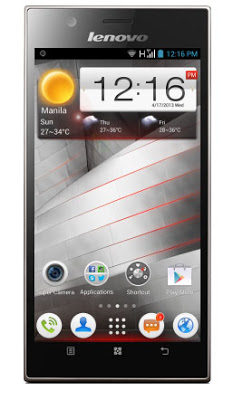 Although Lenovo K900 doesn't have 4G LTE, it has 5 bands of 3G internet to connect with. That includes the 850, 900, 1700, 1900 and 2100 bands. This makes Lenovo K900 able to connect to a 3G internet network even if you are in the US, Canada, China, European countries and of course, in the Philippines.
9. Kobe Bryant Uses Lenovo K900
Don't laugh. Many fans of Kobe Bryant will take a look at Lenovo K900 and check what their idol liked about this phone. And that is a powerful marketing force.
Imagine talking with your friends and one asks you what your phone is. You'll just answer, "It's the same phone Kobe uses."
10. Small But Cool Features
Lenovo K900 has several small features that are worth noting too. I'll just lump them up to number 10, okay?
First, Lenovo K900 has Flip to Mute, Shake to Lock, Pocket Mode, Volume Keys Unlock features. Add to this an E-compass and enhanced sound quality.
Lenovo K900 also supports USB On the Go. That means you can connect a USB flash drive to your Lenovo K900 and access the files inside the flash drive.
Lastly, Lenovo K900 sells at around $500 internationally but here in the Philippines, it only costs ₱22,999.00.
What do you think, are you going to buy a Lenovo K900?
Add a comment:
Show Comment Form 💬