How to Solve "Unfortunately [App] Has Stopped" Error Message on Android Phones
BY Daniel Gubalane ON Jun 20, 2013 with
16 Shares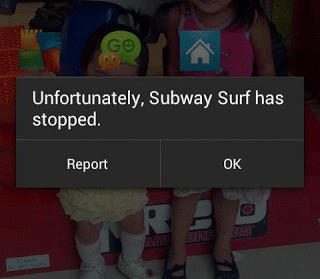 It's very annoying when you play a game on your android smartphone or even take a picture using its camera and an error message suddenly pops up.
The most common error is the one shown on the right, "Unfortunately Subway Surf has stopped". You get two options, report it or OK which will stop the app totally.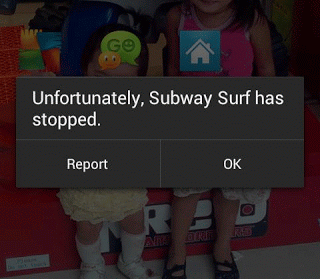 Android error message "Unfortunately App Has Stopped".
Sometimes, this error is a sign that there is something wrong your phone's hardware. We can't fix this and you'll have to bring your Android phone to its service center.
However, most of the times it's just a software problem and some simple steps can solve it without the need to visit the service center.
Ways to Solve App Crash in Android Phone
1. Do a simple reboot. Sometimes, all your phone needs to get working right again is a simple reboot. Check if that resolves the issue. If not, turn off your phone, remove the battery and wait for a few minutes before turning it on again.
2. Re-install the App. The application might have the problem that causes it to crash. Try uninstalling it by holding its icon until the Uninstall option appears and then install it again.
3. Try Other Apps. If your camera app constantly gives this error, try another app to take your pictures. For example, you can use Camera 360 instead of the default camera app in your android phone. You'll not only solve the issue, you will also get additional features like picture effects and camera modes.
4. Uninstall Newly Installed Apps. You might have installed an app that somehow interfered with the operation of your other apps. Try to uninstall the apps from the newest and see if the problem is resolved.
5. Do a Hard Reset. If none of the above suggestions work, backup your data in your phone – pictures, music, videos, messages and contacts then reset it. Doing a hard reset or factory reset is erasing all that you've done to your phone after you bought it. After this, your phone will be good as new, at least from the software perspective. Try the app now and see if it doesn't crash anymore.
Hardware Error
If all of the above doesn't work, your android phone might have a hardware issue. You can't fix it with your own hands. You shouldn't try to fix your smartphone's hardware if you are not a technician, it's just too complicated.
it's now time to bring your faulty android phone to the service center. You'll have to wait for the technician to fix it for you. This can be done in a few minutes or in a few days.
Add a comment:
Show Comment Form 💬