Rumor has IT: Apple to Create the iWatch
BY Daniel Gubalane ON Mar 06, 2013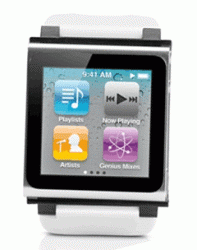 Can Apple lead again in innovation?
Apple has consistently created revolutionary products. The iPod revolutionized how we listen to music, iPhone changed the mobile phone business forever and iPad made us more immersed in our digital world of apps and connectivity.
For the past weeks, there has been an rising rumor that Apple is once again on the verge of innovation. Reports are pointing out that Apple's next product will be a wearable device capable of the functions of your smartphone and more – the iWatch.
What to expect with the iWatch?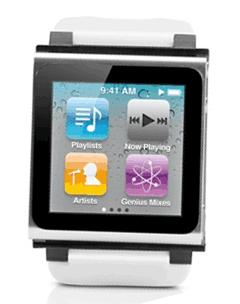 Right now, the iWatch refers to this
device that holds your iPod in
your wrist. credit | Apple
Personal Assistant. The iWatch will obviously have a personal assistant app like the Siri. It might be the Siri itself with more improvements.
Health Monitoring. Another feature of the iWatch will be health monitoring. Since it is always attached to your body, it can monitor your pulse rate, blood pressure, temperature and other health information. This will be useful to athletes and ordinary people alike.
Maps. Imagine speaking to your watch the place where you want to go and it shows you a map to guide you from where you are up to where you want to go. That's iWatch!
Making Calls and Messages. This makes me imagine movies about spies where they communicate using their watch. Messaging can be done by voice typing. It's awkward to type on you phone, talking to it is cool.
Problems with the iWatch
Battery Life. One major problem with the iWatch is the battery life. According to some insider in Apple, testing has been done with the iWatch but its battery lasts for 3-4 days only. Apple is aiming for a 5-6 day battery life.
A smartphone that needs to be charged everyday is acceptable. However, if you have to charge your watch everyday, that's another story.
Is the iWatch going to be a reality?
iWatch is very profitable. According to tech analysts, the iWatch might bring $6 billion of profit to Apple. It is a better avenue for Apple than the overcrowded smart TV market.
Wall Street Journal knows it. Even if the product is still in rumors and Apple has not yet confirmed it, Wall Street has already said that Apple is experimenting with watch-like designs.
Are you going to buy an iWatch?
Personally, I think the iWatch concept is cool. However, I'm also sure that it will not come at an affordable price. I'd better wait for MyPhone or Cherry mobile to develop their own myWatch or Cherry Watch.
What do you think?
Add a comment:
Show Comment Form 💬