MyPhone B88 Duo Specs, Reviews and Free Wallpapers!
BY Daniel Gubalane ON Jan 07, 2013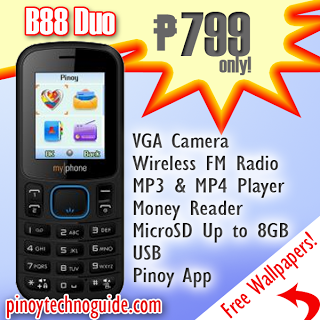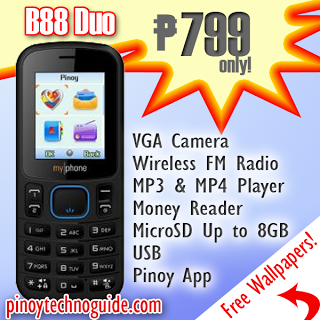 MyPhone B88 Duo has been MyPhone's Cellphone of the masses. It's cheap, robust and full of useful features.
After my touchscreen phone was lost, I decided to buy a simple phone that won't make me very sad if lost.
I am now happy with my MyPhone B88 Duo and I would like to share with you the amazing things that this small phone can do. Let's start with the specs.
MyPhone B88 Duo Specs
1.8″ Color LCD Display
Dual Sim/Dual Standby
Built In VGA Camera
Wireless FM Radio with Recorder
MP3/AMR Music Player
MP4/3GP/AVI Video Player
UV Light Money Reader
MicroSD Up to 8GB
USB Cord
Pinoy Phone App
MyPhone B88 Duo Display and Wallpaper
MyPhone B88 Duo has a small screen but at least it's colored. I was okay with it and the default wallpaper until I discovered how to change the wallpaper.
I'm not talking about taking a picture and using that as the wallpaper. I'm talking about this: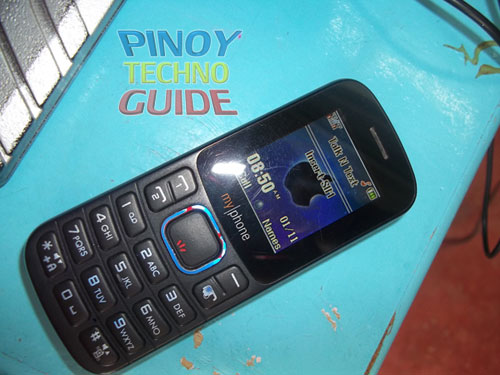 That's an apple wallpaper in a my|phone B88 Duo!
I made 20 more My|Phone B88 Duo Wallpapers. Feel free to download the. Just right click and click Save As…
Navigate to my|settings > Phone Settings > Display Settings > Wallpaper and Click Change. Locate the downloaded image in your MicroSD card.

If you like to have some customized wallpapers, just ask me in the comments and I'll post them here.
Texting and Calling
Unlike other cheap phones like the very cheap one from CD-R King, texting with My|Phone B88 is smooth and normal. There are no lags and the cursor does not play catch with your typing.
There is no Drafts folder so you have to decide if you will erase everything in you outbox. You cannot insert a number from the Phonebook into a text message too.
I've got no problem with calls. The voice from your caller is clear even in loudspearkers.
VGA Camera
The built in camera is not really a big asset for this phone. It's a VGA camera with a maximum resolution of only 640 x 480.
I only use the camera to snap some photos of posters along the way like prices of Cherry Mobile phones so I can included them in my Cherry Mobile Price List.
I always laugh at the sound of B88's camera. I don't know why.
Wireless FM Radio with Record Function
This one is good. I've always waited for a cellphone with a wireless FM radio so that I can get rid of the pesky headset or earphones.
B88's wireless FM radio plays FM music well without the need for a headset to serve as its antenna. The music can also be recorded as well as your voice.
B88 has no 3.5 mm audio jack. You have to buy a mini USB to3.5 mm jack adapter to use a headset.
Multimedia Player
My|Phone B88 can play MP3 music as well as AMR sound files. I usually take my B88 in the bathroom and let it play some good music while I take a bath. I even listen to music while texting because B88 supports background music playing.
The music for B88's loudspeaker is in good quality as long as the volume is only 5 bars.
My|Phone B88 can also record and play videos. It can play MP4, AVI and 3GP video files as long as the video files are not very high in resolution. As much as I want to, I can't watch Transformers 4 in my phone.
Most movies will not play unless you convert them into 3GP or a small resolution MP4 or AVI.
UV Light Money Reader
This is the feature that vendors sought after. My|Phone B88 has the ability to detect counterfeit or fake money using a small UV Light.
Shining the UV light to a bill will reveal the different markings viewable only using the money reader. Swindlers will think twice before trying to pay fake money to a vendor with a My|Phone B88 Duo.
USB and Pinoy Phone App
Like other phones from my|phone, B88 also has the Pinoy Phone App. I made a tutorial on how you can activate your Pinoy Phone App.
Conclusion
My|Phone has been very successful in offering cheap phones to Filipinos. My|Phone B88 Duo is probably the best phone this company has ever made. Not the MyPhone 919, nor any other Android Phone – just the B88.
I said that because B88 provides the ordinary Pinoy with the essential features in a cheap cellphone with additional very useful features.
Add a comment:
Show Comment Form 💬