How to Check ATM Balance Online
By Daniel Gubalane on Oct 21, 2012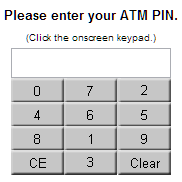 Checking your Automatic Teller Machine (ATM) balance online is now possible with almost any bank in the Philippines. This is made possible by BANCNET – one of the largest ATM companies.
I have here the steps in checking your ATM balance for several banks in the Philippines. Follow the steps that corresponds to your bank.
Development Bank of the Philippines
1
. Go to
DBP EC Banking
2. Enter your ATM card number
3. Select Savings Account as the account type
4. Use the onscreen keypad to enter your PIN number. The numbers in the onscreen keypad changes position every time you access the page to prevent bad people from automatically identifying your PIN number.
I give a big check to DBP's security system in its online ATM balance inquiry. It is also verified by Verisign, a respected security company.
Metrobank and Philippine Savings Bank
Metrobank and PS Bank are sister companies and they have similar way of dealing with their customers. For Metrobank, login to
MetrobankDirect
. On the other hand, PS Bank has a
Remote Banking
system.
You have to login to these services to access your account and check your balance. To be able to login, you have to register to these services at Metrobank or PS Bank respectively.
China Bank
China Bank also uses internet banking to let you manage your account online. What I admired about China Bank is the notice they provide to their customers with a notice on how to prevent phishing.
Phishing is a method where you are fooled into thinking that you are in the website of the bank when in fact you are not.
I am not sending you to phishing sites. They are verified and if you look at the address bar of your browser, you will see "https" – that means you are in a secured connection.
Other Banks
I only own an account in Development Bank of the Philippines and Philippine Savings Bank. I have them because my previous and current employers used ATM in giving our salaries.
If you have experiences in using the systems of other banks in checking your ATM balance online, please comment below or contact me at danielgubalane@gmail.com.
(function(d, s, id) {
var js, fjs = d.getElementsByTagName(s)[0];
if (d.getElementById(id)) return;
js = d.createElement(s); js.id = id;
js.src = "//connect.facebook.net/en_US/all.js#xfbml=1&appId=204102246366851";
fjs.parentNode.insertBefore(js, fjs);
}(document, 'script', 'facebook-jssdk'));