Register now!
Smart's new Giga Surf 50 promo offers the biggest amount of data for its price to date. As its name suggests, it has 1 Gigabyte of open access data for ₱50.00 only.
This is bigger than the 750MB data of Big Bytes 50 and 800MB data cap of Surf Max 50. There's even an additional 300MB of data for video streaming sites such as YouTube, iFlix and Vimeo!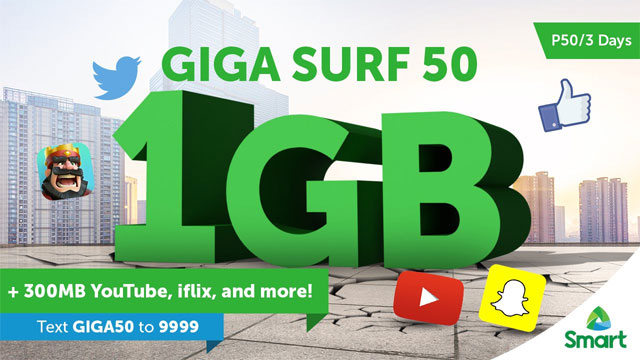 Smart Giga Surf 50
Giga Surf 50 lasts for 3 days or until the 1GB data and 300MB entertainment data allocation have all been used up. It can also be shared with another Smart subscriber using Pasa Data.
To register for Giga Surf 50, send GIGA 50 to 9999. To share data, send PASADATARecepient's numberAmount of MB to 888.
Giga Surf 50 is open to Smart and SmartBro subscribers. Giga Surf 299 is available too with 2GB of open access data and 1.1GB entertainment data for 30 days.
Source: Smart