Cheap Android Tablets in the Philippines (Pricelist with Specs and Features)
By Daniel Gubalane on Apr 13, 2013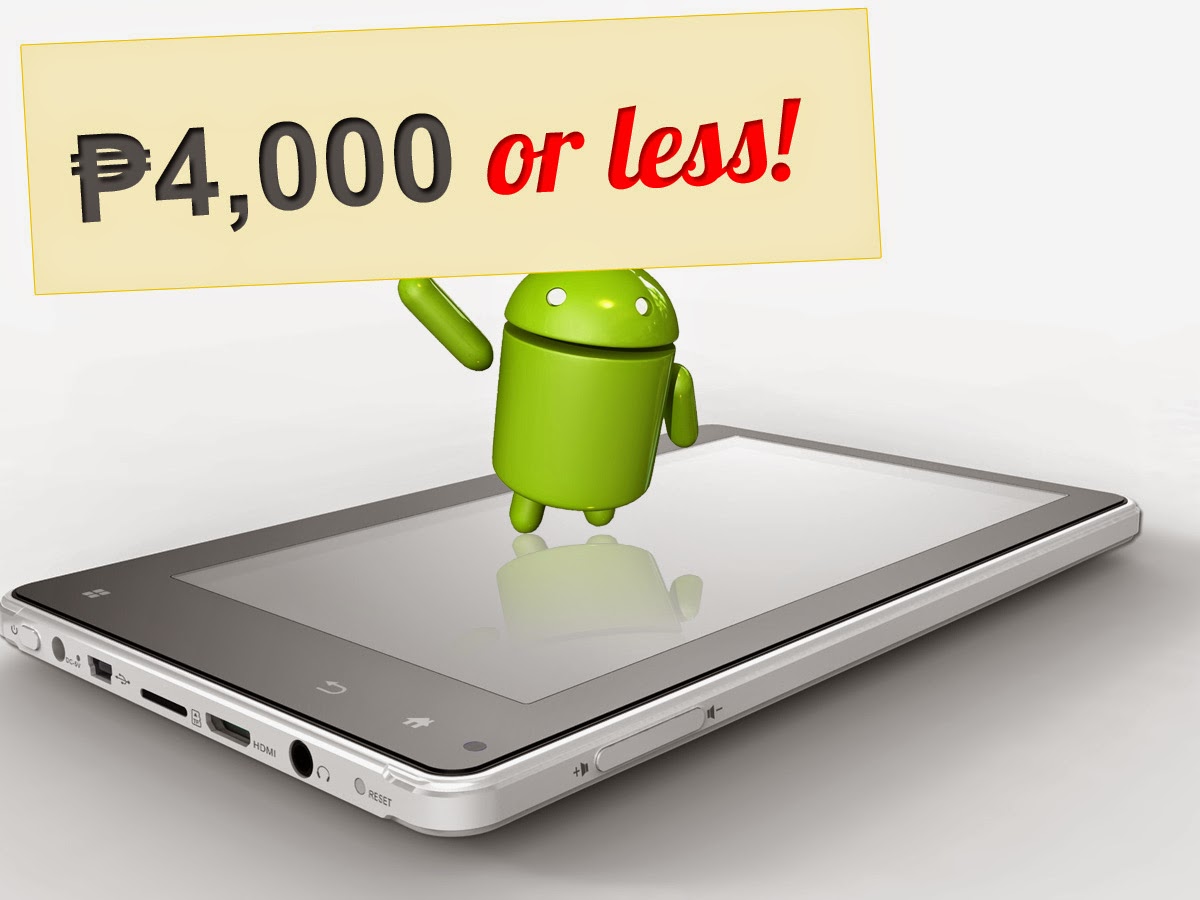 Android Tablets for less than ₱4,000!
Android tablets are great for games, reading ebooks, browsing the net and a little document or presentation editing.
However, Android tablets can be too expensive. Hence, we compiled the cheapest Android tablets in the Philippines for you with their specs, price and photo.
Cherry Mobile Fusion Breeze – ₱1,999
1.2GHz Single Core Processor
Android 4.2 Jelly Bean OS
7 Inch Capacitive Display
1.3 Megapixel Front Camera
512MB of RAM
4GB Internal Storage
Expandable up to 32GB via MicroSD
Wi-Fi
Accelerometer
Gyro
3.5mm Audio Jack
1,200 mAh Battery
Note: Although Cherry Mobile Breeze is the cheapest Android tablet out there, we strongly don't recommend it. Many users reported 'very short' battery life and overheating.
Cherry Mobile Fusion Aura Specs – ₱2,299
1.5GHz Dual Core Allwinner A23 Processor
Android 4.4 Kitkat OS
7 Inch Capacitive Display @ 600 x 1024 Pixels or 170 PPI
2 Megapixel Rear Camera
VGA Front Camera
512MB of RAM
4GB Internal Storage
Expandable up to 32GB via Micro SD
Wi-Fi and Wi-Fi Hotspot
Miracast Wireless Display
USB On the Go Support
Accelerometer
2,600 mAh Battery
CloudFone CloudPad 700e – ₱3,499
1.3GHz Dual Core MediaTek MT6572 Processor
Android 4.2 Jelly Bean OS
7 Inch Multi-touch Display @ 800 x 480 Pixels
2 Megapixel Rear Camera
VGA Front Camera
512MB of RAM
4GB Internal Storage
Dual SIM/Dual Standby
EDGE and GPRS Networks
Wi-Fi and Wi-Fi Hotspot
Bluetooth 2.1
GPS
Mobile TV
Accelerometer
Gyro
Wireless FM Radio
3.5mm Audio Jack
2500 mAh Battery
Starmobile Engage 7+ – ₱3,670
1.2GHz Dual Core Processor
Android 4.2 Jelly Bean OS
7 Inch Capacitive Display @ 1024 x 576 Pixels or 168 PPI
2 Megapixel Rear Camera
VGA Front Camera
1GB of RAM
4GB Internal Storage
Expandable up to 32GB via Micro SD
Wi-Fi
USB OTG Support (3G Dongle)
Accelerometer
Gyro
3.5mm Audio Jack
3,700 mAh Battery
Cherry Mobile Fusion Storm – ₱3,699
1.2GHz Dual Core Processor
Android 4.2 Jelly Bean OS
7.85 Inch Display @ 1024 x 768 Pixels or 163 PPI
3 Megapixel Rear Camera
VGA Front Camera
512MB of RAM
8GB Internal Storage
Expandable up to 32GB via Micro SD
Wi-Fi
HDMI
USB OTG Support (3G Dongle)
Accelerometer
Gyro
3.5mm Audio Jack
3,000 mAh Battery
Cherry Mobile Fusion Bolt – ₱3,999
1GHz Quad Core Actions ATM7025 Processor
Android 4.1.1 Jelly Bean OS
7 Inch HD IPS Display @ 1024 x 800 Pixels or 213 PPI
Vivante GC1000 GPU
2 Megapixel Rear Camera
VGA Front Camera
1GB of RAM
8GB Internal Storage
Wi-Fi
HDMI
USB OTG Support (3G Dongle)
Accelerometer
Gyro
3.5mm Audio Jack
4,000 mAh Battery
CloudFone CloudPad 701TV – ₱3,999
1.3GHz Dual Core MediaTek MT8312 Processor
Android 4.2 Jelly Bean OS
7 Inch Multi-touch Display @ 1024 x 600 Pixels or 170 PPI
2 Megapixel Rear Camera
VGA Front Camera
512MB of RAM
4GB Internal Storage
Expandable up to 32GB via MicroSD
Dual SIM/Dual Standby
3G (HSPA+), EDGE and GPRS Networks
Wi-Fi and Wi-Fi Hotspot
Bluetooth 4.0
GPS
Mobile TV
FM Radio
Accelerometer
Gyro
3.5mm Audio Jack
3,000 mAh Battery